It's hard to believe that it has been an entire year since Jennifer Aniston sold her most unflattering pair of Chloé cork wedges on Goop.com, but as time marches relentlessly on, so too does Goop. La Gwyneth has done it again, managing to separate her extremely wealthy friends from their free designer swag ("there are a few store-bought items," Women's Wear Daily notes) to benefit charities Donors Choose and Children's Rights.
First up is Anne Hathaway. Her giveaways included several Prada items—no one on this list seems particularly attached to their Prada pieces—a very nice Maria + Cornejo dress, and a bag she's secretly wanted to get rid of for a long time:
Next, we have Drew Barrymore. Compared with Anne's thoughtful captions, hers are very funny.
G/O Media may get a commission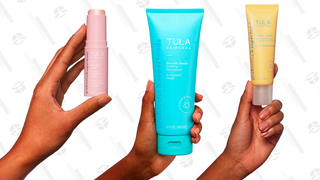 Next comes Gwyneth Paltrow herself, who, as is tradition, upstaged her friends with way, way more items that cost way, way more money. In fairness, she really needed to get rid of some of these:
Then we have jewelry designer/friend-to-the-stars Jennifer Meyer, who gave away some unappealing Prada items and several pieces from her own various collections. Who knew Jennifer Meyer had a sneaker line? More importantly, who knew she could wear sneakers every day?! What a nut!
Next up? Jill Kargman. I don't really know anything about Jill Kargman, except that she is Drew Barrymore's soon-to-be ex-sister-in-law and that she stars in Bravo scripted series Odd Mom Out, which I don't watch, because I have prioritized Bravo's reality work. I now know, however, that Jill Kargman (or the Goop team) evidently believes that a t-shirt worn on an episode of Odd Mom Out is worth $75:
And now, Lena Dunham! Her giveaways were in the slightly, slightly more humane $150-$400 range, and include a pair of terrible Manolo Blahnik flats and a poofy Miu Miu skirt. Lena also included a selfie, which was not a part of this exercise. But who among us hasn't misguidedly purchased a pair of stupid formal shorts?
And lastly, Rachel Zoe. I am oddly comforted that after all these years, Rachel Zoe continues to clutch firmly onto the belief that every woman must own a leather trouser:
So! If you have an extra $795 lying around and would like to brush your butt against something a celebrity's butt has touched, head on over to goop.com.
---
Image via Getty, screenshot.