On Friday, StarWipe announced that it would officially be shutting down operations after less than a year of existence. The website, which is owned by The Onion, was intended to be a satirical take on celebrity gossip sites.
In a lengthy post without a byline titled, "R.I.P. Celebrity," the website indirectly announced its demise.
In tragic yet not wholly unexpected news, celebrity—the name given to those who entertained millions as the stars of beloved movies and TV shows, who performed on Broadway stages and recorded numerous hit albums, and who inevitably appeared on some depressing reality show—died this week at its longtime Hollywood/Manhattan home, according to a general sense that it was simply its time. The cause of death was a prolonged lack of interest that ultimately proved fatal, with celebrity suffocating under the voluminous fluff of the entertainment news cycle, while also succumbing to the rapid spread of viral stars—the deadly combination of which left no breathing room for the kind of attention required to properly sustain it. The concept of "celebrity" died at the age of this year minus whatever year Oscar Wilde started going to parties, its death rattle the one millionth "who cares" reply to a Facebook post about Kanye West.
The post concludes, "Anyway, the death of celebrity leaves only one known survivor: Bruno Mars. And frankly, we at StarWipe would rather kill ourselves. It's time for us to go, too." It was tweeted and followed up by an announcement from the site's editor Sean O'Neal.
G/O Media may get a commission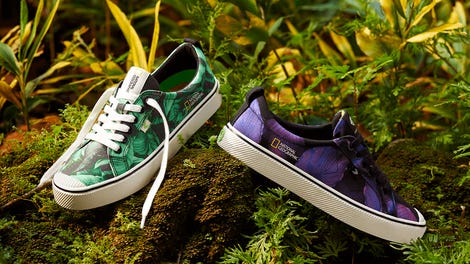 New New New
Cariuma + National Geographic
The site, which held immense promise (because what is more mockable than celebrity?), suffered from what seemed to be a waffling stance on what the website was supposed to be. It's sibling site, Clickhole, functions brilliantly as an absurdist BuzzFeed knock-off, importantly, with articles that could never appear on the website it is sending up. StarWipe, on the other hand, chose not to go that parallel route (which might have meant writing the same way tabloids write, but about absurdly negligible topics, ie. "Celebs Take to Twitter to Express Solidarity for Zayn Banging His Elbow Really Hard," or something).

Instead, the website became a blog about celebrities written by people who seemed to be fundamentally bored by celebrity culture, featuring, in its later days, articles like "The Best Red Carpet Looks of The Ah Fuck It," "Jennifer Lawrence Still Terrible," "Seriously, What Are We Even Doing?" "JUST FUCKING STOP," and "FUCK THIS."
Of course, Hollywood is exceedingly mockable (and it has been successfully satirized plenty). But in order to write irreverently about something, it's crucial that one understands why that thing deserves reverence in the first place. R.I.P. StarWipe; I'm not sure celebrity is quite dead yet.
---
Image via StarWipe.