In March, a Vallejo woman was kidnapped, held for ransom, and then released in Huntington Beach. Her boyfriend, who was with her at the time of the kidnapping, had been drugged and tied up, unable to do anything. Police were sure that the couple had cooked up the kidnapping scheme themselves, but new evidence makes it clear that the attack was very, very real and that the police owe Denise Huskins and Aaron Quinn an apology.
The L.A. Times reports that both Huskins' and Quinn's lawyers are outraged that the police never took the case seriously and even threatened both partners with criminal charges when they believed that the case was a hoax. It's true that the kidnapping did seem farfetched—and not outside of the Amy Dunn wheelhouse—but just because something isn't easy to explain doesn't mean it's not true.
From the Times:
On Monday, the case took a dramatic turn.

The FBI announced that a man had been arrested in connection with what officials would only call the kidnapping of a woman. Matthew Muller, 38, a Harvard-educated former attorney, was taken into custody June 8 after authorities identified him as a suspect in a home-invasion robbery in Dublin, Calif., federal officials said.
An unsealed federal affidavit outlining their case against Muller does not name Huskins, but the details of the kidnapping are nearly identical to the account given by Huskins and her boyfriend, Aaron Quinn.
It appears that Muller's M.O. was the same in both situations. Huskins, Quinn and the victims in Dublin stated that they were woken by a man shining a flashlight at the foot of their bed. They were told to lie on their stomachs and restrained by zip ties. Quinn told police that he had goggles placed over his eyes and was forced to listen to taped instructions while being drugged with muscle relaxers and Nyquil. He woke to find a ransom note demanding $8500 for Huskins' safe return.
Police initially suspected Huskins because she didn't meet them for an arranged interview shortly after being returned to her family's home in Huntington Beach, but they may not have taken into account the amount of shock Huskins was in after the trauma she had suffered. Huskins' and Quinn's attorneys told media that their clients had been mocked, humiliated, and vilified, all while being as helpful with the investigation as possible and deserved to be apologized to publicly.
G/O Media may get a commission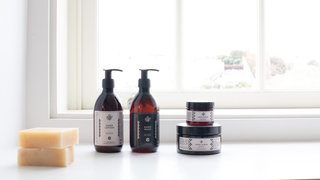 Exfoliate and Hydrate
The Handmade Soap Company
Police searched Muller's home and found that the disbarred lawyer (license revoked due to incompetence, according to the Times) had kept evidence that Quinn and Huskins told the police about on the premises.
Quinn's computer, water goggles covered with tape, a pair of two-way radios and tape with a long blond strand of hair attached to it were found in the South Lake Tahoe home where Muller was arrested or inside a stolen car he apparently was traveling in, according to the FBI. Most of the items had been mentioned in emails from the kidnappers, the affidavit said.
While an apology to Huskins and Quinn hasn't come yet, their lawyers are asking the police to continue investigating Huskins' kidnapping. The couple believes that Muller wasn't acting on his own and that his co-conspirators may still be at large and a danger to others. An email sent to The San Francisco Chronicle from Huskins' alleged kidnappers also backed up Huskins' claims, although authorities haven't yet vouched for its credibility.
---
Contact the author at mark.shrayber@jezebel.com.
Image via screenshot/CBS Sacramento.