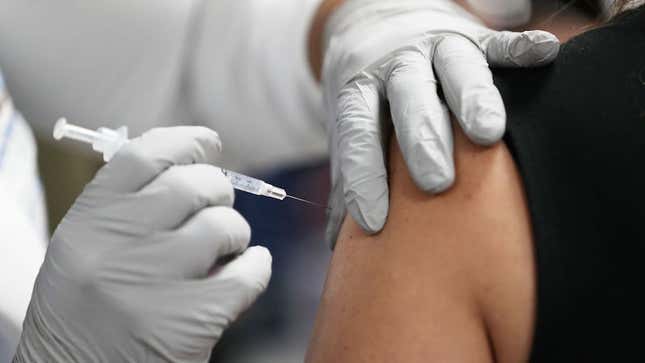 In a move we all kind of saw coming, the Biden Administration is expected to advise all vaccinated Americans to seek out an additional booster shot for their covid-19 vaccine.

Pharmacies Are Refusing to Fill Prescriptions That Contain 'Abortifacients'
The White House is expected to publicly announce this guidance on Wednesday, according to unnamed officials who spoke with the New York Times. This advisory only applies to individuals who got the two-shot vaccines made by Pfizer-BioNTech and Moderna. Recipients of the single-shot Johnson & Johnson vaccine will probably also need to get an additional booster shot, but officials are still waiting on results from a necessary clinical trial.
I think I speak for all of us when I say give me the fucking vaccine. Respectfully.
Anyway, here's more covid-related news to catch you up this morning:
Texas Gov. Greg Abbott has tested positive for COVID despite being fully vaccinated, his office announced in a press statement on Tuesday. The Republican politician—who has been super against mask mandates this whole time, to the point that he issued an executive order blocking school districts and other public and private institutions receiving state funding from making people wear masks—is currently self-isolating in the state's Governor's Mansion. Elsewhere in the state, hospitalizations are surging, perhaps most alarmingly among children. [CNN]
Speaking of Republican governors who suck, Florida's Ron DeSantis has unfortunately won again. Education officials have decided that two school districts in his state have in fact violated state law by trying to make students mask up. [The Washington Post]
Over half of the United States is fully vaccinated against COVID-19! It's only like a fraction of a percentage point greater than 50 percent, but hey! Over half is over half! Anyway, while we're talking about vaccines: 61.8 percent of American adults are fully vaccinated against the novel coronavirus, and 72.2 percent of Americans over the age of 18 have received at least one dose of a vaccine. [The Centers for Disease Control and Prevention]