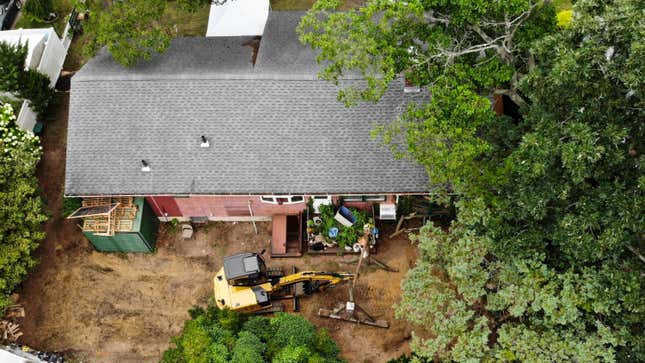 Over the weekend, authorities began digging up the Long Island, New York, home of Rex Heuermann, the man suspected of killing at least three women found at Gilgo Beach, and reportedly found a soundproof room in Heuermann's basement that they think at least one woman may have died in, according to the New York Post.
"It's not just a hidden room — it's a serious vault," a former coworker of Heuermann's told the tabloid, recalling that he took time off work for the room's installation. "It had a huge, heavy-duty safe door. He went and poured new concrete walls, massive amount of concrete to encase this room."
"It was maybe 2 or 3 feet thick," the coworker added.
Authorities are excavating his backyard, and used a backhoe for at least three hours on Sunday. They've also brought cadaver dogs and radar tools to the property.
The room may be a previously reported storage area where Heuermann kept roughly 300 firearms. CNN reported that the only 92 of the hundreds of guns (including "pistols, revolvers and semi-automatic rifles") were registered.

The disappearance and murder of multiple sex workers—including Melissa Barthelemy, Megan Waterman and Amber Costello—in the Gilgo Beach area had gone unsolved for years, but on July 14, police arrested Heuermann in New York City. He has pled not guilty to murdering all three women.
A neighbor who had nothing positive to say about Heuermann told the Post that police told him at the scene that they were concentrating their recovery efforts on his basement. "This guy is a wacko," Robert Musto said. "They're saying there's evidence he killed at least one of the girls down there. The cops are going to dig all that out. Said they're focused on the soundproof room in the basement but they're going to look at everything."

Heuermann's wife, Asa Ellerup, also lived in the house. When police arrested Heuermann in Manhattan, they also arrived at his Massapequa Park home to execute a search warrant. "When we told the wife, she was shocked, she was embarrassed," Suffolk County Police Commissioner Rodney Harrison told local news last week. "But there was a point where we showed her certain pictures and she said, 'OK, it is what it is.'"

Ellerup has since filed for divorce in Suffolk County. They were married 25 years. "As with any family, it's extremely upsetting and they're totally shocked and caught off guard," family attorney Bob Macedonio told the U.S. Sun after Heuermann's arrest. "The family doesn't want to make any further comment than that."
These aren't the last cases expected to be connected to Heuermann. ABC News reported last week that Heuermann is a "prime suspect" in the death of a fourth woman, Marueen Brainard-Barnes, who disappeared in July 2007.