Gigi Hadid appears on the August cover of American Vogue—her first for the career-making magazine—along with Olympic decathlete Ashton Easton, a 2012 gold medalist. She is holding a javelin, and to celebrate the occasion she papered her Instagram with an acceptance speech worthy of Sally Field.
"I couldn't think of a cover I'd rather be on than the one celebrating athletes. Being an athlete has brought so much pride and joy to my life and has instilled the work ethic that still drives me every day," the 21-year-old model wrote. "To Anna, @mariotestino, @tonnegood & everyone at Vogue —thank you from the bottom of my heart for believing in me, teaching me, showing me the world, and being such a pleasure to work with. To @luizmattos1906 and my @imgmodels family, I don't think you guys enough—I appreciate you so much."
The drama! To be fair, Hadid does look incredible in the ensuing spread, including a photograph of her and Eaton doing hurdles over some kind of public sculpture, a feat of athleticism and photoshop both:
G/O Media may get a commission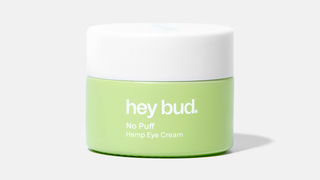 15% off
Hey Bud - No Puff Hemp Eye Cream
"This one's dedicated to my biggest inspirations to work hard, my family, to all my coaches throughout my life," Hadid continued, "and of course to the fans that have stuck by me from the start!!! Feeling extremely blessed."
This one's dedicated to those Fenty by Rihanna for Puma high-heeled sneakers, which are bringing back my most gut-wrenching memories of 2003 and yet I find myself wanting them desperately. Thank you to @mariotestino @badgalriri @wetseal for the memories.
In the ensuing profile, by Robert Sullivan, the first few paragraphs talk a whole lot about Caitlin and Kendall Jenner, which might lead one to ask why Kendall's not on the cover instead of Gigi. (We know why.) But then we get some insightful dialogue from a truly literary writer who knows it's better to show rather than tell:
"My dad was an Olympic skier," Hadid points out. She is beaming.

"Oooh," Eaton says. Double take. "Downhill or mogul?"

"Downhill."

"Ah, so does he have bad knees?"

"Horrible; that's why he had to stop skiing. He went when he was, like, 43." (Mohamed Hadid was one of the oldest skiers at Albertville, in France, in 1992.)

"Forty-three to the Olympics!" Eaton says. "Wow, that's really fit."
Such storytelling! Go on:
"Yeah, Blenders is good," he says. "Have you had Backyard Bowls?" He turns to me. "It's an açai-bowl shop," he says. "The cool thing is it was started by two guys who met at Santa Barbara City College."

"Of course!" Hadid says, a little aghast, though now she has completely relaxed, which is not easy to do in those stiletto Pumas that Rihanna designed. "I love Backyard Bowls!"

Next, the two new friends engage in an ultrahealthy bowl-flavor duel. Hadid calmly takes a shot. "Berry bowl with peanut butter."

"Spartan muesli!" says Eaton. "I mean, yeah—berry bowl is good. But peanut butter?"
To be fair, it's clear the author spent probably a total of 15 minutes with the cover stars, tops, but the banality of the dialogue is so profound it honestly should have been left out, replaced by more lofty musing on the meaning of Hadid's success. (At least it's not this by the same author, tasked with writing these covers apparently because he follows people on Instagram.)
Hadid, though, she's done well for herself; at one point in the story she says "people cannot imagine me as a volleyball player" which is absurd; if there's anything one can imagine Gigi Hadid doing, it's playing volleyball, especially on the beach. (She played the sport at Malibu High.)
Congrats Gigi! Don't forget to thank the Academy.
---
Image via Vogue