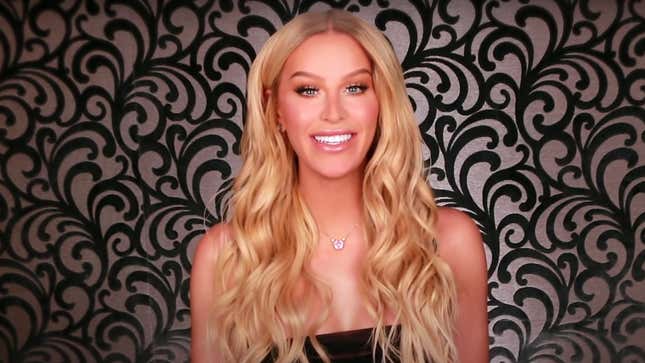 Congrats to Gigi Gorgeous for nearing ever closer to winning that queer EGOT (i.e., at some point in your life identifying as every single letter in the LGBTQ+ acronym).

The Cast of 'Jersey Shore: Family Vacation' Think All Roadtrips Are Shitshows
In a new video uploaded to her channel on Saturday, the longtime YouTuber tells viewers that she now identifies as pansexual. The previous terms she used to label her sexuality (like "gay" and "lesbian") no longer felt accurate after her husband, Nats Getty, transitioned and came out to her as a man.
"I came out as gay before I transitioned, I came out as transgender, and then I came out as gay again," Gigi says. "I don't regret at all any of my coming outs or my journey in general. Like, I'm the first person to be like, 'What is this feeling?' 'How are you doing?' I urge people to talk about that stuff all the time."
"It was actually through my husband, Nats, that this kind of was unlocked inside of me," she continues. "It's always been there. This girl has always been inside of me, but it took this stage in my life, really, to open up, and I'm ready to share this with you guys. Over the years, I realized that I didn't all in love with Nats because of his gender. I fell in love with the person that he is. I just want to let everybody know that I am pansexual."
Watch her coming out video below.
---
DMX loved The Golden Girls, according to Gabrielle Union. [Page Six]
The Talk returns on Monday without Sharon Osbourne. [Deadline]
Anne Beatts, the Emmy-winning comedy writer who was one of the original staffers on Saturday Night Live and went on to create cult hit Square Pegs, died on Wednesday. She was 74. [ABC News]
Longtime Kurt Cobain fan Kid Cudi wore a mossy green cardigan and a flower-patterned dress during his SNL performances last night in an apparent tribute to the late Nirvana singer. [Rolling Stone]
Orange County housewife Braunwyn Windham-Burke broke up with her girlfriend. [Page Six]
Simply obsessed with Bad Bunny's WWE career pivot. [TMZ]
Natasha Bedingfield!!!!!!!!