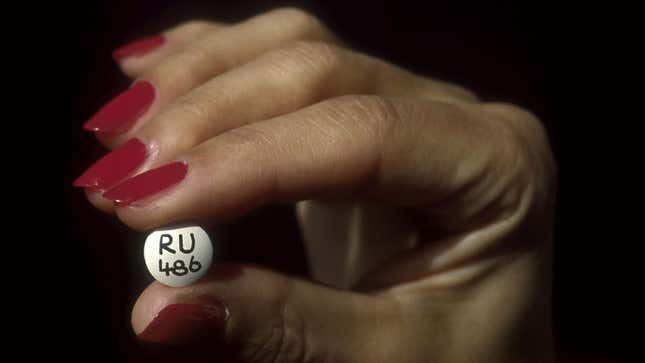 In 1993, George Tiller—one of three providers of later abortion care in the nation at the time—stared down his first assassination attempt, about 16 years before he would be shot and killed by a different anti-abortion extremist in 2009. Rachelle "Shelley" Shannon, a woman later characterized as a "terrorist" by a federal judge, shot Tiller repeatedly through his window while he drove his car out of the clinic parking lot. Shannon was released from prison just five years ago in 2018, nearly a decade after a different anti-abortion activist, whom Shannon had contacted from prison, killed the Wichita-based doctor in 2009 while he was at church.

To T.J. Raphael, the producer and host of Sony Music's Cover Up podcast, the 1993 assassination attempt was a terrifyingly apt encapsulation of what, exactly, feminist activists trying to bring the abortion pill to the U.S. were fighting for in the 90s: basic safety from a surge in anti-abortion violence in the years after the Supreme Court decided Roe v. Wade.
"By this time, Roe had been the law of the land for almost 20 years, and a lot of anti-abortion activists were deciding to challenge this through any means, setting their eyes in particular at the point of where abortions happen: at clinics," Raphael told Jezebel. For the second season of Cover Up, which released its seventh and final episode on Aug. 14, Raphael spent the last year since the Supreme Court overturned Roe digging into the shocking story of the race to bring medication abortion (RU-486) into the United States. Today, medication abortion accounts for more than half of all abortions and is substantially more common than in-clinic procedural abortion, even as the pill remains embattled in the courts. But it's been a long and twisty journey since the summer of 1989, when former President Ronald Reagan's FDA banned the import of RU-486, despite the fact that it was then legal, accessible, and life-changing in France and other countries in Europe.
Raphael sets the scene of abortion access in the U.S. during this period through a vignette of chilling anecdotes. She interviews abortion clinic workers and volunteers who witnessed or experienced the tactics of anti-abortion protesters outside clinics at this time: volunteers who had their legs broken by protesters driving into them; clinics being evacuated in the wake of bomb threats and suspicious packages, razed to the ground, or subjected to acid attacks. It was during this period that Operation Rescue, an anti-abortion organization recognized by some as a terrorist group, came onto the scene, bucking leading anti-abortion groups' performative pleas for peace and insisting, "If you think abortion is murder, act like it."
At one point in 1992, ahead of the presidential election that year, then-candidate Bill Clinton was attacked by an anti-abortion protester who threw a bloodied fetus at him as he left his hotel. Speaking to Raphael about the incident, Operation Rescue founder Randall Terry justified these tactics by co-opting historic civil rights struggles, citing how the mother of Emmett Till—the 14-year-old Black boy who was abducted and lynched by white supremacists in the 1950s—made the decision to have an open casket funeral so the world could see what had been done to her son. Of course, Raphael notes that Terry confused Till's name for that of an NFL player—a reflection of his statement's absurdity and nastiness.
During a summer of particularly targeted anti-abortion violence, Raphael recounts how Tiller forged a deal with local police to pretend his clinic had shut down to divert anti-abortion protesters. It worked, but the long-term effects of this were catastrophic: Believing that if they camped out at and terrorized clinics relentlessly enough, they could shut them down, anti-abortion activists mobilized across the country, launching "40 Days for Life" campaigns at different clinics to try and shut them down. Over the last 50 years, the National Abortion Federation has documented 11 murders, 42 bombings, 200 arsons, 531 assaults, 492 clinic invasions, 375 burglaries, and thousands of other criminal acts directed at patients, providers, and volunteers.
At the heart of this terror of this period, Raphael says, was the urgent need for the abortion pill and its revolutionary potential to empower pregnant people with greater agency, privacy, and safety. The pill would also help protect clinics from violence, as they'd no longer be the central space where abortion happens, activists believed. It was in this context that a man named Larry Lader emerged as an unlikely, determined, and fairly self-appointed savior. In 1992, determined to challenge the FDA's ban on RU-486 in court, Lader, a seasoned and eccentric feminist activist, began to seek a new Jane Roe: a pregnant woman in need of abortion who would deliberately be caught bringing abortion pills into the U.S. and go to court for the right to use them.
The public stoning of Leona Benten
The most immediate problem with Lader's plan—which numerous lawyers advised him against—was that he couldn't find a woman up for the task. Anti-abortion stigma persists to this day, Raphael says, but where "storytelling today is a huge piece of abortion rights activism," in the early 90s, few women shared their abortion stories with anyone, let alone with the legal system and the media. Raphael recounted attending an abortion rights rally in Manhattan after Roe was overturned and listening to New York Attorney General Letitia James share her own abortion story. In 1992, this would have been unthinkable.
But then, Lader met Leona Benten, a 29-year-old social worker and seasoned, anarchist activist who happened to be six weeks along with an unwanted pregnancy. Medical experts recognize medication abortion as being most effective in the first trimester, meaning the clock was ticking if Benten hoped to have a medication abortion. Interviewing activists who worked with Benten and Lader (who died in 2006 at 87 years old), Raphael recounts the unlikely pair's race against time to travel to England, obtain abortion pills, and call law enforcement on themselves for smuggling RU-486 into the country upon arriving at JFK Airport.
Events spiraled from there: Benten was predictably eaten alive by the media, which capitalized on her status as an unwed pregnant woman who—by her own admission—had an abortion before. Benten wanted RU-486 to come to the U.S. as an alternative to procedural abortion, which she'd personally found to be an invasive and unpleasant experience.
In Cover-Up, Raphael speaks with feminist activists who worked with and supported Benten—and who were both outraged by the public's treatment of her and disappointed by the lack of support she received from Lader and others in the movement who hung her out to dry. In many ways, Benten's story reflects how the legal system and media can dehumanize high-profile plaintiffs or marginalized people at the center of movements, and reduce them to symbols. "There's no such thing as a 'perfect victim,' or 'perfect spokesperson' for movements, but in Larry's head, or to the press, the 'perfect spokesperson' for overturning the abortion pill might have been a kind of stereotypical housewife, a subservient woman who wasn't in your face, like, 'Fuck yeah, let's challenge the government,' but someone people could find sympathetic, someone men could see as being their mother or sister," Raphael said. "Leona wasn't that."
Shortly after Benten and Lader sued for her right to use the abortion pills they'd smuggled to the U.S., U.S. District Judge Charles Sifton of Brooklyn—appointed by former President Jimmy Carter—ruled in Benten's favor and ordered the pills to be returned to her. But the 2nd U.S. Circuit Court of Appeals in New York subsequently blocked the order, and Benten's lawyers brought the case to the Supreme Court, where it landed at the desk of the newly sworn-in Justice Clarence Thomas, an anti-abortion extremist who more recently, gleefully helped overturn Roe.
Benten argued that she should be able to use the pills under the FDA's compassionate use provision for medical emergencies—unwanted pregnancy is, after all, a time-sensitive, urgent health condition. The rejection of Benten's pleas by the Supreme Court, Raphael told Jezebel, was purely political. It was a defeat for Benten, who was left with no other option but to have an in-clinic abortion with all the attention of the national anti-abortion movement trained on her. But in Cover Up, Raphael details how Lader saw this outcome as a victory: The case put RU-486 on the map in the U.S.
That, and Lader had secretly kept a dosage of RU-486 and began developing a secret project with American scientists to reproduce it.
The legalization of the abortion pill and beyond
There were early challenges to Lader's development of a reproduction of RU-486, which was created and owned by a French company. Raphael reports in Cover Up that the scientists he'd recruited lived in constant fear that the covert lab they operated within would be discovered and attacked by anti-abortion activists. The scientists who worked on the project remain anonymous, today, with one working under the pseudonym Dr. X.
But by the end of 1992, the tables began to turn: Clinton won the presidential election and almost immediately pledged to have the FDA look into the abortion pill—the first step toward approving it in the U.S. after clinical trials involving Lader's reproduction of it. Under Clinton's presidency, the FDA ultimately approved the abortion pill in 2000. His administration also worked toward the passage of the Freedom of Access to Clinic Entrances Act (or the FACE Act) to protect reproductive health clinics and make it a federal crime to obstruct access to clinics.
Of course, the story of how the abortion pill came to the U.S. has been largely buried in the collective consciousness speaks to how constantly and dramatically the landscape around our reproductive rights changes. In June 2022, the Supreme Court overturned Roe. Months later, the abortion pill became the primary target of the anti-abortion movement's ire yet again, in part by invoking the Comstock Act, a decades-old 1873 law against the dissemination of "obscene" materials; in April, a federal judge in Texas determined that FDA approval of the mifepristone abortion pill should be revoked. And while the Supreme Court temporarily blocked this ruling, it's an ongoing legal battle with the potential to decimate abortion access.
Anti-abortion violence obviously persists to this day, too: In May, NAF reported a 229% increase in stalking, 231% increase in burglaries, and 100% increase in clinic arsons targeting abortion clinics across the country between 2021 and 2022. Feminist activists once hoped the abortion pill would eliminate this violence, but while access to the pill has helped, anti-abortion violence remains a fixture in our lives. Just nine years after the FDA approved the pill, Tiller was killed while attending church. "It's shocking, haunting to me, still," Raphael said, that the first assassination attempt on him wasn't taken seriously enough. Shannon received only a 10-year sentence for attempting to kill Tiller and a 20-year sentence for burning three abortion clinics; as Raphael put it, "She faced more time for property damage than trying to execute someone."
One way or another, Raphael concludes in the final episode of this season of Cover Up, the story of how activists brought the abortion pill to the U.S.—and how anti-abortion activists tried to stop them—speaks to how both movements will always do "everything they can." Just as anti-abortion activists are happy to escalate clinic violence and revive an 1873 law in 2023, abortion rights activists have established abortion-related travel funds where abortion is banned, and are collaborating with pro-choice pilots for abortion flights.
"I was hoping to end on a hopeful note for our listeners, because right now can feel like a really demoralizing time," Raphael said. "This story shows that you can make change that might take a long time, that won't happen overnight. But when we allow ourselves to become discouraged, when we allow ourselves to take our eyes off the ball, that just allows other people to dictate the terms of the playing fields."