If you have ever flipped on the tube after eating a ball of pot, settled on the most invigorating display of human physical abilities available on network television, American Ninja Warrior, and thought, "I could hang onto that chunk of plastic if money was on the line," I'm here to say you are wrong! Like, so wrong!
Picture me: an adult woman of average build who has been exercising three to five times a week for the past one-and-one-half years, who can do 25 full-form push-ups but only if I'm drunk. If you had to guess if I could hold onto a bar and hang from it, you would likely say, "Sure, why not." Again, and sorry for spoilers, not the case!!!
I was not aware of my deep inner weakness when I signed up for a private American Ninja Warrior training session with former American Ninja Warrior Natalie Strasser at the Brooklyn Zoo, a parkour facility that offers classes that, like this one, make me feel both scared and exhilarated, like what it's like to fall in love!
When I first walked into the facility, the first floor of which is a big gymnastics gym with padded floors and a foam pit, it was overrun with children participating in play. I wouldn't be joining them, I soon learned—rather, I'd be taking an elevator to their second floor—a significantly scarier, padless floor with bars for flipping, structures for climbing, and various other bags and beams for humiliating yourself on and around.
Strasser had me do some humbling warm ups for "mobility" (read: for establishing her dominance), and then she created an obstacle course that resembled the classic Ninja Warrior courses I know and love, but much smaller and, I assumed wrongly, easier.
G/O Media may get a commission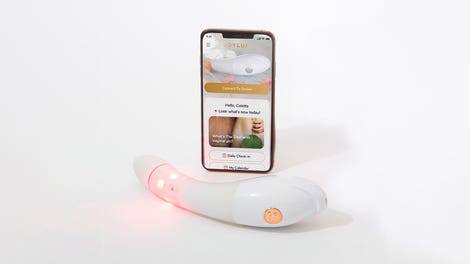 $50 Off
Joylux vFit Gold Device
There were stations I did well: Little lily pads for jumping, a balance beam for balancing, a giant sideways cork for also balancing. And then there were things I did poorly: A corridor for spider-manning yourself up, a wall for running straight at. And then there were things I was able to do not at all: bean bags for hoisting your body with only the strength of your biceps, a plank for hanging and monkey-barring down.
During the filming (here's some behind-the-scenes gossip for you), some of the tasks were so hard that I found it physically and spiritually difficult to keep smiling and being polite to my instructor—when the body breaks down, I discovered, so do social graces. The disconnect between wanting to fulfill a professional obligation (becoming a Ninja Warrior), and being distinctly unable to do so, broke my brain uniquely.
By the end of the session, I was soaking wet—with sweat, but also with admiration for the Ninja Warriors who had come before me. To beat the great televised obstacle course (the one on the show and the one of life) requires an extraordinary amount of skill, patience, and upper body strength—qualities that I don't currently possess but hope to nurture throughout adulthood. Although if NBC wants a very brief interlude of comic relief, this can also serve as my audition tape.
The American Ninja Warrior season finale airs Monday at 8 p.m. EST on NBC.
Video Producer: Phoebe Bradford
Associate Producer: Zoe Stahl
Creative Producer: Anders Kapur.