We've been repeatedly horrified over the years by incidents similar to the case of Joseph Fritzl, the Austrian man convicted of holding his daughter captive for many years while he sexually abused her. However, "Adolf B," the man dubbed the "German Fritzl" by the media, has managed to add a disgusting new twist to the tale by arguing in court that his daughter consented to their 34-year sexual relationship, which she says started when she was 12. To make matters worse, a court just sided with Adolph B and sentenced him to less than three years in prison.
Since the 2009 Fritzl case, the name has become a shorthand for long-term, incestuous sexual abuse, but Adolf B. (pictured above) is not to be confused with the "American Fritzl," the "New Jersey Fritzl," the "British Fritzl," the "Australian Fritzl," or the second Austrian Fritzl. The Local reports that in March, a 46-year-old woman known as Renate B. was arrested for blackmailing a doctor who she accused of causing her son's disability. When she was assigned a parole officer, Renate revealed that her father had been raping her from the time she was 12 or 13 and forced her to carry on a sexual relationship with him for 34 years. Renate says that while living in their home near Nuremberg, Adolf regularly beat her and threatened to kill her if she told anyone about the abuse, saying, "I will kill you ... It doesn't matter where you go, I will find you." Over the years Renate gave birth to three disabled sons, two of whom are now dead, and she says Adolf is the father.
Adolf, who is 69, admitted that he had an incestuous relationship with his daughter, but he says the circumstances were much different. According to his version of events, they had consensual sex for the first time when she was 17. He insisted that she usually initiated their encounters and was always a "willing participant." And just for good measure, he claimed that the children probably weren't his.
The prosecution wanted Adolf to be convicted on 497 counts of rape going back 34 years and was seeking a 14-year sentence, but yesterday a German court found that there wasn't enough evidence to convict him of rape, and there were too many inconsistencies in Renate's testimony. Under the law Adolf couldn't be charged with statutory rape since more than 20 years had passed, so instead the court ruled that he'd had a consensual decades-long relationship with his daughter. He was convicted of incest and sentenced to two years and eight months in prison, which is even more unbelievable because the defense was hoping for a five-year sentence at best.
G/O Media may get a commission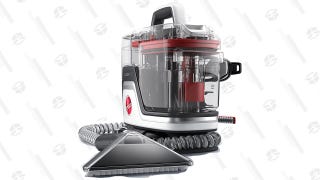 Save $10
Hoover CleanSlate Plus Carpet & Upholstery Cleaner
Renate's lawyer says she's "shocked and furious" at her father's denials, and is considering an appeal of the verdict. Her chances still seem slim, since unfortunately she didn't keep any detailed records while her father was abusing her as a teen, and neighbors who gossiped about their rumored relationship since the '80s never bothered to contact the police.
Man Acquitted Of Rape But Jailed For Incest [The Local]
German Father Jailed For Incest [The Guardian]