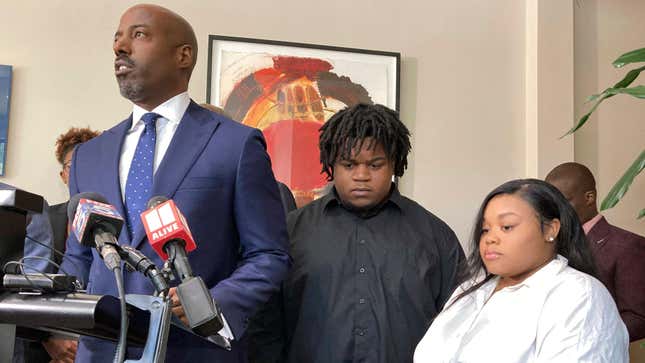 A woman in Georgia has filed a lawsuit against Southern Regional Medical Center alleging negligence that led to her full-term newborn being decapitated during childbirth. In a lawsuit filed Wednesday in Clayton County, Jessica Ross, along with her partner, Treveon Isaiah Taylor, said the incident occurred on July 9 when a physician attempting to deliver the baby vaginally used "different methods including applying traction to the baby's head."
"The baby did not properly descend due to shoulder dystocia," the lawsuit says. (Shoulder dystocia is a condition when a baby's shoulders become stuck in the vaginal canal during labor.) The physician, named as Dr. Tracey St. Julian, "failed to practice according to medical standards," the lawsuit alleges. It goes on to say that St. Julian "grossly" and "negligently applied excessive traction" on the baby's head and neck, ultimately "resulting in the baby's decapitation and death." Roderick Edmond, an attorney for Ross and Taylor who is also a physician, told the Associated Press that St. Julian applied "ridiculously excessive force."
About three hours after trying to deliver the baby vaginally—at which point a fetal monitor had stopped registering a heartbeat—St. Julian performed a cesarean section on Ross. Edmond said that the couple had asked for a c-section earlier, but were denied one. The baby's legs and body were removed through this process, but the baby's head was delivered vaginally, according to the lawsuit.
Ross and Taylor had named the baby after him: Treveon Isaiah Taylor Jr. Another of their attorneys, Cory Lynch, told the AP, "They were so excited about the birth of their first child. Unfortunately, their dreams and hopes turned into a nightmare that was covered up by Southern Regional Medical Center."
According to the complaint, after the fatal delivery, "Hospital staff allowed the young couple to only view their dead child," barring them from touching their baby's remains. "During this viewing, their baby was wrapped tightly in a blanket with his head propped on top of his body in a manner such that those viewing him could not identify that he had been decapitated," the complaint states.
In a statement the hospital shared with CNN on Wednesday, Southern Regional Medical Center said it "denies the allegations in the complaint referencing the hospital." The hospital has declined to comment on the specifics of the matter to the media due to patient privacy laws and the Health Insurance Portability and Accountability Act (HIPAA), and the county medical examiner's office has yet to issue a cause of death for Treveon Isaiah Taylor Jr. This is expected to come this week, now over a month after the death of Ross and Taylor's baby.
The hospital has also clarified that St. Julian is not employed by them and works for a private practice. (Premier Woman's Obgyn, where she works, did not immediately respond to a request for comment from Jezebel.) In its statement, Southern Regional Medical Center says it has "taken the appropriate steps in response to this unfortunate situation," and offers "heartfelt thoughts and prayers are with the family and all those impacted by this tragic event." The hospital declined to comment further as "this matter is in litigation."
Ross' lawsuit is seeking monetary damages for the value of the baby's life as well as funeral and burial costs, alleging negligence, fraud, and intentional infliction of emotional distress.
Treveon Isaiah Taylor Jr.'s death comes as infant and maternal mortality rates in the U.S. are on the rise in recent years, particularly in Black communities. Black infant mortality rates are more than double the infant mortality rate for white babies, according to the Centers for Disease Control and Prevention.
Ross and Taylor's baby's gutting death also builds upon endemic mistreatment of Black families by medical providers. Earlier this year, a couple in Texas lost their newborn to Child Protective Services for several weeks when a doctor called the agency over the couple's decision to have a home birth and seek midwifery services—which the couple said they'd sought in the first place due to fear of how hospitals treat Black pregnant people and parents.
Dorothy Roberts, a professor and author of Killing the Black Body, shared Ross and Taylor's story on Twitter on Thursday, calling for an end to "the reproductive violence against Black women that began during slavery and extended through mass sterilization and maternal mortality."