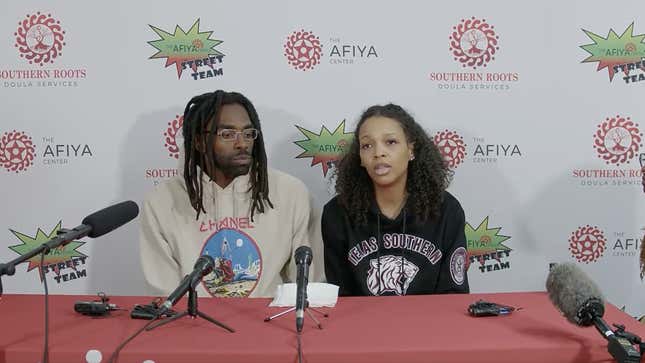 UPDATE 4/7, 9:15 a.m.: This piece has been updated to include additional context about the baby's medical situation from the pediatricians's letter to Child Protective Services, as reported Thursday evening by the local news outlet WFAA.
Two weeks ago, Dallas parents Temecia and Rodney Jackson opted for a home birth for their newborn daughter, Mila, with licensed midwife Cheryl Edinbyrd. As of Thursday, the infant remains in the custody of Dallas Child Protective Services in what the Jacksons and their advocates at the Dallas-based, Black-women-led birth and reproductive justice organization The Afiya Center have likened to a "kidnapping." Minutes before the start of a scheduled Thursday morning hearing for the couple to get their newborn back, the hearing was postponed to April 20th—two weeks from now.

Shortly after Mila's birth last month, upon taking her to see their pediatrician, they learned she had developed a case of jaundice—a highly common condition in newborns resulting in the yellowing of the skin and whites of the eyes, which typically goes away without treatment within one to two weeks. Dr. Anand Bhatt said the case was severe enough that they should take her to the hospital for phototherapy treatment, but the Jacksons opted to do the same phototherapy treatment for Mila in their home under Edinbyrd's guidance. According to the letter Bhatt ultimately wrote CPS, published by local outlet WFAA, he was concerned that they had the wrong lights for the treatment. They'd connected him with Edinbyrd, but he was having trouble getting bacl in touch with them directly, and he decided to report them "after trying 10 attempts to appeal to the family through phone calls, text messages and leaving voicemails as they did not pick up the phone."
"Parents are very loving and they care dearly about their baby," he wrote of the Jacksons. "Their distrust for medical care and guidance has led them to make a decision for the baby to refuse a simple treatment that can prevent brain damage." Baylor Scott & White Hospital declined to comment on this story "in respect of patient privacy."
Within days, the Jacksons say Dallas police officers and CPS agents arrived at their doorstep at around 5 a.m., informing the family that their pediatrician had reported them and demanding that they turn her over. The officers eventually left their home when the Jacksons refused—only to return hours later and tell the family that Mila was legally in the custody of Dallas CPS. The Jacksons again refused to turn over their newborn and instead reached out to their midwife for help. "Our midwife then reached out to the pediatrician, just letting him know that he had traumatized us, that we were woken up by police banging our door at 4 a.m., 5 a.m. Then after she gave him all the credentials he'd requested from her, he pretty much said he was going to leave our care and our midwife teams," Temecia said at a Thursday press conference organized by the Afiya Center.
Over the next few days, everything seemed fine. But last Tuesday, as Rodney was walking the family's dog outside their house, the police returned. He refused to surrender the baby when they confronted him, so they placed him under arrest, seized his keys, and used them to enter his home. There, officers took Mila from Temecia while she was alone.
Puzzlingly, on top of all this, Temecia claims the warrant that the Desoto Police Department and CPS agents used to take Mila didn't even list her own name, instead listing her mother as another woman who's previously had run-ins with CPS. The Jacksons still don't even have Mila's birth certificate because she wasn't born in a hospital. "Instantly, I felt like they had stolen my baby, as I'd had a home birth. I didn't know where to turn," Temecia said.
In the last week, the Jacksons have been allowed a few supervised visits with Mila, who they say is in the care of a foster family. The visits have taken place at CPS offices in the presence of police officers, where Rodney told reporters they're "treated like criminals." Rodney claims that every attempt by the couple to deliver breast milk to Mila or otherwise care for her has been shut down.
The couple told reporters that at their latest visit on Wednesday, they noticed Mila had developed some irritation in and around her genitals. When they raised this to CPS workers, they were told the foster family would handle this, and they weren't permitted to take Mila to get care. "With the foster parents is where this build-up and irritation [in Mila's genitals] occurred, and yet you're sending her back to the same foster family. We just feel helpless in this situation as we wait," Temecia said. She and Rodney are already missing a critical postpartum period for parental bonding—now, they also have to worry about whether she's safe in the care of strangers.
Dallas CPS and the Desoto Police Department did not immediately respond to requests for comment from Jezebel on the allegations that the Jacksons and the Afiya Center have made against them.
D'Adra Willis, a birth justice coordinator at the Afiya Center, told Jezebel that the Jacksons' experience is part of a broader issue with the racist over-policing of Black families by law enforcement and child welfare system. "It's a prime example of over-policing of Black children, Black families, Black women, Black community workers, and also the Black midwife, who's not being trusted of what she's capable of doing when she's licensed and certified to do so," Willis said.
"It would not be going this way if they were a white family," Qiana Lewis-Arnold, a birth justice associate at Afiya, told Jezebel. "Police have always been a threat to Black families. And that includes CPS, which is the family police. They treat Black people as just guilty or wrong, without an investigation, and they'll just take action and figure it out later while we suffer through the process."
More than half of all Black children in the U.S. face child welfare investigations before reaching adulthood, compared to 28% of white children. Black parents and especially mothers can face violent punishment: In 2017, one Black mother in Colorado was arrested and hog-tied by police when her toddler briefly ran away at a family picnic. Even prior to the birth of their children, Black pregnant people are more likely to be drug-tested than their white counterparts, and positive tests can result in criminalization and immediate loss of their newborns to foster care. In the case of the Jacksons, they say their newborn was taken from them not for any alleged transgression from them, but simply because they opted for home care options for their baby.
Home-births and midwifery services are increasingly sought out by Black pregnant people and families over traditional hospital settings amid a mounting maternal mortality crisis exacerbated by systemic medical racism. Black pregnant people are three to four times more likely than white pregnant people to die from pregnancy-related causes, per the CDC. When Black pregnant people and families can't feel safe seeking pregnancy and birth-related services from the hospital, and can't feel safe choosing home births and home care options that draw police attention, Lewis-Arnold says they're up against a system that's "intended to hurt and dehumanize us."
"What are our options, when we go to the hospital and die disproportionately? Or when we can't advocate for our health or get an abortion without being criminalized? So, we're forced to have babies, then you interfere with our ways that we're trying to birth and care for our babies," Lewis-Arnold said. "Those are our options."
Edinbyrd, the Jacksons' midwife, was also present at the Jacksons' Thursday press conference and has continued to support the family as they await their rescheduled hearing in two weeks. "This child was being nurtured. This child was being supported. And this child was being loved. And this child was kidnapped," Edinbyrd said. "Mila needs to be returned home."