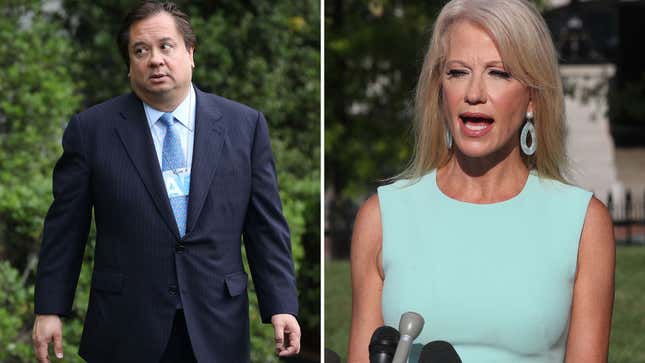 Kellyanne and George Conway, one of those most obviously doomed couples in political history, are finally lawyering up and going their separate ways after 22 years of tumultuous marriage, Page Six reports.
George Conway, formerly a conservative lawyer, became one of President Donald Trump's most outspoken critics while his wife worked as Trump's strategist and adviser and then co-founded the Lincoln Project to help get Trump out of office. Kellyanne wrote in her 2022 tell-all book that Conway had been "cheating by tweeting" negatively about her boss—so much so that Ivanka stepped in to offer marital advice. Kellyanne wrote that Ivanka passed her a Post-it note at one point listing the "names of two local doctors who specialized in couples' therapy."
"I noticed she had avoided putting that in a text or an email. I appreciated the information and her thoughtfulness and wanted to pursue it," Conway wrote of Ivanka. "After I showed George the names, he rejected one and said a halfhearted 'okay' to the other while looking at his phone. We never went."
Trump was, of course, gleeful on Saturday at the news of the divorce, congratulating Kellyanne on Truth Social for being "free at last" from the "wacko husband" who was a "disgusting albatross around her neck."
Conway fired back at Trump that he's "looking forward to seeing you in New York at E. Jean's trial next month! Hugs and kisses"—a reference to writer E. Jean Carroll, who's accused Trump of sexually assaulting her in a Bergdorf Goodman's dressing room in the mid-90s.
The Conways have four children, all of whom I hope are being spared from the attention and drama this sure-to-be messy divorce could shower upon them. But it's clear that these two particular Beltway lovebirds were not meant to be.