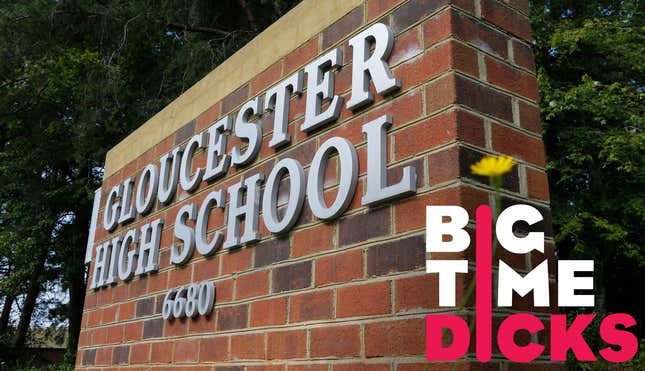 Gavin Grimm, a transgender teenager from Gloucester, Virginia, has been fighting to use the boys' bathroom for over two years—first with his school board, then in the court room. After a series of victories and appeals, the Supreme Court has agreed to the hear the case, and Grimm, along with his ACLU attorney Joshua Block, will be headed there on March 28.
Grimm began fighting in 2014—before states across the country largely realized they could wage a war against trans people via public restrooms. Since then, though, lawmakers at least 14 states have introduced legislation attempting to limit access to public restrooms based on "biological sex."
In this episode of Big Time Dicks, Prachi Gupta and I explore the history of the bathroom as a battleground of oppressing already vulnerable groups. At one time, women weren't allowed to use public restrooms; later, restrooms were created just for women—white women—to mimic the comforts of home, and to provide a protective space in a dangerous environment. Later, white women were warned not to use restrooms with black people for fear of catching STDs; later still, boys were warned not to use restrooms with gay men, who were then feared to be pedophiles and perverts. Impressive how history is so blatantly obvious about the motivations behind arbitrary bathroom bills!
G/O Media may get a commission
25% Off
Coleman SaluSpa Inflatable Hot Tub Spa
In our interview, Block explained how bathroom bills, and the Gloucester County School Board's policy, are essentially unenforceable because they don't "make any sense."
"The school board doesn't even know what it means by biological gender. It refuses to say whether biological gender means chromosomes, it refuses to say whether it means genitals, or something else. So, the school board has not said that if someone had genital surgery—which is unavailable for people under 18—[they] would be treated by them as having changed their biological gender... The school board can't answer any of those questions, because all it knows is that biological gender means not a trans person. The fact is that the only reason that Gavin is in this situation is that people know he's transgender."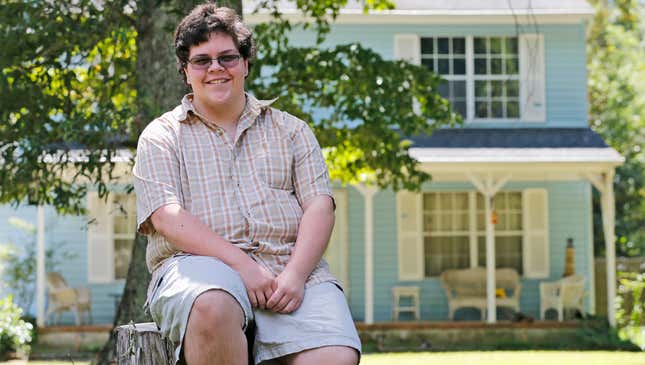 Block explained that the standards (regarding surgeries, etc.) for changing the sex designation on one's birth certificate varies from state to state. Gavin has changed his birth certificate to male, so, if he went to North Carolina, he would be able to legally use the restroom, even under the anti-trans bathroom bill HB 2. Not so in Gloucester.
But Block is hopeful, despite fighting against a ban that is governed exclusively by fear. "I met Gavin when he was 15-years-old, now he's 17. So it's sort of a boys-to-men situation. It's amazing to see the difference between a 15-year-old kid and a 17-year-old young adult. I think it's been a tough experience for Gavin and for me. I think it would be a tough experience for anyone, but it's been amazing to see his resilience and growth in the face of this experience."
"All along my biggest worry has always been am I going to do enough to not let Gavin down. He has been—I'm starting to tear up a little bit right now—I cannot imagine doing what he has done. The courage that he has shown, the fortitude that he has shown is just inspiring to me. And I hope that I'm able to provide legal representation that is worthy of him, or that comes close to matching what he deserves."
Listen to the full interview to learn more about the confounding lack of logic bathroom bills across the country, and how an attorney prepares to argue in front of the Supreme Court ("You take a lot of blood pressure medication.").
Want to tell us about a Big Time Dick in your life? Send us a voice note to BigTimeDicks@jezebel.com. Also, please rate and subscribe to the podcast, and recommend it to your friends, to make sure other's are able to get their weekly dose of dick. If you need an antidote to this extremely dark (but explained in a fun, relatable way) subject matter, check out our sister pop culture podcast DirtCast.
The podcast is produced by Levi Sharpe with editorial oversight from Deputy Editor Kate Dries. Our Executive Director of Audio is Mandana Mofidi.