Following mounting pressure from EVERY HUMAN WITH A CONSCIENCE, Gap and Zara have joined several other retailers in (temporarily) banning products made with angora fur. Like something in which the wicked and depraved antagonist of a YA novel would shroud their withered heart, angora fur is commonly gathered by tying sweet little rabbits to wooden planks and then tearing all of their body hair out by the follicles while they scream in agony.
Ana Gasteyer Satirizes the Girl Boss in 'American Auto'
After PETA released undercover footage shot inside of a Chinese angora farm (be warned: the video is graphic and heartbreaking), several companies agreed to stop selling angora products. Zara and Gap lagged behind their competitors in taking action, which prompted harsh criticism, a petition that eventually garnered over 295,000 signatures, and this YouTube comment: "Fuck you I'm gonna rip your testicle hair out, bitch."
According to the Daily Mail, Zara released a statement on December 18 in which it said that it would stop placing orders for angora fur until it can verify the the farms from which it buys are in compliance with company requirements. The same day, Gap announced on Twitter that it would also suspend orders while the company investigates further. "We take animal welfare seriously," read the tweet. "Thanks for speaking up." In a statement, PETA said that it "welcomes this step," but added that the suspension is not enough on its own. The organization urged that Gap (and, presumably, Zara) should instead institute a ban "so that rabbits and consumers can breathe easy again."
G/O Media may get a commission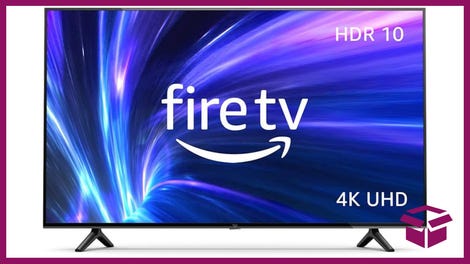 42% Off
Amazon Fire TV 50" 4K Smart TV
While it's possible to humanely gather angora fur from rabbits, it's much more difficult, time-consuming and expensive to do so — and, frankly, it seems unlikely that big retailers will jump at the opportunity to pay far more for the same product or that they'll be eager put strict regulations in place that keep that product more costly (albeit not horrifically barbaric). According to a rabbit breeder interviewed by the Daily Mail, a sweater made from humanely clipped angora fur would cost £64 (around $105) to produce — "a far higher price than the mainstream fashion industry can tolerate with its insistence on large profit margins." For comparison: before PETA's exposé went viral, angora sweaters pulled from the resistant flesh of tortured animals sold for £36 ($59) at TopShop.
Images via Instagram.