Gabrielle Union is about to break into the lucrative beauty business with a new line of hair care products under Ulta Beauty.
WWD reports that with her new line, Flawless by Gabrielle Union—available in March—Union is "following in the footsteps of Jessica Alba, cofounder of Honest Co.; Drew Barrymore, Flower Beauty founder, creative director and co-owner, and Jennifer Aniston, a former Living Proof stakeholder." But a better blueprint would be the legend Iman, whose cosmetics empire has become one of the few reliable staples among black women.
For Flawless, Union collaborated with Macadamia Beauty LLC (which makes Macadamia Natural Oil) to create a line of hair products that includes shampoos, conditioners, sprays, a blow dry cream, oil treatment, gel and hair masque. She says hair care brands have tried to court her in the past, but none of them had quite the right product lineup to be worth her endorsement. (On the beauty side, though, she's served as a Neutrogena spokesperson.)
"I want to make sure that it's right for me, for my family, for my friends, and for every person with textured hair. I want to have a seat at the table, and part of that is having ownership," Union told WWD, dropping in a nice Solange reference. She adds:
"I want women with textured hair to have great hair days. I went through a phase where I would leave my relaxer on so long, thinking the longer I leave this relaxer on, the straighter it's going to be. Cut to lesions, like open wounds in my scalp, trying to chase something that was unrealistic, and eventually probably in my mid- to late-20s I decided to give up my relaxer, and I went natural. By natural I mean underneath the weaves, extensions, clips and the hair color was my natural hair — thriving."
G/O Media may get a commission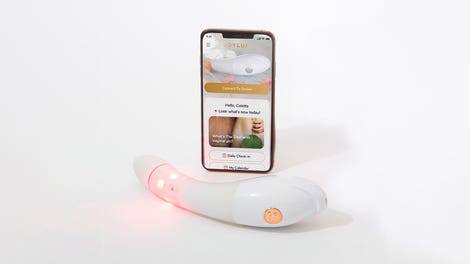 $50 Off
Joylux vFit Gold Device
Though celebrities will say anything to promote their lines, I'm inclined to believe she has a bigger mission in mind here, because most black women have shared her frustration of searching for adequate hair and beauty products (as I wrote about last year).
Union had a bunch of insightful things to say about her experience with beauty. On being subjected to white beauty standards growing up:

"Being the chip in the cookie, you realized my ponytails didn't look like Heather's ponytails, my friend with the long, blonde hair. You want what you don't have. You want what other people are getting praised for. Nobody was praising my little pigtails, but Heather got all the love. You want that light. You want that shine. You want that attention, and I just never got it. Not for what I looked like. [People were like,] you're so smart, and you're so funny, which is awesome and great, but, sometimes, you want to be objectified, dammit. I've had a long journey of self-acceptance and boosting my self-esteem. A lot of that comes from education and from life, but now that I'm on the other side of 40 [she is 44], I want pride to come from every part of my life."
On the stigma of wearing weaves:
"A lot of people like to think if you wear extensions or weaves, you're full of self-hatred and, if you wear natural hairstyles, your sense of self and your sense of community and culture is at an all-time high. Sometimes that's the case. Sometimes it's not. I just look at it as each person has their own hair journey, and they're all amazing, valid, worthwhile and beautiful, no matter what."
On how hair factors into her movie roles:
"Depending on the job and depending on the production, some were more open to natural hairstyles, not just on me but on my coworkers. Some felt certain kinds of characters needed to look more 'appropriate,' and their definition of what appropriate did not include braids or twists or natural hairstyles, but I did this role for 'Top Five' where my character was a reality star, and she had blonde hair. I felt the need to say repeatedly this is just for a role."
According to WWD, "industry sources estimate the brand will generate as much as $6 million in first-year retail sales."