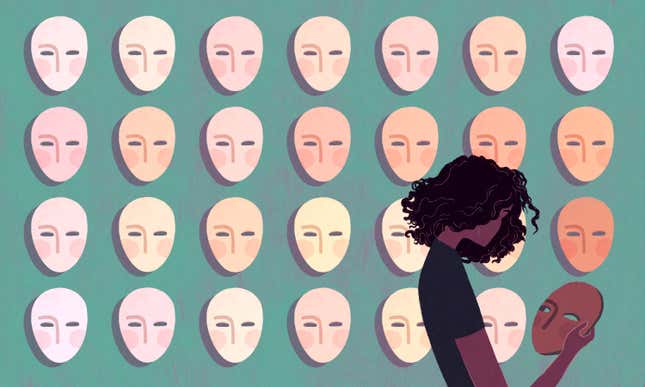 Three years ago, I made a trip to Sephora with one specific purpose in mind: to search for the perfect foundation. Surely, some mystical brown shade existed at the elusive nexus of "good" and "right." Having spent most of my life wearing solely mascara and a resting bitch face, this was my first time hunting for just one decent cream or powder amid the cascading options available for skin tones ranging from white to very white to kinda brown.

Overwhelmed, I studied the stacks of Lancôme and Yves Saint Laurent compacts in Sephora's Flatiron location and recalled, in my head, the dozens of semi-empty foundation bottles my mom used to have scattered atop her dresser. But here's where my story takes a detour from the déjà vu feeling of helplessness that's become a staple in beauty trend pieces.
To avoid certain disappointment, I brought along a friend with a similar dark complexion as mine who also happens to be a beauty blogger. Alone in that makeup funhouse, I would've imploded for sure. My friend walked up to the Make Up Forever section, plucked two High Definition bottles of foundation, tested the back of my hand, and applied the best match to my face. Never mind that I ended up ditching the idea of foundation within two weeks; I found the right shade in minutes, but only with the help of a person who looked like me. That friend works for L'Oreal Paris now.
The problem I and many other women of color face on a regular basis is surviving that experience again and again, in an industry where makeup is predominantly default white. This is not a new dilemma at all, as much as it is a constant cycle of exclusion and expected inefficacy with occasional outliers. Not nearly enough experts exist who, like my brilliant friend, have makeup foundation down to a science or, like me, have enough anecdotal evidence and personal horror stories to recognize the specific needs of black and brown women.
Over the years, there've been articles either highlighting the beauty industry's exclusion or pronouncing the dawn of a new era—an illusion of variety galore in beauty aisles. These stories exist in the form of essays about The Search for products or predictions of a positive shift that, in real time, tends to arrive at a dead end. These stories pop up every so often without fail, creating a dominant narrative of the past few years that the beauty industry fails us.
In 2006, Village Voice wondered, "Has the cosmetics industry really come to recognize women of color as a target audience?" In 2014, the New York Times published "Makeup That Addresses the Many Shades of Women"—a piece about the industry's stunted growth—while a Los Angeles Times piece declared: "New lines for women of color broaden the spectrum of beauty." 2015 saw similar reported cycles of struggle and progress: Racked's "Is the Makeup Industry Finally Embracing Diversity?" highlighted beauty's small leaps, as did NPR's roundtable "Cosmetics Companies Play Catch-Up With Diversity Of Customer" and Bloomberg's "The World's Biggest Cosmetics Brands Are Finally Courting Minorities." Cosmopolitan.com published "Why Are Women of Color Still Having Trouble Finding Foundation?" in which Andrea Arterberry wrote about her disappointing beauty trials: "While there were dozens of shades, not one suited my olive undertones. I knew from years of trial and error that, once applied, those pale shades would give me that 'trashy ashy' look."
This year again, in February, Refinery29 published "How The Beauty Industry Has Failed Black Women," in which Taylor Bryant wrote: "Brands are also increasingly marketing to Black women. But it's not enough to slap Lupita or Kerry or Zendaya's face on your ad and call it a day — you have to also deliver with the product."
Any broad sense of optimism seems to continually be met with frustration. The immediate psychological response to the deficiency is a desire to seek solace in minority-owned brands that cater to us, and to cast away those that neglect us. (It's all the more tempting now, with people like Solange pledging support of black-owned businesses as a means of protest.) Still, it's hard to ignore the legitimate need for comparable mainstream (and affordable) makeup options that make consumer life a little easier. The status quo seems to shift only to an extent, but lately the largest makeup companies have attempted broader selections, celebrity collaborations and more targeted marketing.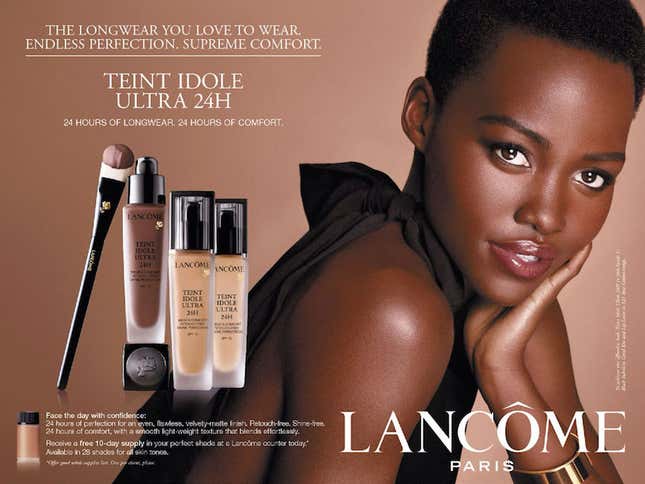 In 2014, L'Oreal bought the black-owned business Carol's Daughter. In 2015, Lupita Nyong'o was named beauty ambassador for Lancôme, and CoverGirl launched a line with the stars of Empire in March. Queen Latifah has her CoverGirl Queen collection. Rihanna has M.A.C. (which also launched a Future Forward line this year featuring Tinashe, Dej Loaf and Lion Babe). Angela Bassett is creating a makeup line with Dr. Barbara Sturm. And at BeautyCon on July 9, Kelly Rowland promoted Face, a makeup collection for darker skin tones that she's creating with her makeup artist Sheika Daley. Rowland told Essence, "We're starting off with lashes and then we're going to have it grow for all women. But definitely making sure we have our chocolate girls covered. Gotta get the chocolate girls in there!"
In doing this story, my goal was to find reasons for the lack of diverse shades and tones in the beauty industry—whether scientific or experiential—that might explain the issue beyond the crutch of pure ignorance. (To clarify, I'm focusing specifically on black and brown skin of various ethnicities, and on makeup, particularly foundations and concealers since they're meant to blend with our natural skin tones, but also lipsticks and blushes that need to address darker pigments.) I was also curious how beauty bloggers have positively served the industry, under the presumption that social media—the most direct consumer feedback—has clearly made the establishment more accountable. I found that while the imbalance appears to be shrinking toward progress, personal experience tends to trump market trends and, as always, the internet is the ultimate equalizer.
Black Beauty Products Timeline
Video by Elisa Solinas
---
It's not as simple as creating more shades. There's an issue of ignorance and the issue of marketing. The problem most of these trend stories hit on is the vexing intersection of market behavior and life experience that's difficult to navigate. In other words, the idea that there may be more shades available but there isn't one "for me." In 2013, the personal finance service Mint estimated that women spend $15,000 on makeup in a lifetime; a 2009 report found that the annual figure black women spent on beauty products was $7.5 billion. Even as beauty companies offer more, the aisles seem to remain drastically not in our favor.
The paper trail of misery for black women in the beauty market is long and running. By the 1940s, makeup lines for black women were more prevalent, but beauty companies still focused many of their advertising efforts on appealing to black women through the use of skin lightening products slyly promoted as blemish creams.
In the book Style and Status: Selling Beauty to African American Women, 1920-1975, author Susannah Walker writes: "As in the 1920s and 1930s, bleaching cream advertisements mixed blatant claims for the skin-lightening properties of the product with assertions that the cream was really for overall improvement of skin tone and texture." The marketing in the '50s had become savvier and less about portraying dark skin as "ugly and desirable," Walker notes.
But this emphasizes an important point that American black beauty and consumerism has inextricably been tied to the social and political climate of the moment, and to power dynamics. If, as Walker writes, advertisers at the time "did not see black people as affluent enough to warrant special advertising attention or sophisticated enough to respond to product marketing," then it explains why products for black women weren't a consideration to begin with and why niche black companies thrived.
The book also cites black publications as an essential source for makeup advice—nightclub singer Norma Shephard told Our World magazine in 1946, "I don't have to tell you what a job it is to have to match face powder to Negro complexion tones"; the mag also wrote that "suitable shades are about to be packaged and placed on the market." Even as progress was seemingly being made, the industry continued to report setbacks.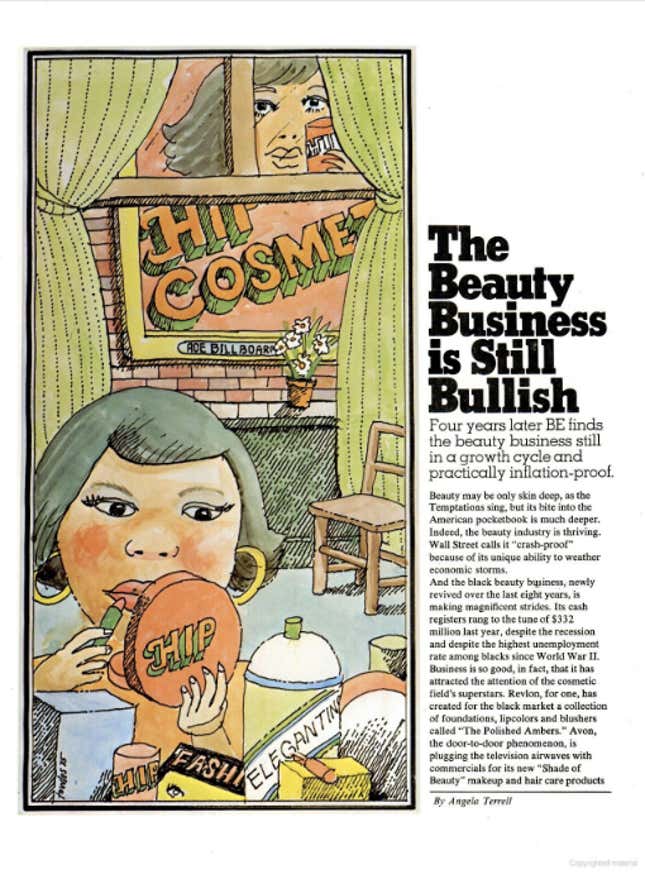 The November 1975 issue of Black Enterprise has an article titled "The Beauty Business Is Still Bullish." The piece mentions Revlon's then new line of foundation, lipstick and blush for black women called The Polished Ambers. It notes Clairol's launch of "two shades of makeup tailored to darker skin tones" (wow, two). It also references the black beauty market boom of the 1960s (post-riots), citing white-owned beauty businesses that made products for black skin, like Posner's and Flori Roberts, which launched to compete alongside the black-owned and dominant Johnson Products, Fashion Fair and the like, alongside celebrity lines like jazz singer Nancy Wilson's Cosmetics for Beautiful Ladies of Colour, created in 1971.

Years later, in its August 1978 issue, Black Enterprise wrote about the dilemma of mainstream beauty companies beginning to pursue black women's pockets. To probably no one's surprise, it was the power of the black dollar that brought diversity to the beauty industry, not a push for inclusion. The unfortunate side effect of companies widening their selections for the sake of profits was that it threatened the livelihoods of black-owned businesses, much to the frustration of entrepreneurs like Johnson Products founder George Johnson. Adamant against white capital interest in the black beauty market, he said in a speech to beauticians, according to Black Enterprise:
"White people, for the most part, ignored this industry as long as they thought it was a nickel and dime business. We were overlooked or else looked upon as just 'nigger business.' It was too little for them to be involved with or concerned about. Today, they are making strong efforts to take over entry level of the kinky-hair business. They want the manufacturing business. They want the beauty shop operations. And they want the beauty jobber business."
The Black Enterprise article concluded that "the future of the black beauty market seems to be getting brighter," which sounds exactly like the above-mentioned articles from the past three years.
Decades later, the future was in fact brighter—or rather, darker. In 1990, Maybelline—then America's second most profitable cosmetics brand behind CoverGirl—started Shades of You, a makeup line for black women. "In the '90s, different general market brands said, 'let's create some brand that works for the multicultural audience,'" Karen Chambers, Iman Cosmetics' director of product development, told me. "I don't know what happened after those early attempts. I don't know if they didn't quite get the mix right or didn't quite get the audience loyalty that they were hoping for, but most of those brands went away." (Shades of You appears to have been discontinued in the mid-to-late '90s).
In a Black Enterprise article from June 1991 about Maybelline, beauty expert Alfred Fornay told the magazine, "The makeup market for women of color hasn't met its potential compared to the white market." Fortune reported in 1994:

When in 1990 Maybelline Inc. launched Shades of You, a mass-market cosmetics line for women of darker hues, no minorities worked in marketing at the company or in middle or upper management. When Maybelline's parent, Wasserstein Perella, became aware of the situation, a few people of color were hired. Shades of You is a winner, with about 35% of the $100-million-a-year ethnic cosmetics market, and CEO Robert Hiatt asserts, "It is not the makeup of our management that is important; it is paying attention to the market and customers. We don't keep track of the number of minorities or other groups in the company."
Hiatt's tone-deaf response ignored the issue that a majority-white beauty team is exactly what contributes to the problem. You can see how that thinking trickled down. In his book Desegregating the Dollar: African American Consumerism in the Twentieth Century, Robert E. Weems describes Shades of You as a "watershed moment for African American female consumers." He writes:
This represented the first time a major cosmetic company had created a mass-market line for African American women. Still, Maybelline's historic maneuver appeared to have been primarily motivated by a desire for profit, rather than by a strong commitment to serving the needs of black female consumers.
Maybelline and others made money in the black market—Estee Lauder had a similarly targeted line, Prescriptives All Skins, which, Weems writes, "attracted nearly fifty thousand new black customers during its first year." In 1990, the line offered a broader range of foundation options—115 shades, according to its site. M.A.C. (founded in 1984) and Bobbi Brown Cosmetics (which launched in 1991 as Bobbi Brown Essentials) are two names I've seen consistently praised for their wide range of products for different skin tones, primarily because they were founded by makeup artists familiar with diverse tones.
What changed from between the '90s and now is easy to figure out. Because so much of beauty is based on personal experience, beauty blogging has become crucial. When I spoke to Patrice Yursik, founder of Afrobella, a beauty site for women of color, she recalled how few diverse products were available in 2006 when she started her site.
"There were not a lot of mainstream beauty products offering more than, let's say, eight shades of foundations. It's been so beautiful to watch all of those things change," she says. "At this point, if you're a cosmetics company that's coming to market and you have the old school six to eight shades of foundations, then you're behind the times, you're not in step with the rest of your peers in the industry and you will feel that backlash online. Social media has allowed the consumer to be so directly outspoken in their opinions and their needs in a way that it really wasn't possible."
---
Now, of course, the consumer knows more about makeup than the brands who make them. Where before the average black beauty user might have gained most of their beauty insight from magazines like Essence or Ebony (mainstream pubs barely addressed women of color), it can't be overstated how much beauty blogs have democratized the business, allowing women of various shades a voice and a seat.
Even though bloggers have, in turn, become strange bedfellows with brands looking to exploit their popularity, the bloggers are still the people consumers trust way more than conglomerates. WWD wrote in February:

The sea change is creating a new generation of consumers, a swelling group of young women who devour beauty content, determinedly search for details about products they covet, itch to try new brands and crave great scores. Increasingly, brands are responding by unleashing newness at warp speed, solidifying relationships with social media stars, ambushing trends and quickening the pace of their marketing efforts. With social media inflaming desire for products, it's a kill-or-be-killed environment in the beauty business, and the kills can be immediate and very, very big.
"Old school department store brands are scrambling to try to figure out their footing," says Afrobella's Yursik. "You look at someone like Kylie Jenner and you see the success of the Lip Kit and you're like, wait a minute the whole beauty game has changed. You no longer have to wait for this partnership with this brand that will bless you and say that you are worthy. You can create something that has your own name on it."
It also presents a more visible landscape to submit feedback. Around 2008, L'Oreal was on the receiving end of criticism over ads where Beyoncé's skin appeared lightened. Last year, Clutch reported controversy over a Black Opal Cosmetics tweet that implied it wasn't a brand designed for black women, despite its origins.
(In an email to me, the company's VP of marketing, Maya Brown, referred to its global expansion and stated that their customers' skin "ranges from a very fair beige tone to a very deep coffee tone.")
In February, British consumers dragged Maybelline over its Dream Velvet foundation launch, which offered one shade for darker tones but used model Jourdan Dunn's face in an ad. BuzzFeed reported:
After BuzzFeed News contacted Maybelline UK about why only six shades were available to buy in the UK, a spokesperson said they had plans to release Jourdan's shade "in the next few months."
Again in June, BareMinerals unveiled a new line of concealers called Complexions Rescue, which featured 16 shades, with only two for darker skin tones. Criticism poured in online, a vast difference from years ago when consumers had to speak into a void. "Social media has done an awesome job of replacing what back in the day we would use as focus groups. We have live information from consumers," says Chambers, from Iman Cosmetics. "The consumers have been very vocal about brands who've put beautiful models and celebrities of colors in the advertising, but then the shades weren't right. There's a fabulous level of education out there. We have consumers writing in, like, 'Are you getting your palm oil from the Amazon?'"
In comparison, because of its diverse options, Colour Pop Cosmetics—which posts swatches for different skin tones as part of its product launches—became what people call an online sensation, based largely on word of mouth traffic. There's also Essence BeautyBox and Doobop.com, both beauty compilation services that target women of color.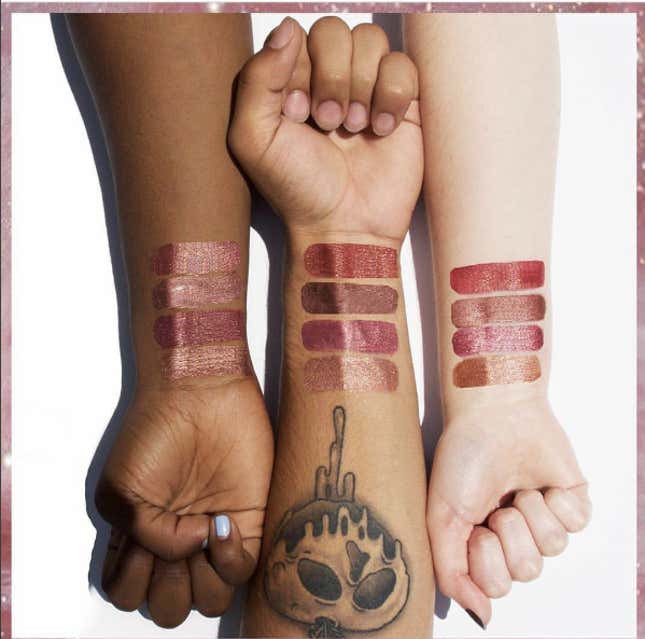 "We've certainly seen more mainstream companies attempt to provide a wider range of shades, but there's a lot of room to grow," says Brandi Shipp, VP and general manager of Essence BeautyBox. "Many just check a box and have a couple of darker shades, but we know there are so many different skin tones and undertones in our community. You need more than just a few darker shades than usual."

An obvious reason for the lack of options is that fewer or, worse, zero people of color work inside the makeup labs where makeup is produced. While collaborating with M.A.C. on a capsule collection in 2011, Yursik says she visited their lab and was surprised with its diverse staff.
"The people in front and even the senior management might be people who reflect the brand, but the people who are actually working right there in the lab are not the people who are the skin tone of the products," says Chambers. "So sometimes there are a lot of assumptions about what will work on certain skin tones. And it just doesn't. There has to be nuances that really work."

At the same time that beauty bloggers have become central influencers—to the point of creating their own collections for brands—celebrities are aligning with brands in more substantial ways. The use of famous spokesmodels for beauty ads heightened around the '20s and '30s, when, as the book Style and Status details, "in African American beauty product advertising, the use of beautiful and sexy showgirls and blues singers was part of the larger transition from advertisements that promoted good grooming and stressed the functionality of products to those that emphasized romance and sexual attractiveness."
Lately, in place of positions as spokesmodels, as Beyoncé and Frieda Pinto do for L'Oreal Paris, celebs are promoted as ambassadors. As Neutrogena's beauty ambassador and creative consultant, Kerry Washington helped introduce shades for women with darker skin tones. It's significant that Neutrogena, as of three years ago, did not have a foundation that matched Kerry Washington's shade.
This about face is part of a long tradition of brands transforming their screw-ups into positive marketing campaigns. By blatantly advertising their diversity rather than simply doing it—with the help of popular darker skinned women in the forefront—they're hoping consumers will forgive the brand's past transgressions. "Why would Lancôme choose Lupita to be their spokesperson? That's a very specific statement and an intentional statement," says Yursik. "It's 'we really want you to know that we're doing this.'"
Chambers adds, "The celebrity factor has gotten big, so brands have said let's include celebrities as part of the brand's story. What's failed the consumer is that a lot of times the product offerings did not translate."

Essentially, A-list stars promote a product in ads but consumers looking to buy those items in person have unsatisfactory results. "You're not done once you've got a great product selection. That's the have to have," says Shipp. "It's important to have more than one brown face in an ad. You need to represent the full range of shades and skin tones and beauty processes and needs and that's not done through a single spokesperson."

Lancôme had to go so far as to create a whole new shade for Lupita Nyong'o last year, which it did under its Women of Color Lab, launched in 2013. In a rare feat, the lab is managed by a black woman, chemist Balanda Atis, who says it's a challenge for many brands to just figure out the science.
"The beauty industry has faced major scientific challenges in formulating foundations for medium to deeper skin tones," Atis wrote in an email. "The more traditional colorants used to deepen shades are limited and chemists don't always have an optimized formula architecture to allow the skin's natural tones to show through. In some cases, the formula will hide the skin's natural color instead of enhancing it. The second challenge is that they may not have the right balance of pigments in the formula—for example, too much red or yellow—to achieve the best shade."
Black Opal's Maya Brown also thinks there's a gap in education among mainstream brands about the chemistry of darker skin tones. "Many general market brands have expanded their shade palettes with offerings that are deeper than 'caramel,' which historically was the darkest shade in the line," Brown wrote in an email. "There are still opportunities to vary the mix with richer and deeper tones that cater to the blends of colors within multi-hued skin. You can't just add brown pigment to a tan shade and think you're creating a deeper tone. Multi-hued skin is more nuanced and requires an appropriate mix of colors that complement our vast shade spectrum."

In a tangible, real-world example, a black Gawker Media colleague told me she had problems finding the right shade of Urban Decay's Naked foundation. When she went shopping for it in January, nothing fit what she needed—a color between 9 and 10. She only recently discovered that the company launched six new shades in March (she has yet to shop for one) to bring its total offering to 24 shades, which they claim were "meticulously calibrated."
---
Simple logic and expert opinions suggests the reason black women spend so much on beauty products is consummate trial and error, as WWD noted in a 2009 piece about purchasing power. Such a high cost puts black consumers at an immediate disadvantage, especially when new products are introduced that don't account for our many shades. The latest industry-wide push is toward Korean products (the marketing of skin lighteners presents a different set of issues for Asian American women), with an emphasis on BB creams, the all-in-one "beauty balm" designed to multitask as a moisturizer, foundation and concealer.
Chambers says Iman started offering the product two years ago because "there were no brown BB creams," she says. "The trend had come out of Asia and our girls were into it and there was nothing beyond that slightly medium color. Everything was heavy and chalky."
In terms of retail, Yursek points to the significance of seeing affordable drug stores brands—she cites Milani, Jordana and NYX Cosmetics—expand their options. "There've been so many brands that came and realized, oh is that what you want as a consumer? Then we're gonna give it to you," she says. "When those came out, people were so excited just to have an eye shadow with pigment that could work for a deeper skin tone in a drugstore at a reasonably afforded price. Now, I really think it's driven so much by the needs of the consumer and through social media in a way that is subversive to the beauty industry."

Tragic beauty stories never seem to find a resolution because the answer is obvious: the makeup business needs more women of color chemists, marketers, spokesmodels and ambassadors across the board. The industry has finally—incredibly late—just started to move toward a tipping point. And it's the consumers who've largely initiated the shift by being better equipped to vocalize their demands.
"I think the decision-makers who are higher up in these old school brands have not evolved. They stay in a bubble. The bubble might be in San Francisco or New York, where you think people who've been your consumer for a long time are the only people you need to speak to," says Yursik. "Eventually, you will be told that you need to expand."