Windsor—London doesn't feel particularly electrified by the looming royal wedding, so much as—with the U.K.'s trademark stoicism—casually interested. Windsor, on the other hand, is wrapped in bunting and waiting with open arms, positively overflowing with souvenirs.

Of course, there are royal wedding souvenirs in London. Palace gift shops have official merch; Fortnum & Mason, which supplies tea to the Queen herself, created a special blend for the event. Ceramics factory Emma Bridgewater has received a ton of press for their offering, but their hand-painted Harry and Megan cups are so tasteful that when I stopped by their store I bought a more gaudy Henry VIII mug, instead. "Tasteful" is for everyday plates and expensive sofas—not royal wedding tchotchkes.
The good stuff—the truly sublime—requires a visit to Windsor (one I was more than willing to make), the town outside London that is hosting the event.
Wandering through the streets tucked directly underneath the castle where Harry and Meghan will marry, I realized that Windsor is the tourist destination for the royal-obsessed. The state rooms at Buckingham Palace are spectacular, but they're only open a few weeks out of the year and they're surrounded by a city more concerned with going about its highly international business. In central Windsor, however, you can barely lose sight of the castle if you are outright trying. Harry and Meghan mugs were being sold alongside other earthenware paying tribute to Princess Diana, Will and Kate and their kids, and Queen Elizabeth II—I saw one that was a symphony in lime green, to match her outfit.
G/O Media may get a commission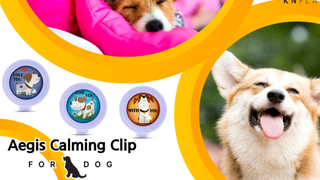 20% off
Aegis Calming Clip for Dogs
As any seasoned vacationer will tell you, there's a distinct hierarchy of souvenirs. The most basic type is a mug or magnet featuring an image from Harry and Meghan's first photo op after announcing their engagement, gussied up with design touches that range from lackadaisical to comically overdone. Also in this vein: flags and bunting specific to the event, again with those first official photos, as well as truly terrifying masks of bride, groom, and any other member of the core royal family.
If you want a special biscuit tin in which to store your miscellaneous wires for the rest of your life, you have many, many choices. The local Marks and Spencer was piled high with commemorative biscuit tins for both the wedding and the arrival of Prince Louis, and all the other grocery stores seem to have their own somewhat unique offering. The same goes for tea, of course.

Another classic staple of royalmania: Tea towels. That's where the design fun really lives. You can go whimsical; you can go typographical; you can go tacky; you can go classy. Personally I am so overwhelmed by the selection that I've yet to select the one (or, more likely, half a dozen) that I'll be bringing back to the colonies.
But now it's time to get ZANY. There are teddy bears wearing royal wedding sweaters. Adorable! There are collectable spoons. Practical! There are leather bookmarks with beautiful golden flourishes and what appears to be a puffy sticker featuring Harry and Meghan on the top. How...academic? One shop had a replica of Markle's engagement ring, priced to move at 9.99. Street vendors are hawking purple scarves with gold tassels—yes, featuring Harry and Meghan's faces. They'd go great with the tiaras for sale nearby—two for the price of one, available in both silver and gold!
For myself and my loved ones, I purchased tea bag coasters featuring the happy couple. The perfect souvenir—cheap, useful, and yet so unnecessary that there's no way you already own one.

The clear winner for best selection, though, goes to the department store Daniel, which is NOT owned by Daniel Craig but IS home to a coffee shop that offers lattes featuring Harry and Meghan's faces. To get to them, you had to walk through an enormous hat section that faintly resembled an alien forest full of exploding fuchsia plants. There I found mugs I didn't see anywhere else, like special bottles of liquor shaped so they could be mailed through a standard UK letterbox and jars of Marmite emblazoned with the names "Harry" and "Meghan." Having your name over "yeast extract" is a new but persuasive argument against joining the Windsors.

The most befuddling souvenir I encountered had nothing to do with the couple of the hour, but this mug, which I assume has been purchased exclusively by people who voted for Brexit.
It's part of a range of products, apparently. Flying dangerously close to the sun, here, guys!
However, the true treasure for me, personally, was an item I encountered on the front table at the Waterstones in Windsor. Are you ready? You are not, but I'm gonna lay it on you, anyway.
Part of a series for young readers, here is the back blurb:

Kirsty and Rachel are invited to a royal wedding in Fairyland! But Jack Frost steals Meghan the Wedding Sparkle Fairy's magical ring, and the spell of love in both the fairy and human worlds is broken. Kirsty and Rachel must help Meghan get her ring back before weddings everywhere are ruined!
Opening the book to a random page:
Just then, there was a whooshing sound overhead. They all looked up and saw something white streaking across the sky.

"It's Princess Kate's carriage," said Meghan. "We don't have much time."

She waved her wand, and the white, frosty glade disappeared. In the blink of an eye they were all standing outside the Fairyland Palace. Jack Frost was wearing a blue morning suit, and beside him were four goblins in glittery green pageboy suits.
It is the wildest thing I have ever encountered. I will treasure it forever.