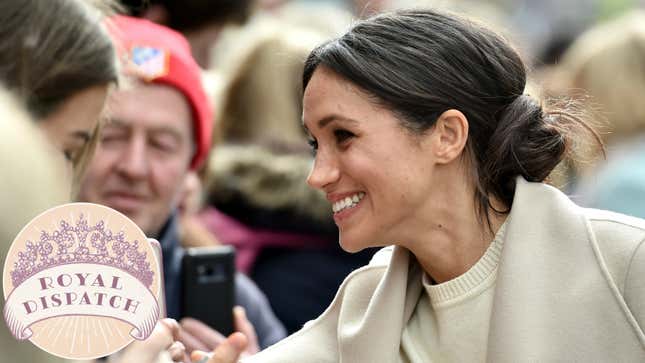 London—As somebody whose long-running fascinations include fairy tales, romance novels, and the stubborn persistence of monarchy, how could I possibly miss the opportunity to get as close as possible to that rarest of birds: a real, live American princess?

Media from the United States will be a particularly large presence in Windsor for the royal wedding on May 19. No surprise there: Many Americans, myself included, have an odd fascination with the contradictory notion of an American princess. The most famous example is probably Grace Kelly, whose wedding was an utter media circus. Nothing fit the prevailing mood of the 1950s quite like the image of the Academy Award winner looking demure and regal in her wedding ensemble, turning her back on Hollywood for Prince Rainier of Monaco. Decades later, Harry and Meghan's story has its own messages about our current cultural moment. It's almost uncanny how much their romance fits with a modernized version of the trope, revamped for a generation that grew up alongside the groom and his brother.
I've come to England partly for the priceless souvenirs, the bragging rights, and the opportunity to live on warm scones for a week straight. But I'm also looking for deeper insight into the creation and embrace of a very modern fairy tale.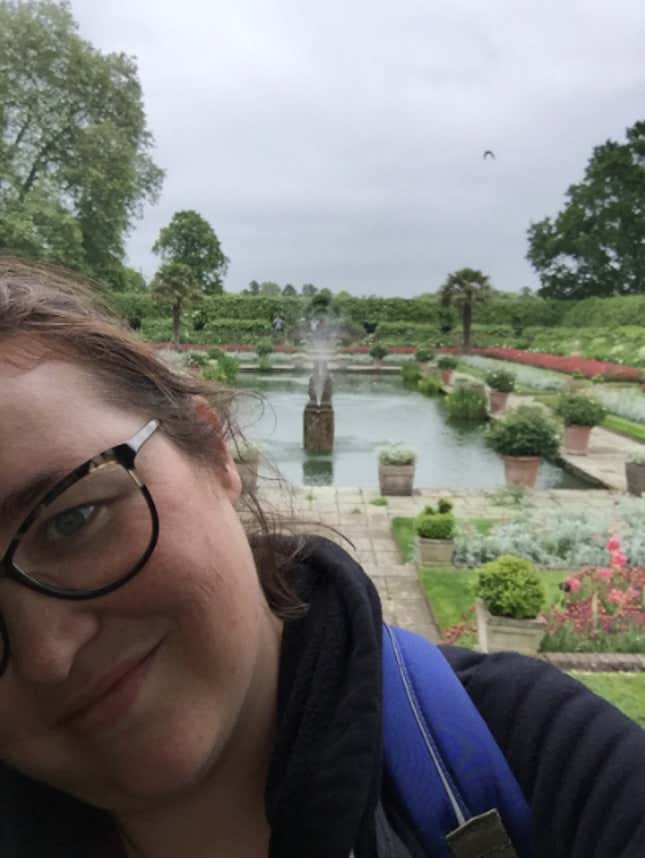 Admittedly, so far, I am mostly just jet-lagged into oblivion, having slept perhaps three out of the last 36 hours and careening from experience to experience: loading up on Markle-obsessed tabloids at a W.H. Smith; popping over to the publicly accessible parts of Kensington Palace for a selfie at the Sunken Garden, where Harry and Meghan did their first photo call as a publicly engaged couple, tasting a version of Harry and Meghan's wedding cake at the attached cafe (delicious); and finally, walking into Harrod's, getting overwhelmed, and walking right back out.
As an adult woman who daydreamed about the eligibility of both princes as a tween, though, I've already been pondering this whole affair for an embarrassingly long time.
In 2004—as it happens, around the same time commoner Kate Middleton appeared on the scene—Julia Stiles starred in The Prince and Me, as a big-dreaming, hardworking pre-med student raised on a dairy farm. At her campus job she encounters a feckless Danish royal who decides to spend a semester in Wisconsin because he saw a state-specific Girls Gone Wild knockoff; he sexually harasses her and she sprays him with club soda. This sets the tone for their relationship, as she teaches him about responsibility and life outside the royal bubble. Eventually, he tells her he'll wait happily for her to finish med school, and if Denmark isn't ready for a doctor queen, they'll have to get ready. It's a Cinderella story, but one whose happy ending is intimately tied up with ambition and achievement.

Three sequels followed, as well as innumerable made-for-TV ripoffs. Particularly invested in this plot arc is the Hallmark Channel, for whom Markle made two movies—though, ironically, neither of them featuring princesses.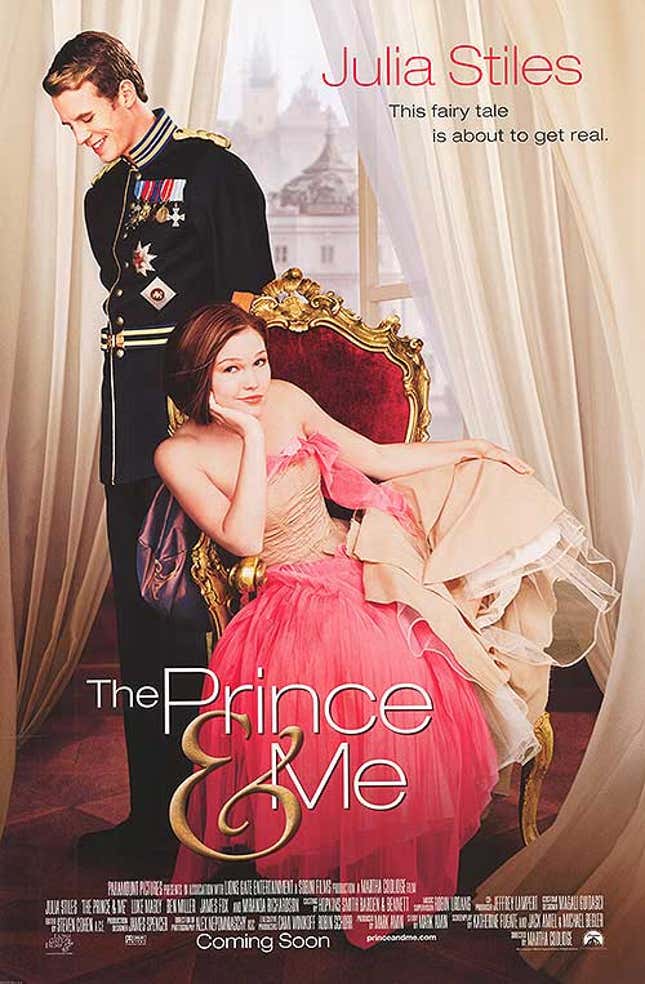 My generation of tween dreamers differed somewhat from the romantics that preceded us. If you look even further back in history, according to historian Stephanie Coontz, you'll see that the rising American middle class of the 19th century was actually deeply skeptical of aristocrats and the idle rich. Many popular books of the era—the distant ancestors of today's pop culture—would have lionized a do-it-himself entrepreneur type as romantic hero. But Coontz also pointed me toward the novel A Girl of the Limberlost, which both illustrates that skepticism and strangely echoes some of the themes of The Prince and Me. It's about a fatherless young woman with a borderline neglectful mother who determinedly betters her lot by (I swear to you) selling rare swamp moths to collectors. When a wealthy Chicago boy—basically an American aristocrat—visits the area to recuperate after an illness, he falls for her naturalness and sheer moxie. She's everything that his longtime society girlfriend isn't and a corrective for his all-too-easily stifling office-and-leisure life. I probably don't need to tell you that they eventually marry.
There's a curious continuity between Girl of the Limberlost, all those basic cable royal rom-coms, and the way Meghan and Harry's relationship has been portrayed. Lifetime's Harry and Meghan: A Royal Romance has the heroine relentlessly roasting the hero about things like arriving late for a blind date. She isn't bowled over by his status; he's refreshed that she doesn't take any shit. Her drive to succeed is part of the attraction; at one point, the Harry character explains her philosophy behind her lifestyle site, the Tig, with the passion of a true believer.

The American princess trope is a strange brew of contradictory impulses. None of these heroines treat the heroes with reverence for their position—but then, marrying the prince is still the happily ever after. These characters are rewarded lavishly and literally for virtue and a kind of egalitarian humility based in self-sufficiency. It's not a simple fantasy of being a princess—it's a fantasy of deserving to be a princess. It's the sticky, tricky, conflicted stuff of fairy tales, in other words. And, too, for Americans, the trappings of monarchy—elaborate carriages, crowns, processions, robes, and thrones—are the stuff of fantasy, not symbols of a form of governance that has real consequences in the world.
But Markle adds another twist to the trope. She's biracial; in fact, given the drama over whether her father will or won't attend, it looks like her African-American mother might well walk her down the aisle.
Lifetime's Harry and Meghan: A Royal Romance addressed the issue head on, culminating in a scene that imagines Queen Elizabeth II enthusiastically giving her consent to the engagement and walking the couple over to look at a portrait of Queen Charlotte and discussing her African heritage. "I understand how stories shape the consciousness of young girls and femmes," wrote romance novelist Alyssa Cole in an essay for Bustle about princess tropes. "That's exactly why the princess fantasy is far from frivolous for women of color, so many of whom grew up in societies that told them they weren't beautiful or wanted—that the happily ever after ending was not for them."
It must be strange, though, to find yourself the subject of a fairy tale. I'm hoping that by edging my way into the frame—let's say as third peasant from the left—I can get a taste.