For those of you sighing at the sight of this headline and saying, "We're still talking about this?" Of course we're still talking this! That a very famous person was robbed violently in Paris, had millions of dollars worth of jewels stolen is one of the most captivating pieces of celebrity news in a while, and now French police think it may have been an "inside job." Mon dieu!

TMZ reports Tuesday that "police and the Kardashian family don't believe it was a coincidence that Kim was bodyguard-less at the time the robbers showed up and somehow made their way into her apartment."
But don't start screaming, "Pascal did it! Pascal did it!"
The Kardashians are in no way suggesting the bodyguard was in on it ... in fact, they say they know he wasn't. But they are convinced someone tipped off the robbers to strike at precisely the moment they could get in and out without detection.
The list of suspected tipsters is apparently quite long.
In related news, Kanye West has postponed two tour dates this week so that he can "spend more time with his family." He and Kim—noted forensics fan—are likely holed up together and will solve this case in 48 hours.
G/O Media may get a commission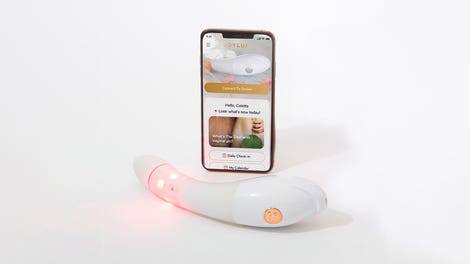 $50 Off
Joylux vFit Gold Device
---
You know who's loudly and proudly Team Brad? Melissa Etheridge is loudly and proudly Team Brad! Us Weekly reports she recently discussed (her good friend) Brad and (her not-so-good friend) Angie's divorce on Howard Stern's show, and "called the accusations that he verbally and physically assaulted his kids 'completely unfounded.'"

Just read these quotes!
"It breaks my heart that anyone would take something as personal as your marriage and your relationship and your rights to your children and do it as purposefully as I see it's being done."
But wait!
"I've gone through family courts. I've been twice around this block, and I know it really well, and I know when there's some forethought to just how mean and just how you're going to put disinformation out there first."
There's more!
"I was around when Angelina was not doing nice things with Billy Bob to Laura Dern. I went through that on a personal level, and then to know the side of Jennifer and Brad…I helped Laura move out of her house with Billy Bob — I like broke into their home to get their stuff out because it was so nasty."
"Not nice things"?! Melissa Etheridge just called out the oft-forgotten fact that Billy Bob Thornton and Laura Dern were engaged when he started dating Angelina Jolie, and suggested that his and Dern's breakup was nastier than we ever knew.
Tell us more about '90s, Melissa! Don't hold back!
---
Nepotism works in mysterious ways. Here's Fuller House's Candace Cameron Bure's daughter performing on The Voice.

---