Author and style icon Fran Lebowitz spoke to Elle (in person, because she doesn't like to talk to people on cell phones and no one has a landline anymore) about her fashion sense, what annoys her (basically everything) and exactly how she'd describe Dolly Parton's style. If you didn't love her before, you won't be able to resist the sheer crankiness of her outlook.
Here's Lebowitz on:
Yoga pants as street style:
Of course, more people should wear overcoats than those damned down jackets. Please. Are you skiing, or are you walking across the street? If you're not an arctic explorer, dress like a human being.

All these clothes that you see people wearing, the yoga clothes—even men wear them!—it's just another way of being in pajamas. You need more natural beauty to get away with things like that. What's so great thing about clothes is that they're artificial—you can lie, you can choose the way you look, which is not true of natural beauty. So if you're naturally beautiful, wear what you want, but that's .01% of people. Most people just aren't good looking enough to wear what they have on. They should change. They should get some slacks and a nice overcoat.
The bullshit that is stores discontinuing your favorite item without having to announce it in the classifieds section of the newspaper for at least a week:
I used to buy all my shirts at Brooks [Brothers], but that was completely ruined about 20 years ago. They discontinued the shirt I liked. If I had only known this—I mean, if you're going to discontinue an item that thousands and thousands of people buy, announce it. Say, 'We will no longer be making our excellent Brooks Brothers cotton shirts that we made for 5,000 years. We're going to change them in some awful way. We're alerting you so you can buy a lifetime supply.' Shirts don't go bad, they're not peaches.
G/O Media may get a commission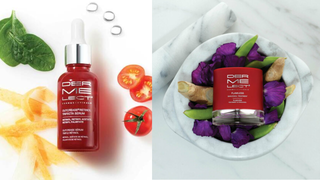 Save $19
Retinol Renewal Kit
The torture clothes must go through at the dry cleaner's because no one actually knows what goes on there and it's probably an unspeakable horror not unlike the pear of anguish:
My jeans go in the washing machine, my shirts go out (they're starched), and my clothes that need to be dry-cleaned go to the most expensive dry-cleaner. I dry-clean as infrequently as possible—not only because it's psychotically expensive, but also because who knows what it does to the clothes? Dry…clean. These words don't go together. Wet clean—that is how you clean. I can't even imagine the things they do at the drycleaner. I don't want to know.
Her dreams of being the actual Fashion Police:
On the one hand I think it's hilarious that so many people think they look fantastic, because they're wearing clothes that you should only wear if you look fantastic. If you walked around New York you would think there was a terrible mirror famine. There might be drought here, a wheat famine there, but in New York you have a mirror famine. Because everything people wear, you have to assume they bought it.

Where was the mirror? I sometimes feel like handing out citations.
Dolly Parton and drag queens:
What about Dolly Parton?

I know Dolly. What about her?

What do you think about her style?

It's great because she invented it for herself and she can wear it. It never caught on because you have to be Dolly. The extreme, exaggerated femininity is, for most people, not so great a look. Except for drag queens, because that's what drag queens do.

I mean, I always thought it would be much wittier for drag queens to dress in this very drab way. You know, the yoga pants? Well, what if drag queens just really let themselves go, pretending not to try, like most women?

But there are no drag queens like that, because drag queens know how to wear clothes. Can you imagine if women tried as hard as drag queens? We'd be a much more attractive culture. I wouldn't have to give out so many yoga pants citations.
and whether houses should cost more than your jeans:
I always wore 501 Levi's. They used to make them in San Francisco. Every size was the same size, which sounds obvious, but you would be surprised—and then, I don't know, at some point during globalization they started making them in Mexico, and like every other thing they branched out to places you'd never heard of. So now every single size of Levi's is a different size. They cost less, too, which doesn't make any sense. I wish that real estate were cheaper and clothes were more expensive. But that's what young people want: $2 T shirts that fall apart in the wash.
The full interview, which is more than worth the ten minutes of your time today, can be found here. Print it out, stick it to your mirror (if it hasn't been lost in the famine) and hope that you too can be as delightfully cranky and opinionated as Lebowitz one day.
Image via Getty
---
Contact the author at mark.shrayber@jezebel.com.