In a press release on Wednesday, Fox News announced that a one-hour primetime special titled "OBJECTified: Donald Trump," featuring then-presidential candidate Donald Trump, will premiere on November 18. It will feature an interview with Trump "as he showcases the objects in his home and offers the stories behind each memento."
This bold display of strongman propaganda will be hosted by TMZ's Harvey Levin, whose powerful gossip website, in the months leading up to Trump's election, published numerous stories sympathetic to Trump following sexual assault accusations (not in itself an unusual tack for a website with long-established misogynistic undertones) as well as an inaccurate story on "voter fraud" featuring false quotes from election officials. This partisan flavor seems to have been a shift for the celebrity-focused TMZ, which had been generally relied upon by more traditional media outlets (including this one) for the accuracy of its scoops—scoops that are achieved, against what many organizations consider basic journalistic standards, via a massive army of paid informants scattered across the country. Thus far, those informants have been focused on celebrity news. In Trump's America? Who knows!
In a February New Yorker profile on TMZ, Alec Baldwin described Levin as a "festering boil on the anus of American media" (In more detail: "'There was a time when my greatest wish was to stab Harvey Levin with a rusty implement and watch his entrails go running down my forearm, in some Macbethian stance. I wanted him to die in my arms, while looking into my eyes, and I wanted to say to him, 'Oh, Harvey, you thoughtless little pig.'")
Colleagues told the New Yorker that Levin "has no problem publicly shaming" employees, and the New Yorker cited dozens of current and former employees who characterized TMZ as an uncomfortable workplace. One former producer "described employees regularly gathering around computer monitors to watch footage of celebrities having sex"; former TMZ writer Taryn Hillin sued the company (naming TMZ and Evan Rosenblum, who remains an executive producer at TMZ) in 2014, alleging that she was fired after speaking up about workplace gender discrimination and harassment.
(According to court records, attorneys for the plaintiff filed a partial dismissal in July 2015. We've reached out to lawyers for both sides to confirm whether a settlement was involved, and will update if we receive a response.)
G/O Media may get a commission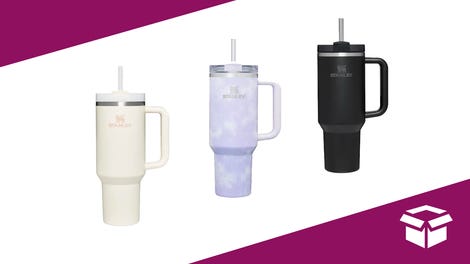 Up to 45% off
Stanley Cup Sale
Anyway, looking forward to hearing what Donald Trump has to say about his objects, particularly the copy of Hitler's My New Order that he allegedly used to keep in a cabinet by his bed.