Both LawNewz.com and the New York Times are reporting that last year, in the midst of the Roger Ailes sexual harassment scandal, Fox News also quietly settled sexual harassment claims against megastar host Bill O'Reilly and top executive Jack Abernethy. The exceedingly gross harassment allegations reportedly made against O'Reilly by former Fox anchor Juliet Huddy are similar in some respects to the ones brought against him in 2004, which he paid millions to settle.
LawNewz reported Monday that in a letter sent to Fox executives this summer, Huddy accused O'Reilly of a jawdropping pattern of sexual harassment. She said in the letter she was ousted from the Fox News network in retaliation when she refused to submit to his 2011 advances, transferred to a less prestigious morning show on a Fox affiliate. Consistent with claims that the issues at Fox were more pervasive than the network will admit, she also said that Abernethy, who was named the co-president of the network in September, sexually harassed her, "constantly called her at the office and asking her to come by his office."
On Tuesday, the Times reported that they also received a copy of Huddy's letter to Fox executives, saying that it was mailed to the newsroom anonymously back in December. The letter outlines some of the things Huddy accuses O'Reilly of, including pressuring her for a sexual relationship and calling her repeatedly when it "sounded like he was masturbating:"
The letter includes allegations that Mr. O'Reilly had called Ms. Huddy repeatedly and that it sometimes sounded like he was masturbating. He invited her to his house on Long Island, tried to kiss her, took her to dinner and the theater, and after asking her to return a key to his hotel room, appeared at the door in his boxer shorts, according to the letter.

In exchange for her silence and agreement not to sue, she was paid a sum in the high six figures, according to people briefed on the agreement. The agreement was between Ms. Huddy and 21st Century Fox, the parent company of Fox News. The company and Mr. O'Reilly's lawyer said her allegations were false.
Huddy joined Fox News in 2008 and appeared regularly on O'Reilly's show in 2010. Here she is discussing unwed motherhood:
Her last position was as the anchor of Good Day Early Call on WNYW, a Fox affiliate. She left in September, saying she wanted to focus on music coverage:
G/O Media may get a commission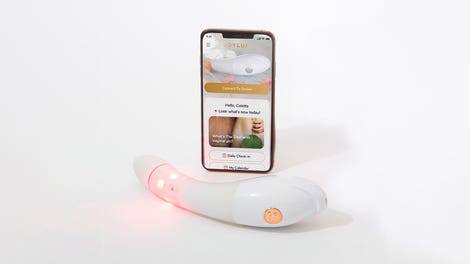 $50 Off
Joylux vFit Gold Device
But the Times reports that Huddy left just two days after reaching a confidential six-figure settlement with Fox News. The following day, Fox settled sexual harassment claims against Roger Ailes brought by Gretchen Carlson, and around the time they were saying that sexual harassment at the network wouldn't be tolerated. Huddy's family is reportedly friendly with Ailes, and she expressed unqualified support for him when he stepped down this summer:
The paper reports that both Fox representatives and a spokesperson for O'Reilly said Huddy's allegations were false:
"The letter contains substantial falsehoods, which both men have vehemently denied," Irena Briganti, a spokeswoman for Fox News, said in a statement.
In 2004, O'Reilly settled a sexual harassment lawsuit brought by Andrea Mackris, a former producer on his show, who infamously filed a 22-page affidavit detailing all the ways that O'Reilly allegedly harassed her, including numerous obscene phone calls. In one call, Mackris alleged, "It became apparent that Defendant was masturbating as he spoke," according to the affidavit.
And according to court transcripts, O'Reilly's daughter also testified that she saw him choking his former wife, the girl's mother, and dragging her down some stairs. That's not related to these allegations, it's just another fact about Bill O'Reilly that seems worth noting.
Update: Fox News sent us this statement, which is very similar to the statement they gave to the Times, but here it is again nontheless:
"Juliet Huddy's letter of intent to sue contained substantial falsehoods which both men vehemently denied."