Roger Ailes may have departed Fox News—along with a $40 million paycheck for the next several years—but it felt overly optimistic to assume that the culture of harassment apparently woven into the network's fabric would be out the door with him. And indeed, an investigation by the New York Times has proven that fear to be right on point.

Reporters interviewed around a dozen women who said they'd experienced harassment, intimidation or both by various higher-ups at Fox News, but the most jarring incident is that of Rudi Bakhtiar, who in 2006 joined the network after a decade at CNN. Following a successful stint as a freelancer, Bakhtiar landed a role as a fill-in weekend correspondent, with hopes of making the position permanent.
She shared that goal with her friend and colleague, Brian Wilson, who was then poised to become Fox's Washington Bureau Chief. Wilson encouraged her with the words, "You know how I feel about you, Rudi."
Recalling the encounter in a recent phone interview, Ms. Bakhtiar said she was thrilled and told Mr. Wilson she would make him proud. But, she said, he repeated himself, asking, "You know how I feel about you?" When she asked him what he meant, he said, "Well, I'd like to see the inside of your hotel room," adding that he wanted a friends-with-benefits relationship.
Bakhtiar rejected Wilson politely, but was nevertheless let go a few weeks later, with her superiors citing her insufficient reporting abilities as the reason for her dismissal.
Bakhtiar's story is abhorrent, but what's worse is that it's just one of many chilling anecdotes collected for the piece, all offered on the condition of anonymity due to embarrassment or fear of retribution. Some of the encounters were indeed with Ailes, but plenty of others involved other male higher-ups. Like this one:
One former Fox News staff member described walking into a dark office in 2009 to find a senior manager receiving oral sex from a junior employee.
G/O Media may get a commission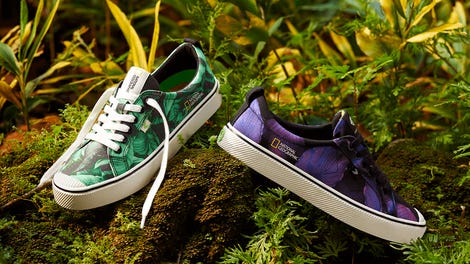 New New New
Cariuma + National Geographic
And this one:
One current employee said that she was with a male supervisor in a closed-door, one-on-one meeting in 2009 when she asked to work on an assignment. He turned to her and said, "Sure," then conditioned it on oral sex.
Nearly all of the women interviewed expressed reluctance to go to HR with their encounters, fearing that they'd be fired. And with good reason: Bakhtiar's contract was terminated just weeks after she filed a complaint at the urging of a manager. Ailes himself did the honors, shifting the blame to a news executive who allegedly found Bakhtiar to be a weak reporter. Bakhtiar, though, knew her skills had nothing to do with it.
"I said, 'You know very well why I'm getting let go, and it has nothing to do with my abilities. You guys came to me and sought me out,'" Ms. Bakhtiar said. "I said, 'This is all about what happened with Brian. You know it, and I know it.' He kept on saying, 'Oh, no, no, no.'"
Bakhtiar received a settlement for an undisclosed amount following her firing, which included a clause that she would not discuss her experience publicly. Now a producer at Reuters, she said she opted to break her silence despite the risk of a lawsuit because, as she put it, "this environment has to change."
"I just feel like I shut up because I didn't want to hurt my career," she said. "It's awful what happened to me, and to other people, with a nod from management."