After a brief break from ice fucking and defying the laws of physics and such, figure skating, the marquee sport of the Winter Olympics, returned with a bunch of sartorial headaches and a few standouts.
The event: Pair Skating Short Program. The day: Valentine's Day. The day I actually watched it because of the time difference: Valentine's Day Eve. The looks: Okay, girl, sure.
Evgenia Tarasova and Vladimir Morozov look as if they're members of the corps in an experimental ballet about death. I'm really, TRULY loving this spangled Jazz Age-esque 'stume on Aljona Savchenko, but Bruno Massot has fallen victim to figure skating's unfortunate tendency to make the men look like waiters. Somehow I don't hate Natalia Zabiiako's vision of lilac, but it needs more glitz and it's unclear what her partner Alexander Enbert did to make their costumer angry, but I hope he apologizes. Finally, Valentina Marchei is wearing a tablecloth and Ondrej Hotarek would like to know if he can clear your plate.
G/O Media may get a commission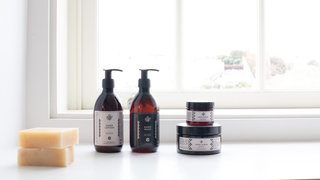 Exfoliate and Hydrate
The Handmade Soap Company
Vanessa James is truly glowing in this bright-ass blue, but I would like to rip through the computer screen and tear that blue strip of trash off Morgan Cipres's top at ONCE! Julianne Seguin is really just fine and her partner Charles Bilodeau's top sucks. Please stop putting male figure skaters in these weird high-V neck ensembles!!! Show me chest to the bellybutton or NOTHING at all. Moving along. Alexa Scimeca Knierim's nude sequined explosion is nice, and PROPS to her husband Chris for NOT wearing black, but for wearing NAVY. Yes! I know it matches the sash! I'm here! For! It! I'm also very much ici for North Korean figure skaters Tae Ok Ryom and Ju Sik Kim's matching onesies, though I do wish people would stop pulling their tights over their skates.
Cheng Peng's red sparkler has tasteful sequins, and I cannot look at another man dressed like a waiter, sorry Yang Jin. The beading on Kyueun Kim's costume makes it look as if she has indigestion, and HELLO Alex Kang Chan Kam, yes, that lace sleeve! Australia's Paige Conners is gorgeous in sherbet chiffon, but Evgeni Krasnopolsk's top is another tragic mistake. Finally, I would like to note that pairs figure skaters do not need to be dressed like identical twins, as evidenced clearly by Anna Duskova and Martin Bidar.
Meagan Duhamel and Eric Radford are kind of boring in this black situation, but at least it's not an unfortunate halter! The worst look of the night is this weird lavender and white and pink disaster on Nicole Della Monica and Matteo Guarise; the sparkles look like black mold!! This is exhausting: matchy-matchy black and red for Kirsten Moore-Towers and Michael Marinaro, BUT I LOVE THE SHEER PANELS ON Ruben Blommaert!!!! His partner Annika Hocke looks staid.

I don't care if black and navy are NOT supposed to be worn together, I think it looks chic on Kristina Astakhova's flying bod and I love the slash of sequin on her partner Alexei Rogonov. Miraim Ziegler is giving me early 2000s prom dress and it's wonderful; Severin Kiefer's outfit made me fall asleep. Black and sequins and lycra and velvet and oh my god, I'm asleep, ok, sorry Ekaterina Alexandrovskaya and Harley Windsor!!!! AND FINALLY AHHHH, these mid-tone blues on Miu Suzaki and Ryuichi Kihara pop nice against the purp of the arena but remind me of a Land's End turtleneck.
Wenjing Sui and Cong Han SKATED SO WELL!!!! Hell yes with those braces, come thru illusion netting, and please burn that top in a fire.