Earlier this year, it was reported that producer Jennifer Shepard-Brookman had been fired from The View for shouting at then-host Rosie O'Donnell during a meeting. Shepard-Brookman has now sued O'Donnell, alleging that O'Donnell is a "bully" who made her feel like she was going to be "assaulted," before unjustly getting her fired.
As Page Six reported then, senior producer Shepard-Brookman, who had worked for the show for 15 years, was initially suspended after her outburst towards O'Donnell, then fired.
One show insider said: "During a production meeting, Jennifer began mumbling behind Rosie, who told her, 'If you have something to say, say it to my face!' So Jennifer did — she laced into Rosie, and there was a shouting match. Jennifer was loud, and profoundly and publicly disrespectful to Rosie."
Not long after this altercation, O'Donnell announced that she was leaving the show to spend time with family following her separation from her wife, though her daughter has since said she left the show because of rumored rival Whoopi Goldberg. Shepard-Brookman continued to show love for on-again/off-again View host Sherri Shepherd on Twitter, as well as other members of her View "family."
In her new lawsuit, Shepard-Bookman alleges that O'Donnell got her fired for trying to give certain stories to Goldberg, including one about the beheading of journalist James Foley by ISIS.
G/O Media may get a commission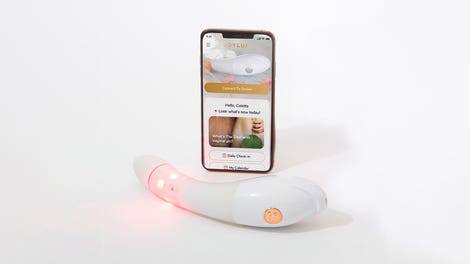 $50 Off
Joylux vFit Gold Device
"My client started crying. She was scared of Rosie and thought she was going to be assaulted," said Shepard-Bookman's attorney, Brian Kennedy, about an incident between O'Donnell and Shepard-Brookman last September, according to Page Six. The Wrap notes that Shepard-Brookman also called O'Donnell "a 'bully' that created a threatening environment that made the producer fear for her safety."
As Vanity Fair reported in May about the show's drama, O'Donnell has also credited Shepard-Brookman with leaking gossip about the show to news outlets, and outlines further details from the meeting and its aftermath that seems to have prompted the producer's firing.
The two women had "a history," as one staffer put it, tension going back to O'Donnell's first stint at The View. At the January meeting, Shepard-Brookman denied leaking to the media, but the animosity spilled over into the full staff meeting after the show that day. Nothing happened until the meeting broke up, when people overheard O'Donnell and Shepard-Brookman muttering in the hallway, with O'Donnell telling Shepard-Brookman, "That's it with shaking your negative head and moving your negative hands. Everything is negative, negative, Miss Negative." According to some, Shepard-Brookman seemed to be crying at one point. And then "you heard the screams," says one witness, recalling how staffers, terrified the fight would turn physical, "ran over trying to separate them."
The piece goes on to allege that Shepard-Brookman sent O'Donnell (according to a source) a "vicious and heinous" e-mail denying that she was leaking stories, but arguing that had she done so, it would have included "a litany of transgressions by O'Donnell."
In a statement, O'Donnell's lawyer said the lawsuit's claims are "baseless." In September, Shepard-Brookman wrote, "If anybody is looking to hire a fantastic, incredibly hard working senior level producer, pls tweet me. Thx all." As for Rosie...
---
Contact the author at dries@jezebel.com.
Image via ABC