Another day, another leaked or made-up story about the hosts of The View feuding. Who is the brilliant mind behind this drama?
On Friday, the Daily News published a piece also picked up by Radar Online alleging that the hosts of The View have been fighting over how to cover the Bill Cosby rape allegations. That's believable enough – considering the days they've devoted to the topic and the poor way many of those conversations have gone, it's unsurprising that they don't all agree about how best to handle the topic. According to this gossip, Goldberg didn't want to discuss it and O'Donnell did, which lead to O'Donnell pitching a fit off-camera.
The Daily News' piece was slightly more flushed out than just that, with "at least two show sources" refuting those claims, arguing that O'Donnell has not "yelled at anyone for at least a month." And of course, a View spokesperson said that the "story is mean-spirited and greatly exaggerated by someone who is obviously disgruntled and has some agenda" and totally denied that any fight happened.
But obviously someone thinks that something is happening there: the rest of the piece goes on to describe how Rosie Perez is struggling with her new gig (the quote reads: "She's not the sharpest tool in the shed.")
G/O Media may get a commission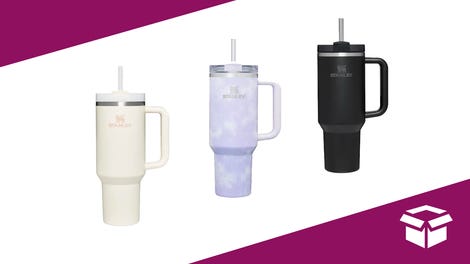 Up to 45% off
Stanley Cup Sale
It's come to the point where one expects to read a story that follows this trajectory (issues between Goldberg and O'Donnell, plus questions about Perez's longevity on the show) every few weeks or so. Which makes one wonder: where are they coming from? Radar Online, TMZ, The Daily Mail and the Daily News have all individually reported on these claims, which makes the possibility that it's just one source less likely. The variety of outlets picking up on this drama also supports the theory that the show producers themselves are leaking exaggerated versions of disagreements between hosts to boost ratings.
While the old adage "all press is good press" is mostly true, there comes a time when fights about stuff happening off-camera start to dilute the brand of a show. When Rosie O'Donnell and Elisabeth Hasselbeck were on The View together, they were certainly fighting backstage, but they saved most of that good stuff for the actual show. Goldberg and O'Donnell aren't doing that; if these reports are to be compared to what's actually being aired, they're tiptoeing around each other on camera and having it out backstage. Viewers tuning in because they've read that stuff is getting dramatic will be sorely disappointed to watch and find that's it's just as boring as ever.
At this point, the most interesting thing about The View isn't the drama but who is behind the gossip about it. So if you're a source on the source/s for these The View stories, email us.
Image via ABC