Donald Trump—a hunk of beef jerky that rolls under the couch and is left there to harden, becoming covered in dust and cat hair until a cockroach takes it back to its lair and makes it his wife—is known for his obsession with women in bathing suits walking around without speaking. Such a specific obsession ultimately resulted in his purchase of the Miss Universe pageant, although he sold it earlier this year. Now, one former Miss Universe is coming out against the meat by-product.
On Wednesday, Alicia Machado, 1996's title holder, joined civil rights activist Dolores Huerta, in coming out against Trump's candidacy and encouraging other Latinxs to register to vote for Hillary Clinton.
"He made me feel small," Machado told ThinkProgress in Spanish. "He threatened me, treated me rudely. He called me 'Ms. Housekeeping' in front of his friends... He hates girls. He considers girls to be less. We have another status, to him."
In an interview with Inside Edition earlier this year, Machado detailed how he called her "Miss Piggy" and pressured her to lose weight, which ultimately resulted in her developing an eating disorder.
According to ThinkProgress, Machado had lived in the U.S. for seven twenty years, but didn't consider becoming a citizen until Trump became the presumptive Republican nominee.
G/O Media may get a commission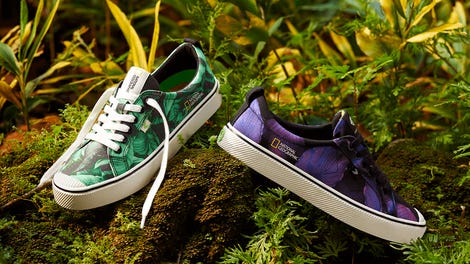 New New New
Cariuma + National Geographic
"It was like a great monster reappearing in my life. In the beginning, I thought there was no way this loco will ever win. But after the primaries I realized I need to vote. I can't invite my community to step up if I won't do it myself."
The event was organized by People for the American Way and Casa in Action, which are releasing a Spanish-language Trump attack ad that will air in Virginia, Nevada, Arizona, Colorado, North Carolina, Wisconsin, Ohio, and Pennsylvania beginning Thursday, according to the Washington Post.
"During his journey, he has attacked everyone: Muslims, women, disabled people, and immigrants," said Huerta. "This person is very dangerous to the United States of America. I've never seen any candidate for president who has so overtly attacked people with such gusto...and a portion of the people who follow him are really unstable."
---
Image via Getty.