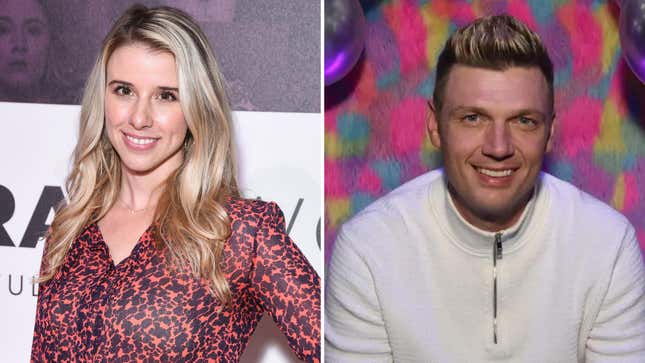 On Tuesday, Melissa Schuman, former frontwoman of early 2000s girl band, Dream, filed a lawsuit against Nick Carter for sexual assault and battery, alleging that he used "his role, status, and power as a well-known singer to gain access to, groom, manipulate, exploit, and sexually assault" her.

Dirt Bag of the Week: Katharine McPhee
This is hardly the first time Schuman has publicly alleged Carter of such. The suit stems from Schuman's previous claim that the Backstreet Boy raped her in 2003 when she was just 18 years old. She accused the then-22-year-old Carter of performing oral sex on her without her consent, forcing her to reciprocate, raping her, and subsequently, infecting her with HPV. In November 2017, she penned an unsettling account of the alleged assault in which she described Carter luring her into a bathroom at his apartment. A friend of Schuman's, who was elsewhere in the apartment, was unaware, she wrote.
Schuman has since chosen to take action in light of a newly passed California law that has temporarily lifted the statute of limitations for sexual assault claims to be litigated in civil court.
"I've faced extraordinary backlash for standing up for myself; I am not the first, however my intention is that I am the last," Schuman said in a press release. "It's time that powerful figures in the music industry get the message that they can no longer afford to enable and protect sexual predators."
Despite her pleas at the time that she didn't want to have sex as she was a virgin, she claimed Carter took her to a bedroom and raped her: "He threw me on the bed and climbed on top of me. Again, I told him that I was a virgin and I didn't want to have sex…He was relentless, refusing to take my no's for an answer. He was heavy, too heavy to get out from under him. Then I felt it, he put something inside of me."
In February 2018, Schulman belatedly filed a report with the Santa Monica Police Department, however, the Los Angeles County District Attorney's office declined to pursue charges given the pre-existing statute of limitations had been exhausted. She also spoke to The Daily Beast about how the alleged assault has negatively impacted her career and why she decided to come forward years later: "My 18-year-old self wanted to do that when it happened and didn't feel like it was an option. I didn't feel strong enough, I didn't feel safe enough to do it then."
"It's time for reckoning, and it was time for Melissa Schulman to stand up for herself and on her truth," Jeff Anderson, Schuman's attorney echoed to Jezebel. "She's a powerful woman with a powerful story, who's taken on a powerful man who is powerfully predatory in our view, and we're grateful to stand with her."
Carter, meanwhile, has vehemently denied the allegations since 2017.

"Melissa Schuman has been peddling this tale for many years, but her allegation was false when she first made it back in 2017–and it still is," Liane K. Wakayama, Carter's attorney, told Jezebel of her suit.
The filing comes just months after Carter was accused of sexual assault by Shannon "Shay" Ruth who filed a sexual battery lawsuit against the singer. Ruth claimed Carter raped her when she was just 17 on a tour bus in 2001. In response, his representatives told TMZ that the accusation was "categorically false."
Carter later filed a countersuit, blaming the #MeToo movement and claiming Ruth was "groomed and coached" by Schuman and her father, Jerome.
"Ruth was a vulnerable and highly impressionable individual, craving attention and desperate to fit in," the countersuit states. "Schuman and Jerome groomed and coached Ruth, coaxing her to inflate her initial claim of being abused at the hands of a third-party, to being physically abused at the specific hands of Carter, and, finally, to being sexually assaulted by Carter."
Anderson, however, told Jezebel that his client anticipates Carter's team's response to her suit: "We expect them to go on some kind of counter attack," Anderson said. "And the good news is Melissa—and we—are now ready for whatever they have."