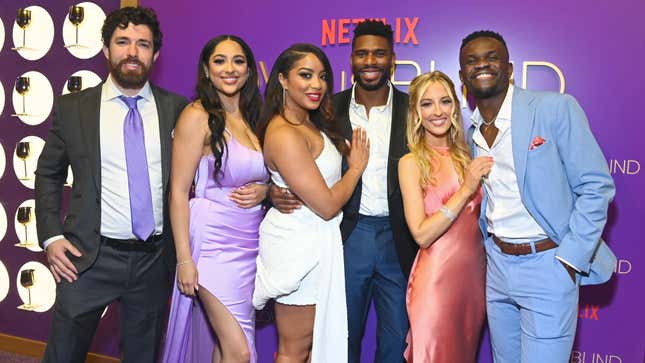 The basis of Love Is Blind, the popular Netflix series that wrapped its fourth season on Sunday, is chaotic to begin with: 15 men and 15 women enter a dating "experiment" (terminology the show requires them to use) in which contestants fall in love just by talking through isolated pods and eventually get engaged, sight unseen. The show attempts to answer a reasonable enough question: "Is love really blind?" Getting engaged after 10 days of dating without ever physically meeting the person you've made a lifelong commitment to? What could go wrong?

Revisiting Joe Millionaire, the Experimental 2003 Dating Show Built On an Elaborate Lie
Four seasons, six successful unions, and two divorces later, several former contestants are now opening up about their filming experiences in a report published by Insider on Tuesday, detailing just how traumatizing the pods and the show's aftermath really were for them. Fair warning: It gets a whole lot worse than a white woman getting bullied on the internet for feeding her dog wine.

"You thrust us into this situation without any support, and everything's amplified," said Nick Thompson, a Season 2 contestant who married and later divorced fellow contestant Danielle Ruhl. "It literally ruins lives."

A number of former cast members, some who chose to remain anonymous, told Insider that filming the show was a "traumatic" experience. Contestants say they were expected to film 20-hour days for nearly two weeks, all while producers micromanaged their eating and sleeping schedules. Food and water in the common areas were often scarce, while alcohol was a constant—several unnamed production assistants claimed they were often urged to top up contestants' drinks as much as possible. The set (including the pods and the lounge where contestants hung out in between dates) was windowless, and many of the men and women only saw sunshine when using the bathroom in a trailer outside. Cast members' phones were confiscated, on top of only being allowed to sleep and eat as dictated by production.

Ruhl told Insider that she had fainted during the pod dating period while drinking champagne, likely because she hadn't eaten, slept, or drunk enough water, she said. Rather than giving her medical attention, a crew member made her take a covid test and then had her film a confessional after she came to.

Cast members were also escorted everywhere by production assistants, including to the bathroom. One PA who worked on Seasons 2 and 3 said they were not allowed to speak to the contestants. "We were told if a girl comes on the bus and she feels self-conscious, feeling bad about her body, don't respond," the PA said. "Just ice her. That weird cult vibe of, 'Don't talk to them, they can't talk to you.' It's all about the isolation."

The filming environment was so brutal that Season 2 cast member Jeremy Hartwell wound up suing Netflix and the show's production company, Kinetic Content, in June 2022, alleging they had violated labor laws and had exposed contestants to "unsafe and inhumane" working conditions. Hartwell said he had been given a $1,000 weekly stipend with a maximum payment of $8,000 for the entire filming experience, which translated to about $7.14 an hour. According to Insider, Kinetic called Hartwell's claims meritless. (Litigation is ongoing: Kinetic said in court documents that Hartwell had only been on the show for six days, and Netflix lawyers, according to the New York Times, said the "extreme allegations" must've been because Hartwell was "upset" he wasn't chosen by another contestant.)
As a consumer of the baffling reality series from the very beginning, the biggest question floating above the entirely unreasonable "experiment" was how producers had tricked somewhat well-adjusted people into agreeing to commit to someone after knowing them for a little over a month…let alone for the whole world to see. As it turns out, producers allegedly went to mentally damaging lengths to keep contestants on the show, even as they realized they had gotten themselves into something far more toxic than they'd signed up for.

According to cast members' contracts, contestants who wanted to leave the show early without producer approval would have to pay $50,000 in damages to Kinetic. Couples who got engaged on the show were contractually obligated to show up to their wedding days, even if they knew far earlier that they did not want to marry their partner. Those who go through with the marriage are forbidden from divorcing until after the last episode of the season airs. One former contestant said producers pressured her to stay on the show even after she told them she'd been having suicidal thoughts.

The casting process also let Season 3 contestant Brennon Lemieux slide through the cracks, conveniently missing (or ignoring) that he had been accused of assaulting a 22-year-old woman months before filming kicked off. The woman alleged that Lemieux hit, pushed, and scratched her, ultimately striking her head and knocking her unconscious. Insider reports that a grand jury "declined to indict Lemieux because of a lack of sufficient evidence." Lemieux is currently married to Alexa Alfia, who he met on the show.

Despite the obvious mental strain on contestants, former cast members told Insider they did not have adequate mental health services available to them throughout filming. Several said they became depressed after the show ended. One contestant ultimately quit her job as a mental health counselor because she no longer felt she could do her job. Ruhl had disclosed during a psychological evaluation in the casting process that she had a history of mental illness and suicidal ideation, though that did not keep her from getting cast on the show. Later, Ruhl and Thompson also asked for marital counseling services after they were struggling to keep their marriage afloat in the show's aftermath.

"I don't think that I've felt myself since before filming," Ruhl said. "I'm trying to refind who I am because it fucked with me so much."

"I literally begged for help, and I didn't get it," Thompson added. "Like, I want to fix my marriage that you've thrust us into for profit. And it was nothing."

Netflix did not respond to Insider's requests for comment. Kinetic Content wrote: "The wellbeing of our participants is of paramount importance to Kinetic. We have rigorous protocols in place to care for each person before, during, and after filming."

The fact of Love Is Blind's emotional misery is not at all surprising; reality television—from the cultish The Bachelor and often racist Survivor—has long been traumatizing its contestants. But newer dating shows should be learning the lessons of their predecessors. ITV, which produces Love Island, has updated the show's duty-of-care processes with detailed welfare plans, for instance, to support cast mates during and beyond filming. Even The Bachelor has now granted its leads therapists during filming. There are bare minimum safeguards that can be installed, and other shows have proven so.
Still, Love Is Blind appears hellbent on continuing to weaponize contestants' insecurities and worst impulses to create shock-and-awe entertainment.