Two former Infowars employees have filed complaints with the Equal Employment Opportunity Commission against right-wing conspiracy theorist Alex Jones, citing discrimination and sexual harassment. They allege that Jones and senior managers created a hostile workplace, complete with bullying, racist jokes, anti-semitism, and groping.
Rob Jacobson, a former video editor who worked for Jones for 13 years, claims that Jones and other co-workers called him "The Resident Jew," "The Jewish Individual," and "Yacobson." He says his former employer also inserted a photo of his face onto a photo of a Hasidic Jewish man with the words "THE JEWISH INDIVIDUAL DEMANDS YOUR HOT TOPICS" plastered around it; these print outs were circulated around the office, Jacobson said, leaving him feeling humiliated. (He also accused Jones of calling him a "beefcake.") In 2017, Jacobson was fired from Infowars after a dispute with Jones.
Ashley Beckford, a former production assistant, alleges that she was discriminated against upon her arrival at Free Speech Systems, the parent company of Infowars. Beckford, a black woman, claims she was ridiculed for her skin color and was called a "coon" by Infowars producer Rob Dew. Her EEOC complaint is also riddled with sexual harassment allegations against Jones and other supervisors; she says Jones groped her butt while commenting, "Who wouldn't want to have a black wife?" Jones's well-known shirtlessness is also included in the complaint, and he is accused of "endlessly leering, with or without a shirt, at female guests and employees while creating a disgusting, hostile environment."
G/O Media may get a commission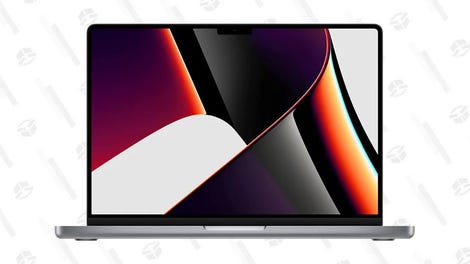 Save $300
2021 14" 1TB MacBook Pro
Beckford writes in the complaint, "It's my opinion that it was [Jones's] intention to see if he could groom me for sexual exploitation." It also contains claims that she was underpaid compared to her white co-workers. Beckford was also fired from Infowars in 2017 due to "excessive write-ups."
Both Jacobson and Beckford are represented by Attorney Ben Meiselas.
Jones denies the claims levied against him, and has released a video in which he attempts to dismantle each one. He also told the The Daily Mail that Jacobson and Beckford's allegations have "no reflection of reality." But Jones also says that the US government is turning frogs gay; that vaccines cause autism; that Sandy Hook was a false flag; that his bullshit, overpriced supplements actually work; and that challenging a high school student to a debate on gun control is totally reasonable.