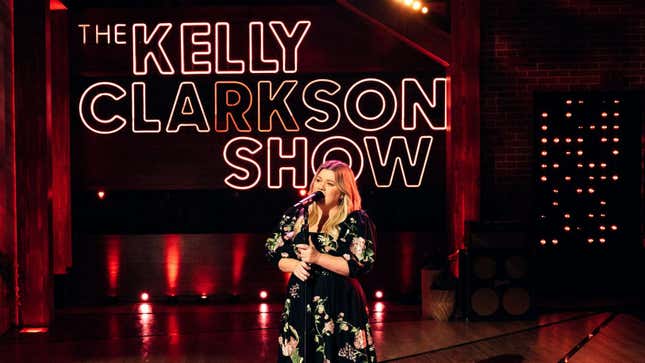 The Kelly Clarkson Show—one of a handful of perky daytime talk shows focusing on relatability and joy—has notoriously been chock full of glee. But behind the scenes, employees say working on the show has been "by far the worst experience" they've had working in the entertainment industry.
Eleven current and former employees say Clarkson herself "is fantastic," but that lead producers and management enabled a "traumatizing" workplace culture that made the job untenable for workers, according to a report published Friday in Rolling Stone. Chief among their many grievances was being overworked, underpaid, and sacrificing any sense of mental health as a result.

"[Kelly] is a person who never treats anyone with anything but dignity and is incredibly appreciative," one former employee told the magazine. "I would be shocked if she knew. I'd be floored if she knew the staff wasn't getting paid for two weeks of Christmas hiatus. The Kelly that I interacted with and that everyone knows would probably be pretty aghast to learn that."

Oddly, the report does not include a comment from Clarkson, though it indicates that she was contacted for comment. That no one voiced their concerns to the face of the talk show before contacting a reporter at Rolling Stone is a strange detail, but, of course, doesn't take away from the validity and severity of their claims.

The employees the magazine spoke with said that most of the issues on set stemmed from the talk show's executive producer and showrunner Alex Duda. She was previously employed as the executive producer on Steve Harvey and The Tyra Banks Show and is set to continue helming Clarkson's show through its sixth season in 2025. Duda allegedly "shields" Clarkson from workers' complaints given that they're a product of a culture she created, former employees said.

"I think Alex Duda's a monster," one former employee said. "I have a friend who's an executive producer who warned me about taking this job, because apparently she has done this on every show she's worked on."

Aside from being forced to take other jobs as babysitters, dog walkers, and Uber Eats drivers to pay their bills, employees were also reportedly subjected to verbal abuse and a culture of fear and intimidation. One said they often ran up to the roof of the set to cry, while another said they recently quit the show because a producer who reports to Duda yelled and cussed at them onstage, leading them to vomit from anxiety. A third employee (who is white) said they quit the show due to bullying by Duda, adding that during a conversation about how to diversify Clarkson's audience, Duda asked the team, "Why don't Black people want to come to the show? Why don't Black people want to see Kelly?"

In one of the more horrifying allegations, yet another former employee said Duda punished them for asking how executive producers were going to address rising anti-Asian hate on the show. After reporting the incident to HR, that employee said they were "bullied, yelled at, and left out of future meetings by the executive producers they complained about."
All of the employees Rolling Stone spoke with say that despite several HR complaints, no action has been taken to remedy the toxic workplace. Seven of the former staffers said they relayed their traumatizing experiences to management during their exit interviews with NBCUniversal, while another said they had a follow-up call with HR after leaving the company to discuss ongoing issues with the problematic producers. The company's HR representative allegedly told them the producers' behavior was "unprofessional," but no changes were made. Instead, those producers later wound up getting promotions.

NBC did not provide a comment to Rolling Stone regarding the claims in its story, and Duda did not respond to requests for comment. NBC and Duda also did not respond to Jezebel's request for comment.
At the very least, employees have a hell of a walk-off song from Clarkson herself: "You know you did it, I'm goneeeeee!"