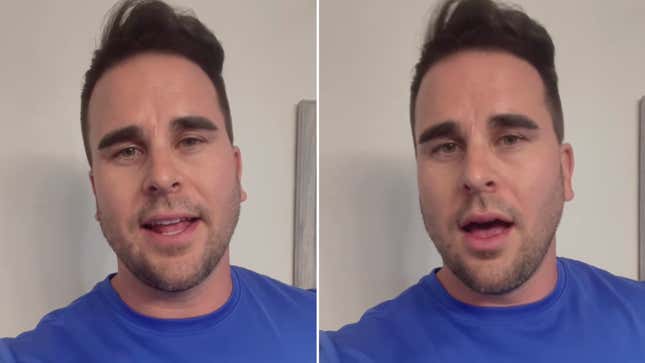 Bachelor Nation alum Josh Seiter said he's "alive and well" in a Tuesday afternoon video message, one day after an Instagram post from his family announced his death, citing mental health struggles. Seiter's death was reported by numerous media outlets over a 24-hour period before he apparently regained control of his account.
"Hey, guys. As you can see, I am alive and well. My account was hacked," Seiter, who was (briefly) a contestant on Bachelorette Kaitlyn Bristowe's season in 2015, told his followers. "For the last 24 hours, I've been trying desperately to get into it. Somebody was playing a cruel joke and mocking my mental illness and the struggles I've gone through with depression and suicide attempts."
Seiter continued, "I'm sorry for all the pain they caused when they made that post. I just got back into my account. I am going to do all I can with my team to try to identify who was behind this. But again, I apologize for the confusion. And I will update you guys as more facts come in."
In 2021, the model, fitness influencer, and adult film actor wrote about his mental health struggles in an Instagram caption, referencing a previous suicide attempt and said that he battles bipolar disorder, general anxiety disorder, and obsessive-compulsive disorder diagnoses. "I refuse to give up," he wrote. He also describes himself as a "mental health pioneer" in his Instagram bio. Earlier this year, Seiter came out as bisexual and shared his now-former engagement to a male dancer.
In addition to Seiter's Instagram video, he spoke to CNN about the hack: "When I saw that I had been hacked and this thing had been posted, and it was designed to appear genuine but it's really trying to invoke a response from people and troll people, it's very upsetting to me," Seiter told the outlet on Tuesday. He called the hack "egregious," but added, "I'm not shocked that there's someone out there [who] thought it was funny to, in this way, make fun of mental illness, make fun of suicide."

There are certainly a lot of unanswered questions that come with this—namely, how Instagram allowed Seiter to lose access to his account for a full day while the world thought he was dead. And if you're getting a feeling of deja vu, that might be because just three weeks ago, another Instagram influencer, former child star Lil Tay, was also announced dead in an Instagram post attributed to her family—only to resurface and declare herself alive and well the following day, and similarly blame hackers.
Social media hacks and leaks aren't new, but it's certainly disturbing how many hackers seem so entertained by the concept of death.