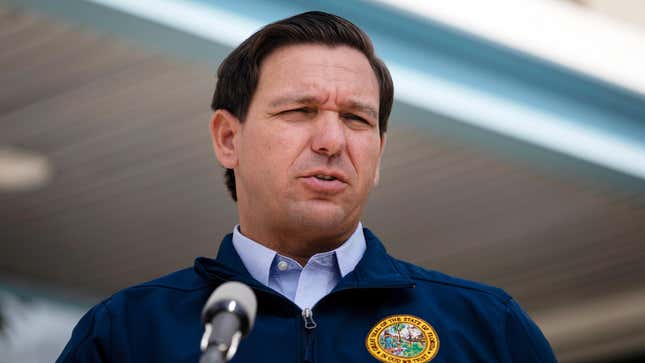 Florida Gov. Ron DeSantis achieved record-breaking levels of general DeSantisism earlier this month when he publicly threatened any school district in his state that chooses not to comply with his ban on mask mandates. Does he actually not understand how covid-19 transmission works and that face masks are scientifically proven to reduce its spread? Or is this all just empty politicking for one of the most prominent leaders in the death cult that is the 21st Century Republican Party? Honestly, who cares! The end result (furthering the spread of covid in a state that is already besieged with alarming daily case numbers) is the same either way.

Taylor Lautner Doesn't Even Remember Saying 'Bella! Where the Hell Have You Been Loca?'
Anyway, good news for Florida public school students, their families, and anyone those students and their families might somehow interact with directly or indirectly (i.e., fucking everybody): A judge for the state's Second Judicial Circuit rejected DeSantis et al's efforts on Friday to enforce the aforementioned anti-mask mandate, uhhhh, mandate, The New York Times reports. "I'm a parent—parents' rights are very important," Judge John C. Cooper said in his ruling, which allows Florida school districts to impose mask mandates without fear of financial retribution from the state's government. "But they're not without some reasonable limitation, depending upon safety, reasonableness and a compelling state need." Who knows how long Cooper's injunction will last, though, since the Department of Education has already issued a statement saying it will appeal the decision.
Here's some more covid-related news for the day:
Dr. Rochelle Walensky, the director of the U.S. Centers for Disease Control and Prevention, defended her agency's guidelines on resuming in-person schooling amidst the ongoing coronavirus pandemic on Friday. Most school-related covid outbreaks stem from districts not adhering to as many layered protection measures (mask-wearing, vaccine requirements, regular testing, improved ventilation in buildings...) as possible, she said, not the fact of schools reopening itself. [USA Today]
Also on Friday, the CDC released a report that would appear to back up its school guidelines. For example, there's a case study in the report that details a covid outbreak at an unnamed Northern California school in May in which an unvaccinated and occasionally unmasked teacher continued to teach in-person classes despite experiencing covid symptoms. This resulted in 12 students and 27 people total testing positive for the virus' Delta strain just as that variant was entering the state. [SFGate]
Fifty-two percent of people in the United States are fully vaccinated against covid as of Saturday, while 63% of Americans over 18 are. There have been 38,527,411 cases recorded in the United States since the pandemic began and 632,786 deaths. [CDC]