From the beginning, 2 Broke Girls has attempted to push the envelope, with hipster jokes, racist jokes, and sex jokes. But newly public documents via the FCC show that some viewers cannot handle the ribald humor.
It makes sense that a show created by Sex And The City's Michael Patrick King and lewd comedian Whitney Cummings would have some raunchy humor. On 2 Broke Girls, sometimes there's sexual innuendo; most of the time it's just overtly filthy. (One character asks how far you can go on a first date; the other says "anal?") The complaints — picked up by several sources — are pretty hilarious. According to Adweek, between Sept. 2011 and Dec. 2013, the show earned at least 91 informal complaints to the FCC. A sampling:
It's 8:30 at night on a Monday and I have to explain to my child what 'fingering' is?
Two casual references suggesting anal sex on a first date. Are there no standards anymore on broadcast television?
Forced fellatio and ejaculation on a woman's breasts are not prime-time material.
From constant comments about sexual positions and ejaculation in every orifice to menstrual cycles in much more vulgar terms…Two Broke Girls is unrelenting… I don't know when TV censorship died in this country but we need it back.
I am no a prude, but having a male character talking about having finger sex and had sex with a female character is offensive to me at 8:30… It was not even a double entendre – the male character actually said, 'I had hand sex with her,' and then seconds later when asked to pinkie swear, another character said, "I don't know where that pinkie has been" and the first character said, "I just told you." Meaning that his pinkie was in a woman's vagina. Are you serious?
You can read more here. But the general consensus? Censoring: Bring it back!
Despite the hipster jokes (which are more infrequent in this 3rd season of the show) and the shitty race jokes, 2 Broke Girls is refreshing, in a way. There are tons of shows in which men are "allowed" to be bad boys, but women are generally not the ones getting stoned and sleeping around. On 2 Broke Girls, the ladies behave in some very un-ladylike ways. Max — played by Kat Dennings — is foul-mouthed and bitter, and speaks unapologetically about being promiscuous. She never turns down a chance to make a vulgar jibe or to talk about her vagina. Last season, she campaigned to get free tampons in the workplace; this season she refused to be embarrassed about her porn stash and claimed she went to a father/daughter dance with her mom's weed dealer.
G/O Media may get a commission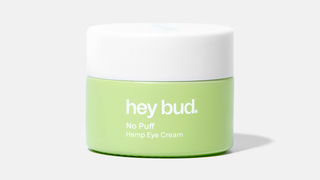 15% off
Hey Bud - No Puff Hemp Eye Cream
In a recent episode, Caroline (the formerly rich blonde one) stopped Max as she was about to dive into a Salvation Army bin: "You're just gonna crawl into the dirty box?" Max: "Dirty box was my nickname in continuation school."
In another episode, Caroline gave Max a bed skirt. Max said: "My bed doesn't wear skirts! It's a dude. I know because it pokes me in the back while I sleep."
The show may be very problematic and only sometimes-funny, but it's kind of fun to hear women talking so frankly about sex and enjoying being crass. It's obviously not for children — you'd think after three seasons of sex joke after sex joke, parents would get the hint.