Many days of ice skating have occurred; I have watched almost all of them and feel fairly confident that I could execute a successful triple Salchow if under duress. Also, I am newly inspired to update my spring look to include excessive sleeves, embellished velvet and sheer panels EVERYWHERE.
Some people got medals and some people did not; mostly everyone stepped it up for the individual events and in my new role as figure skating fashion critic, I am thrilled. Shall we?
The Menfolk
The good is exceptionally good—SO very good that I desire a iteration of each of these outfits for daywear at once!! Yuzuru Hanyu skated like a melodramatic demon and is dressed like, per my notes, "some Sailor Moon Tuxedo Mask bullshit!!!" A sash! A sheer panel! A hint of teal at the collar! There were gloves—sheer, black, faintly ridiculous. This Adam Rippon look is like if you put a mermaid on upside down, stepping into her tail as a shirt—a fucked-up addition to your mood board that executed nicely. And, skating to "Nessun Dorma," Shoma Uno is wearing all three of my favorite figure skating ensemble components in one: sheer sleeves; velvet; SPARKLE. Also this exposed chest should be compulsory for every male figure skater; I'll submit my request by mail to the U.S. Figure Skating Association.
G/O Media may get a commission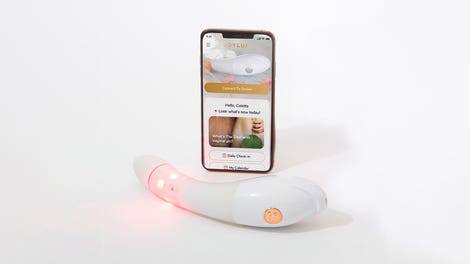 $50 Off
Joylux vFit Gold Device
Here's Paul Fentz, the head server at a Medieval Times in Hackensack, flanked by the sommelier, Javier Fernandez, on his left and Alexei Bychenko, the man who operates the turkey leg rotisserie machine and changes the mead kegs for the weekend brunch rush.
The curse of the mother-of-the-bride dress comes for everyone eventually and men's figure skating is NOT immune!! The color is great on Dmitri Aliev's 'stume and I love, love, LOVE a matching glove, but the sheer sleeves need a kajillion sequins to save them from themselves. Jorik Hendrickx is having a BLAST and his top shares conceptual DNA with the nightmare I wore to my senior prom. I've asked Patrick Chan repeatedly to leave the interview top at home and he has yet to honor that very simple request. And Boyang Jin's top is very Dillards; tangentially, how far out are we from this ombre chiffon vision's comeback? I'd say five years. Prove me wrong!
Michal Brazina looks like he plucked his look from the sale rack at Oak. Is this a repeat Mikhail Kolyada look or am I losing my mind? Keegan Messing wants to give you a rose, dressed as he is for a very fancy version of The Bachelor or your junior prom. Finally, Brendan Kerry's visible chest hair is the most inspiring thing about this look.

Smart of Han Yan to jazz up a vest with a vest/dickey underneath it, though I am surprised at how relatively unfussed I am about this look! Deniss Vasiljevs, this is a really good 80s-adjacent blazer with the most subtle use of sequins I've seen at this event yet. Nathan "Quad" Chen and Vincent Zhou are color blocking correctly; Chen looks a bit like a very chic priest and Zhou's red and black stripped-down Cherry Poppin' Daddies top is juuuuust minimal enough to make it fashion, darling.

Please remember this men's figure skating event by this final look at Shoma Uno's velvet midnight and cerulean and gold fantasy. That sleeve! The turnout! The confidence of a man who knows what he's doing and has somehow not thrown his knees out! I die.
The Lovers, Day 1: Ice Dance, Short Dance
It finally hit me that ice dancing is basically sexxxy, lewd, So You Think You Can Dance-style ballroom dancing on ICE SKATES—duh—and now I cannot stop watching. Also, now that I know that the short program required all ice danseuses et danseurs to "skate to a Latin rhythm, utilizing ballroom dance techniques to perform salsa, samba, bachata and/or meringue," I feel much better and understand everything so much more.
Fringe, when done right, is fantastico. Cortney Mansourova and Michal Ceska are proving that point nicely, though I wish his all-black ensemble had some connection to her fantastic neon-yellow fantasia. Perchance it is the way the camera has caught this frenetic energy, but something about Kavita Lorenz's dress looks like what Big Bird would wear to Carnaval and Joti Polizoakis is like the rest of the men in this category: dressed in all black to let the women shine. Shiyue Wang and Xinyu Li are the ONLY repeat costume I will even bother discussing because this fringe is FUN and the colors are kicky and I love it. Alexandra Nazarova looks like a drum majorette, Maxim Nikitin like the star tenor in show choir and somehow I am not mad at it.
Piper Gilles and Paul Poirier are doing the "put the man in black and the woman in EVERY COLOR UNDER THE SUN" shtick, but her dress is SO very H&M Holiday 2015 that I cannot help but love it, and another closeup of his shirt revealed that there were matching tearaway (?) sleeves, a fact that makes me shriek. Sara Hurtado is kind of blah in pumpkin and black and Kirill Khaliavi is zzz. Gabriella Papadakis had a night of tremulous highs and one very unfortunate incident: she skated like a freaking BEAST to, ugh, "Shape of You;" the clasp of her phenomenal green-to-gold-to-nude illusion netting costume BROKE DURING HER PERFORMANCE, forcing her to skate the program with one of her bosoms EXPOSED; she and her partner Guillaume Cizeron weathered that storm and still managed to finish second. The sequins on Penny Coomes's black sequined number is reminiscent of every thrift-store sequined gown smelling faintly of mothballs and shoulder padded to the heavens, but her partner Nicholas Buckland got the memo about the chest exposure. Thank you!
Call me crazy but this blue fringe on Ekaterina Bobrova is lovely, but should be like, electric Yves Klein blue and not what nail polish bloggers call a "blurple" and Dmitri Soloviev pecs look shiny! Madison Hubbell's dramatic, crepuscular one sleeved dress is saved from boresville by the hints of hot pink in the black and Zachary Donohue's sheer panels are fantastic. In theory, I love Kana Muramoto's fringed cutout situation, but in practice it looks a little bit like a pair of tassel earrings I almost purchased at Zara's trendier cousin, Bershka; I don't know what her partner Chris Reed is wearing but it seems less than fun. I wish Charlene Guignard's weird explosion of tulle and glitzed-up lycra had no sleeves instead of one very long one and her partner Marco Fabbri is, again, wearing black.

Tessa Virtue is wearing a costume that has so many components to it—burnout velvet cheetah spots, fringe, no back, sewn in-bra cups like a tankini—that one thinks it might be hideous. It's not?? It's great?? Scott Moir's top is a cold shoulder without being an aggressive cold shoulder; I'd love to think that that's providing him with some ventilation, if the exposed chest isn't doing its job. They either have fucked or or on their way to do so. They look GREAT.
Yura Min and Alexander Gamelin are wearing red as are Natalia Kaliszek and Maksym Spodyriev and Kaitlyn Weaver and Andrew Poje. Two out of the three are interesting, please guess which ones!
Oh my GOD, Madison Chock looks like a fashion toucan, there's a swath of feathers brushing against her chin and she somehow managed to skate in this outfit without catching her blade on any of it, I am impressed!! Evan Bates respectfully kept it chill, the better to let the light catch the shine off Chock's bonkers-chic garment. Yes! This is the good stuff! Pour it down my throat.
The Lovers, Day 2: MEDALS, BABY!!
Tessa Virtue and Scott Moir are very good at their jobs and are also maybe in love; they deserved the gold and I will not hear otherwise!!
Some elegant visions in blue chiffon: Gabriella Papadakis and Guillaume Cizeron recovered beautifully and look like delicate ballerinas; I love a ruched top on a man, apparently, and this midnight chiffon on Papadakis was gorgeous. A very Kerrigan vibe for Charlene Guignard and hey-at-least-it's-not-black on Marco Fabbri. Many ice dancing costumes hit at the knee like this blue and sequined number on Natalia Kaliszek and I really don't know why; Maksym Spodyriev's performance tux has nice hints of blue that match her dress—nice.
Well okay, Yura Min and Alexander Gamelin, dressed in kicky figure skating versions of the Korean hanbok—a bright spot that you can return to after assessing what follows: I am unsure what costume party Alisa Agafonova and Alper Ucar have fled, but it seems that Sara Hurtado and Kirill Khaliavin and Piper Gates and Paul Poirier have also lost their way. Someone help!
And now, a fun game of "Have I seen this before or does every figure skating costume look the same?" Marie-Jade Lauriault and Romain Le Gac went for black and then a red-lace mock neck situation that I think I've seen at the stores, just saying! Would love to just point out that Madison Hubbell and Zachary Donohue walked out like this and I wondered if they were doing some sort of Anastasia Steele/Christian Grey laters, baby vibe, and I'm sorry to say I was right. Her dress is great though and I think more men should skate in this kind of black tie dishabille. Anna Cappellini and Luca Lanotte have escaped from a production of Romeo and Juliet set in Elena Ferrante's Naples and I felt very bad for Madison Chock and Evan Bates when they fell, but at least she looks soft and elegant and glamourous. His shirt in an abomination.
So nice to meet Lucie Mysliveckova and Lukas Csolley and I admire the gutsiness of this Westworld background actor look. Have I seen Kavita Lorenz and Joti Polizoakis wearing this outfit before?? Peach chiffon, ombré sequins, a man dressed like a waiter—it's so familiar and even if it is a threepeat, I'm down. The ShibSibs look like members of a dance troupe getting deep into Martha Graham, but hey, it works! Ekaterina Bobrova and Dmitri Soloviev used their bodies and these costumes which CERTAINLY look familiar to tell a love story(?) about a blind woman and the man who left his his suit jacket at his high powered job to love her.
OBVIOUSLY Tessa Virtue and Scott Moir won the gold, skating to their routine set to the growl-y Moulin Rouge soundtrack and making grabby hands at each other. I know Virtue is wearing the red dress because the man sings about a red dress and I don't care that it's so on the nose that it's dumb—look at this backless, sheer, velvet wonder. In a great moment in Olympic history and a great moment for feminism, Moir is wearing the SAME sheer top with velvet paneling he's already worn. My only edit? They should've got rid of that shit on the front and the back and given us Moir, baby. Yes! Ice fucking! Congrats!