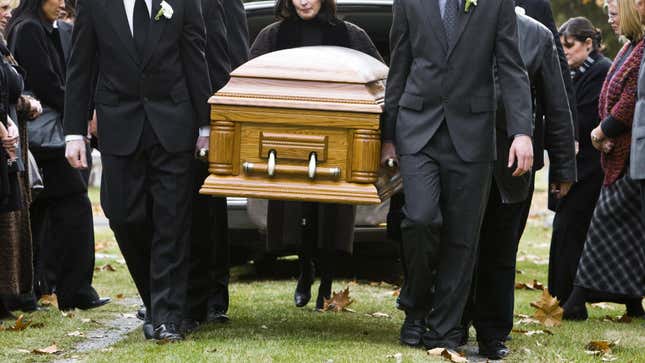 You've read the headline, and now I simply must paste this entire lede from the Associated Press, because I can't top it:
A New York fertility doctor who was accused of using his own sperm to impregnate several patients died over the weekend when the hand-built airplane he was in fell apart mid-flight and crashed, authorities said.

Dr. Morris Wortman, 72, of Rochester, was a passenger in the experimental aircraft that went down Sunday in a pasture in Orleans County. The pilot, Earl Luce Jr., of Brockport, also was killed, according to the county sheriff.
While it's not clear who built the experimental plane whose wings literally fell off, it is karmically beautiful that a man so narcissistic that he thought he could personally impregnate women without their consent would take a flight in said plane and then die in it.
In 2021, a 35-year-old woman sued Wortman, claiming that when her mother sought fertility treatments from the OB/GYN in the 1980s, he secretly used his own sperm, not donor sperm. Wortman claimed the sperm was from an anonymous medical student, but the woman discovered the truth after DNA tests revealed she had at least nine half-siblings, all children of sperm donors. The suit said follow-up DNA testing from a child from Wortman's first marriage confirmed the genetic link. To make matters even worse, Wortman had treated the accuser—his biological daughter—as a gynecology patient for roughly a decade. From the AP in 2021:
The lawsuit differs from some others involving fertility doctors in that Wortman, a gynecologist, had also treated the woman as a patient for nearly 10 years, performing numerous breast and pelvic exams and discussing her sex drive and other personal issues.
The civil lawsuit still pending in Monroe County Court accuses Wortman and his clinic of medical malpractice, battery, negligence, fraud, infliction of emotional distress, and lack of informed consent.
And he's not even the first creepy man to die in an ego-driven plane crash this month! Kansas anti-abortion activist Mark Gietzen, who spent nearly $120,000 to fund a recount of a pro-choice ballot measure, died after crashing his plane on May 16 in Nebraska. Gietzen had previously told reporters that the money he spent on the effort would likely affect his ability to renovate his 1963 Cessna. Per the Wichita Eagle:
Gietzen, in an August interview with The Eagle, said the nearly $120,000 he spent on the statewide recount would likely complicate his plans to renovate the old Cessna, which he said he flew for the first time in the summer of 2022 after he put 15 years of work into it.

"My only drawback on this Value Them Both recount is that that airplane is going to sit and collect dust for a little while," he said in August. "Well, not collect dust. I'll just go fly it in uncontrolled airspace, and we have to put 50 hours on it before you can fly with passengers anyway, which is a necessary and good rule. I've already got so much invested in that plane, I want to get finished. I'm so proud of this thing."
It was a pointless campaign given that the August 2022 referendum passed by nearly 20 points, or about 1650,000 votes. Unsurprisingly, the recount effort failed. And then Gietzen died in his dusty old plane!
Just incredible stuff all around.