An internal report released Wednesday by the Interior Department found that men working in a maintenance unit at Yellowstone National Park "created a work environment that included unwelcome and inappropriate comments and actions toward women."
According to the Washington Post, the report was part of a six-month long investigation which came after a series of congressional hearings from female employees of the Interior and Agriculture department who alleged that they were harassed by their male superiors and co-workers.
From the Post:
Six women in the park's maintenance division said they were subjected to derogatory comments, verbal abuse and unequal treatment by male employees. One woman said six pairs of her underwear were stolen from a dresser drawer. Another called Yellowstone "a man's world" where male behavior "is very dominating."
G/O Media may get a commission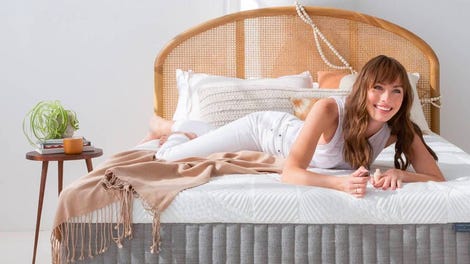 Sleep Sale
Sleep Sale - Brentwood Home
During a hearing in September regarding these allegations, Kelly Martin, a fire chief at Yosemite National Park, described a culture of continued misconduct by men throughout her career; over the 30 years she has been working at Yosemite, Martin "was spied on in showers, secretly photographed, and pinned against a wall by a man who tried to kiss her."
Despite enduring these indignities throughout her career, Martin told a House Oversight Committee that women are often reluctant to complain or bring attention to these incidents because they don't think they'll see any actionable results.
"The supervisory response to my three sexual harassment incidents was one of minimizing my experience and attempting to resolve the situation with a mere apology from the perpetrator instead of imposing more appropriate disciplinary action," she said.
Firefighter Denice Rice, who is an employee of the Eldorado National Forest, said in a separate hearing in December that discrimination is par for the course in her day to day, saying that she was "repeatedly groped" by a fire supervisor who also told her that he "dreamed of having sex with her" and "tried to lift her shirt." The supervisor in question was forced to retire by the Forest Service office and he received full government benefits when he did.
The investigation and the resulting report from the inspector general's office came from a September 2016 article published in the Montana Pioneer in which Yellowstone National Park employee Robert Hester came forward "detailing what he says has been a practice of abuse, exploitation, predatory sexual behavior, and reprisals in a certain division of Yellowstone National Park between 2011 and 2015."
In a statement Thursday Interior Department secretary Ryan Zinke said "It is our individual and collective responsibility to ensure that our interactions with each other, contractors who support our mission, and the public are free of harassment, discrimination or retaliation." As a result of the report, the Interior Department has ordered additional harassment training and prevention for supervisors.