I promised you all some more Lara Stone, and I haven't delivered. But read on for a spot of mid-afternoon nudity, S&M, red-lit bedrooms, a boy in a cage, and the ethereal, horrifying Lara.

First, the much-anticipated Nan Goldin shoot. Goldin almost never shoots fashion these days — I think I saw an editorial for a German children's magazine included in the International Center of Photography's current "Weird Beauty" fashion photography exhibit, which probably comprises, along with this story, her total fashion output of the last five years — so seeing her work with such a versatile model is special.
G/O Media may get a commission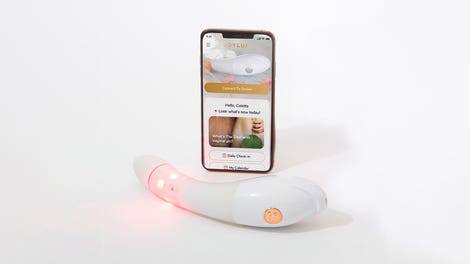 $50 Off
Joylux vFit Gold Device

The shoot is raw and the colors are saturated. The whole thing looks moody, like stills from some slightly bygone film.

Excuse the prominent gutters in these scans; I was selfishly trying to keep the issue intact, because it's so beautiful.

I want this Alexander Wang sweater. And the attitude to wear it. Unfortunately my prospects of developing the wherewithal to fund or develop either are slim.

Now, the Steven Klein editorial, entitled "Lara Fiction Noire," is intense. It's set in some kind of dingy concrete warehouse, and opens with a shot of Lara Stone in Dolce & Gabbana underwear, handcuffed by her ankles to a bedframe. (It might refer to an earlier shot of Jane Birkin in the same pose, apparently by Steven Meisel, provenance unknown.) The male model co-stars (Lara's victims? kidnappers? playmates?) are Travis Hanson and Doug Porter.

It gets ever more disturbing as the disguises come into play.

And then the weapons.

Not to mention the disturbing sense of observing a ménage-à-trois taking place amidst an air of violence.

The ambiguity of the locus of control here, my own uncertainty as to which person has the power, gives me a strong feeling of unease.
The above five images were all included in the magazine itself — but they do not comprise the entire story. Another three pictures were apparently spiked by French Vogue. Klein put them up on his website, with the helpful legend "UNCENSORED" in big, red type.

And the out-takes are doozies. I am almost too disturbed by this violent flesh-eaten zombie model car-crash event that Lara, in the driver's seat, is taking totally in stride, to frame my thoughts into words. But I also feel like this is the most affecting and thought-provoking editorial in the entire issue.

This is in the register of a David Lynch film, full of frightful imagery and the barest hints of a plot more horrifying than any slasher flick. What does it mean? Who has the power? Why is that man's face covered in blood?

For some reason, I find this one scarier than the one with the male model who might as well be a burn victim or someone Lara recently flayed and ate. Lara just looks so serene, so at peace with the hell around her, it's chilling. (Also, what happened to her stocking?) This is like a nightmare, come to life inside a magazine, and it's some of the most moving work I've seen from Klein in years. I'm transfixed and appalled and exhilerated and exquisitely, perfectly disturbed, all at once. Like any art form, I suppose it's not the role of fashion to make anyone comfortable. Luckily it's almost the end of the day; I need a drink after all that.
I might nurse it as I rewatch this behind-the-scenes video, which Klein also just uploaded to his site. Seeing the bloodied male model stirring slightly as Klein shoots is somehow all the more disturbing.












Earlier: French Vogue: All Lara Stone, All The Time
Related: Steven Klein [Official Site]