What a thrill it is, every once in a while, to read a rip-roaring take-down! Today's specimen is Reed Krakoff, the Coach designer who launched his own super-expensive namesake brand last year, who is profiled by Ariel Levy in this week's New Yorker. Levy — whose last fashion profile was an exceptionally warm psychological portrait of Lanvin's Alber Elbaz — seems not to have been so taken with Krakoff.
Levy seemingly delights in relating details of Krakoff's privileged background, the contents of his Upper East Side mansion, the prattle of his guests and customers, and in quoting from various exceedingly negative reviews of his fashion collections. "Krakoff's detractors think that he is a brand architect who made a fortune at Coach by marketing middlebrow goods to barely fashionable consumers, and that he has no right to reinvent himself as a real designer," reads the indictment. Krakoff does not come across as capable of meeting that charge.
Krakoff was sensible enough not to be drawn on Levy's questions comparing him to Tom Ford, another designer who leveraged success at an established house (Gucci) to launch an obscenely expensive line of his own — wise choice, considering we know from the Elbaz profile that Levy kinda hates Ford's "naked-man-on-bearskin-rug" aesthetic. But she manages to skewer him all the same: friends, when a journalist quotes a source pointing out that the books in his library have all been opened, you know that is a source who has been given enough rope.
Here are eight of the most damning passages:
"Krakoff's own house, on the Upper East Side, is not what you might expect from a neophyte designer. To begin with, it is eighteen thousand square feet, made up of what were once twelve apartments. There is no detail that has not been conspicuously perfected. When you enter the living room, you are confronted with an Alexander Calder mobile floating above the mantelpiece, a massive black Louise Nevelson sculpture along one wall, a bronze Jean Arp parked on an end table, and, underfoot, two-hundred-year-old floorboards from France. The ground-floor bathroom is covered entirely in golden snakeskin and contains a spheroid toilet." One paragraph later, Krakoff's wife, the interior decorator Delphine Krakoff, is quoted telling a guest about her André Dubreil clock, "It's pretty fierce, right?" The Krakoffs' penchant for imported antique French floorboards is a detail Levy mentions three times in the piece.
Their marriage is apparently passionate but Reed is kinda creepy-possessive: "Krakoff told me earlier that he cannot bear to think of his wife's past boyfriends — even from her teen-age years in Paris. 'She's my princess,' he said, 'and I don't want anyone else ever to have had her.'"
No James Gatz funny business here: "His library holds about ten thousand books; a member of his personal staff — which also includes two nannies, a driver, and a live-in housekeeper — is charged with keeping them organized and catalogued. ('But every book has been opened,' Krakoff told me. 'Not like some libraries you go to.')"
Krakoff, on his design process at Coach: "'I bang it out,' he said. 'I know what came before, I know what's coming next, I know how it will work in the context of the store and the ads. It's like a code.' [...] Krakoff picked up a bag from the table, a lilac nylon tote, with silver-studded black patent-leather handles a female face silk-screened on the front. 'This fills the arty, limited kind of hole,' he said. 'I may cancel this bag. But it doesn't matter. Then I just need something else to fill that hole.'"
But surely the founder of Coach, Miles Kahn, will have something nice to say about Krakoff, right? "'Frankly, I go into one of the stores now and I don't see one bag that I like,' Miles Kahn said. 'But I recognize what they have accomplished.' Coach has been a top-ranked accessories brand in the United States for more than a decade. Thirty-six per cent of the premium handbags sold in this country have a Coach label on them. Reed Krakoff made more than twenty million dollars last year."
"Krakoff likes to say, 'I'm in design, not fashion,' or, sometimes, 'I'm about luxury, not fashion.' He told me versions of this every time I saw him, often more than once. Partly, he means that he is interested in the process of designing things, whether those things are wallets, clothes hangers, or five-thousand-dollar python halter dresses, And partly he means that he wants his new brand to have an aura of timelessness, rather than the elastic, trendsetting creativity one associates with Miuccia Prada or Nicolas Ghesquière. But, if you make skirts and pants and purses, you are in fashion. Krakoff's reluctance to admit it is an attempt to inoculate himself against a particular kind of snobbery: the fashion world has not forgotten that he spent fifteen years at Coach, creating what one designer described as 'Hermès for housekeepers.'"
Krakoff, the Westport-raised son of a homemaker and a publishing executive, on why he quit art school: "It wasn't the life I wanted to live. I remember a teacher who was super-talented in school always having these panic attacks, hyperventilating, worrying about how he was going to pay his bills, which I really didn't relate to."
Levy's final judgment: "Perhaps his most abiding aesthetic interest is the use of design to convey privilege."
G/O Media may get a commission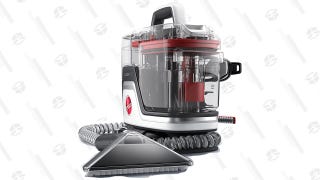 Save $10
Hoover CleanSlate Plus Carpet & Upholstery Cleaner
SPHEROID. TOILET. That pretty much says it all, doesn't it?
Brand-New Bag: The Man From Coach Goes Upscale [New Yorker]
Earlier:
Lanvin Designer Feels Overweight, Makes Others Feel Beautiful [NSFW]