Ariel Levy's profile of Alber Elbaz, the Israeli who's helmed Lanvin since 2001, succeeds in describing the designer's grasp of women's wear — which is founded in no small part in Elbaz's own troubled self-image.
Elbaz, who has long won accolades for designs that consistently hit at the sweet spot of the continuum between beautiful and interesting, started off in the industry working on "horrible mother-of-the-bride dresses" in New York's garment district. Given a leg up by Geoffrey Beene, who took him on as an assistant, Elbaz eventually earned his first head designer position at Guy Laroche in 1997. A stop at YSL followed, but what Elbaz is known for is the eight years he has now spent at Lanvin.
In the pages of the New Yorker's Style Issue, Levy captures Elbaz's uneasy relationship with the images of luxury he so skilfully creates. Elbaz is 47, and, Levy writes, "there seems to be something fundamental about him in need of comforting." He is also overweight, and in a moment that must ring familiar to almost any woman on earth, Levy observes him dithering over his breakfast order at the Carlyle Hotel: " 'Should we be good today or bad? Maybe we start good and get bad later.' He ordered the fruit salad. He wanted the pancakes."
Some designers are, or at least seem, to the manner born: Karl Lagerfeld, Ralph Lauren, and Tom Ford, et. al., embody the moneyed ease and supreme self-assurance their particular labels sell. Other talents clearly retain something closer to an outsider's perspective, some sense of a life beyond the lifestyle evidenced through frumpy outfits or quiet demeanors. (Some designers, like Marc Jacobs, start up in one camp and end up in the other — the early Jacobs, with his nerd glasses, pallor, and paunch is orders of magnitude away from the contemporary gym-toned, tanned, health-farm Jacobs; it's like looking at an El Greco and then a Botticelli.) Elbaz is clearly in the more modest category. He compares his job shaping the dreams and expectations of the select group of women that are his customers to working as a concierge in a fancy hotel — the concierge being the person who has to go home at night. "You have to go back to reality. You have to go back to nothing in order to maintain the dream," he says. "The moment the dream becomes reality and you start to mingle too much with all these people..."
G/O Media may get a commission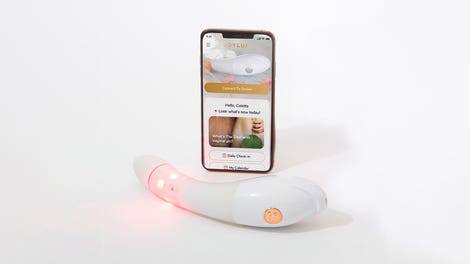 $50 Off
Joylux vFit Gold Device

Photo by Tim Walker
Levy's profile really heats up when she contrasts Elbaz's aesthetic with that of Tom Ford, who took the Moroccan-born Israeli's job at YSL Rive Gauche a few months after Gucci Group's acquisition of the brand in 1999. (Yves Saint Laurent had at the time been grooming Elbaz as his successor.) Ford, in Levy's construction, was the spirit guide and permanent booster of the ra-ra bling-bling late 1990s and early 2000s, while Elbaz was the quiet talent cut out for more unassuming times.
Ford could not have been a more maddening foil. Where Elbaz was pudgy and Jewish and self-doubting, Ford was toned and tan and Texan. Elbaz is shy and still not exactly a household name; when Ford guest-edited an issue of Vanity Fair, in 2006, he put himself on the cover, flanked by Scarlett Johanson and Keira Knightley in the nude. Perhaps most significant, Elbaz has always presented in his work a quiet, complicated conception of female sexuality. One of Ford's more memorable ads as the designer for Gucci featured a woman [Estonian supermodel Carmen Kass] pulling down her underwear to reveal the letter "G" shaved out of her pubic hair.
Perhaps the New Yorker's sense of propriety forbade Levy from mentioning Ford's other boundary-stretching campaign of the period, when, during his time with YSL Rive Gauche, he chose to advertise the men's fragrance M7 with a full-frontal nude portrait of martial arts champion Samuel de Cubber.
"But," writes Levy, "little by little, as the money and the grandiose sense of self-assurance of that era fell away, Ford's sensibility came to seem less stylish." The writer narrates Ford's retirement from women's fashion and the Gucci Group, in 2004, and mentions that a pair of cufflinks she recently browsed in Ford's eponymous Manhattan men's wear store costs $34,000. Her conclusion:
In our current moment, Tom Ford, with his tan, and his cufflinks that cost as much as a car, and his naked-man-on-bearskin-rug aesthetic, seems distant and comical. He has become Bijan. And Alber Elbaz has gradually won.
If Levy's skewering of Tom Ford, whose idea of recession-friendly pricing is a pair of jeans that costs $990, is a delight of schadenfreude, it's also a little easy. Elbaz, and his aesthetic, were never in any mortal danger after being cut loose from YSL; the designer walked into a dream position at Lanvin, where the label owner's only instruction was to "Please wake the sleeping beauty" less than a year later. Moreover, Elbaz's clothes for Lanvin are every bit as expensive as Tom Ford's were for Rive Gauche and Gucci. It's difficult to imagine many women who can admit a $4,000+ sheath dress into their wardrobes without hardship.
Elbaz explains the huge cost of his garments in terms of their materials and workmanship — which is true to a point. (The markups that retailers typically add, which can be 60-70% over wholesale prices, go unmentioned by both Levy and Elbaz.) Elbaz, who alternates in the profile between the airy fashion-speak of one who spends his life on the astral plane of aesthetics, and more articulate quotes, analogizes making a dress with the research and development requirements of pharmaceutical companies. "Doing a collection, for me, is almost like creating a vaccine," he says. "Once you create the vaccine, then you can duplicate it for nine dollars and ninety-nine cents. But see if you can create it for nine dollars and ninety-nine cents, and the answer is no. In that sense, I have absolutely no problem with the prices. I don't think we do it just to do it." (It's also worth pointing out that the Lanvin atelier is located in France, where garment workers earn a middle-class living, and where Elbaz claims his company pays 65% taxes.)
The designer has said in the past that he does not care to design the dress that will make a man fall in love with a woman; he wants to make the dress that a woman wears when she falls in love herself. But I'm not sure the rhetorical inversion necessarily works: although I appreciate woman-centered design, that departs from the first principles of the wearer and her needs and desires, as opposed to those of the implicit male observer of the dress, whoever knows ahead of time when they're going to fall in love? A dress to make you more loving is a curious idea indeed.
At times, Elbaz seems flinty and difficult, which can often be the downside to being a visionary (at least for those who surround you). When he visits a potential site for his fall/winter show with his team, a former load-out station in the 13th Arrondissement, Elbaz speaks in a stream-of-consciousness that must be impossible to parse. "I had many, many thoughts. The dogs. The black car waiting outside. The man with the white coat and the dirty hands. The crystal on the floor and the train station just in the back. I'm looking for something to clean my eyes!" He muses for a while on the "bad spirit" of the warehouse space, before, in what comes across as a self-pitying gesture for its very unseriousness, momentarily contemplating leaving fashion. There's also an episode over some handbags which aren't to his liking, and an hours-long meeting with the team of architects who are at work on his London store, in which he exclaims, "If a woman comes in and it doesn't smell right or the light isn't right, she will think the dress doesn't look good!" Elbaz sometimes seems like that maddening boss who expects everyone to do the right thing but cannot articulate what it is.
All in all, I think Levy's thesis — that women have moved beyond Tom Ford's sexy dresses, and into the prim refinement of Lanvin under Elbaz — isn't entirely spot-on. Any woman, no matter her career or age, wants at least occasionally to look hot; if that note is missing on Elbaz's scale, it's a lack. And it's a heartbreaking statement about women in general that Elbaz should have such a presumed accord with our needs because he personally understands feelings of physical inadequacy. (When Levy asks him what his life would be like if he were thin, Elbaz doesn't skip a beat: "Amazing.") But Elbaz's work as the concierge of Lanvin, ironically, displays all the assurance he himself can't seem to muster. He never exhibits the clumsy pretty-ugly tics of Miuccia Prada — he knows real women don't want to look dowdy. His idea of sexy is never louche, like Roberto Cavalli's. His clothes are tailored, but not restrictive like the work of Roland Mouret. Intellectual touches don't impede wearability, as they can at Comme des Garçons. ("If it's not edible, it's not food," says Elbaz. "If it's not wearable, it's not fashion.") Alber Elbaz's work, for those who can afford it, is classic without the connotation of dustiness. And it's nice to get to know, at least a little, the fevered, nervous, visionary personality behind the curtain.
Ladies' Man [New Yorker — sub req'd]
Ariel Levy On The Designer Alber Elbaz — Audio Slideshow [New Yorker]
Lanvin Fall/Winter 09 Collection [Style.com]