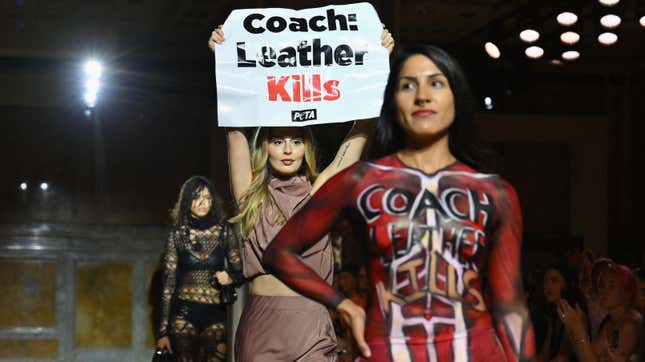 Nothing spices up a fashion week runway like protesters crashing a catwalk—usually naked or topless—and making a scene in the name of animal rights, climate change, or publicity. (Two of which are causes worth making a scene over!) New York Fashion Week officially started Friday, but there were a handful of events and shows leading up to Friday's kick-off. On Thursday night, Coach held one such show at the New York Public Library, and a couple of these special, unexpected guests showed up.
Two PETA protesters strutted out onto Coach's stage looking like they were a planned part of the show. One wore a stylish, flowy, light brown skirt and top and held up a sign that read "Coach: Leather Kills." The other was naked and covered in body paint to resemble muscles and intestines, with the same "leather kills" message painted across their chest. And honestly? Their walks were pretty fucking fierce. Of course, security quickly whisked them off the stage.
"PETA is shaking up Coach's catwalk to drive home the message that leather belongs in the annals of history, not in designers' current collections," PETA executive vice president Tracy Reiman said in a press release following the show.
I support the message. I support PETA. And I also support any protesters who can seamlessly snake their way onto a runway and hold their own alongside the professionals. It's a skill in itself! Of all the other runway crashers in the history of fashion, here are the protesters with the most impressive catwalks.