Claw-like nails and embellishments that could come in handy around the prison yard seemed to be the trend at last night's MTV Movie Awards, giving a whole new meaning to fashion that's "painful."
Trying to play down her notoriously bubbly personality that would rival that of Jennifer Love Hewitt (psych!), Kristen Stewart wore a dirty leather mini-dress accented with spikes, screws, and safety pins.
With Leighton Meester's sequins and mirrors and other shiny things, there was so much more going on with her dress than her film career.

G/O Media may get a commission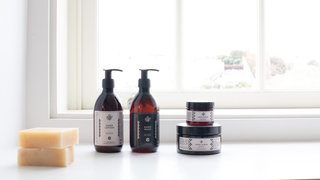 Exfoliate and Hydrate
The Handmade Soap Company
Lil Mama's manicure alone is so awesome that it totally cancels out her stripper-meets-Bowie clear heels/sparkle boots. Also, it's official: Nails filed into sharp points is now a thing.

Ginger, Scary, Baby, Posh, Sporty. I'm not even going to question the face paint because then I'd have to question the entire existence of these people whom I don't even recognize, but seriously, what is with their color-coordinated cause ribbons? Like the one in the pink? Is she really trying to bring awareness to breast cancer? Is the one in the yellow thinking of the troops? What does a blue ribbon mean? Feline AIDS? I dunno.

Maybe it's because her hair is so — um, softball? — but it takes you a minute to realize that Emma Watson is tapping into 20 years worth of Heather Locklear, what with her Dynasty shoulders and Melrose Place hemline.

The thing that always bothered me about Pretty in Pink (other than the fact that Andie absolutely ruins Iona's beautiful, polka dot pink vintage dress) is that Molly Ringwald kinda looked bad in pink, because of her red hair and skin coloring. However, perhaps it's the glow of her second pregnancy, or the fact that she cut down on the sweetness of this dress with a piece of rope, but I feel like pink is really working on Bryce Dallas Howard.

Oy, talk about coloring. I get that Emma Stone's stylist was trying to go for some kind of sunset palette, but a yellow dress, orange purse, rusty shoes, red nails, and auburn hair? No.

Are you ready to puke from motion sickness yet? First of all, why was Roma Downy even there? Secondly, Jessica Szohr: Maxxinista? And third, who invited the pot head from under the boardwalk?

Here are the elder statesmen of the Movie Awards. Jim Carrey is literally a grandfather. Peter Facinelli is wearing a pocket watch. I had just assumed—with no real evidence—for years, that JC Chasez was gay, but judging solely by his out-of-control eyebrows, I'm not so sure anymore.

Speaking of old people, here's AARP cover girl Amanda Bynes. You know, since she's retired and living on a fixed income, I guess I can forgive her old bandage dress and plastic jewelry. Honestly, though, she should've just worn those shoes and nothing else.

Hailee Steinfeld is 14. 14! She looks like a sophisticated 27-year-old going to a power lunch.

Him? Seriously? In case you were wondering what Laguna Beach star Stephen Colletti was doing lately, now you have your answer: Chelsea Kane.

Selena Gomez looks like bedding from Penney's.

I don't know much about Holland Roden other than that she played Locke's mom in a flashback on Lost and is now starring in MTV's Teen Wolf, but her statement dress made me pay attention.

When I first saw the guy on the left (whose name is Wallpaper) I was like, OK, worst dressed. But then I saw the guy on the right (Jackson Rathbone). You know you really look like an asshole when your futuristic denim vest is tackier than gold lamé on a man.

I don't care if you're wearing glasses—that clash with your hair and lipstick, BTW—you are a celebrity at a red carpet event. You are not maligned.

Here's a couple different approaches to sexiness. Rosie Huntington-Whiteley gets it right doing the Brigitte Bardot thing. Brooklyn Decker is trying to downplay her famous boobs, but she kind of just ends up looking like Kim G. from Real Housewives of New Jersey. And then there's Romeo. Nice try, desperate.

I like to call this "Cute, three different ways." Sure, none of them look like they're going to the same place—Crystal Reed, wedding; Ashley Benson, nightclub; Elle Fanning, Urban Outfitter's verison of a picnic—but they all are maintaining their dignity.

Thirty minutes later, once inside the theater, Amber Lancaster introduced her vagina hole to her seat.

The real whores of the evening were Jackass' Chris Pontius and Steve-O.