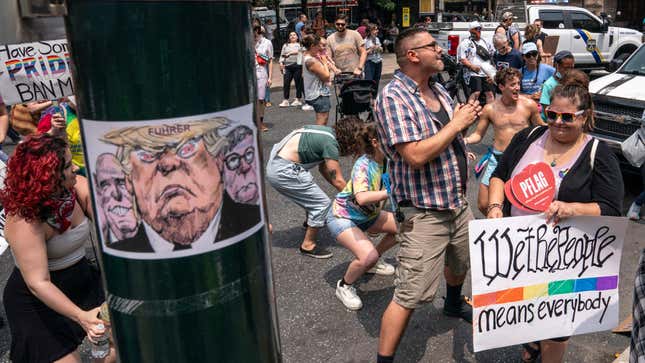 The fascist "parental rights" group Moms for Liberty wrapped up its four-day convention in Philadelphia on Sunday, which featured remarks from presidential candidates Donald Trump and Ron DeSantis as well as a member of the far-right Oath Keepers militia, who also recently spoke before a pro-Confederate group.

Ted Cruz Won't Commit to Pleasuring a Man to End World Hunger
The convention at the Philadelphia Marriott, which drew about 700 attendees, was widely protested (including with delightful signs attached to hotel doors welcoming the virulently anti-LGBTQ to the "gayborhood"), culminating in six arrests on Sunday. Five activists who held hands and formed a barricade blocking traffic outside the hotel were reportedly warned three times by police before being rounded up and arrested, per the Philadelphia Inquirer. Later in the day, a trans woman was arrested for waving a trans flag over a barricade around the hotel.
According to one organizer with ACT UP, an activist group working to end the AIDS crisis that also helped organize these protests, those who were arrested "were chanting for Moms for Liberty to go home and blocking traffic." The organizer, Aaron Bodiford, told the Inquirer that ACT UP members are willing to escalate their organizing against the group even after the arrests: "We are willing to take things further than we have been. It's actually not on their terms. It's on our terms," Bodiford said.
Prior to its convention, Moms for Liberty has been in the news lately for knowingly quoting Adolf Hitler in a newsletter. Media Matters for America then uncovered that the group had previously quoted Hitler before at an earlier presentation. Republican politicians have continued to stand by the group, including Nikki Haley, who defended the group after its horrific Hitler gaffe, and over the weekend, Trump and DeSantis, who both spoke at the convention.
That's probably because the group holds significant sway over electoral outcomes as a highly organized, active group of right-wing suburban women. Moms for Liberty has already seen alarming success, primarily on the local level, by taking over school boards and passing sweeping anti-diversity and anti-LGBTQ measures.
Addressing the crowd, Trump and DeSantis both praised Moms for Liberty—"Don't mess with America's moms," Trump quipped, while DeSantis called attendees "mama bears"—for taking the only suitable path in life for women. "The radical left is even slandering Moms for Liberty as a so-called 'hate group' ... but Moms for Liberty is no 'hate group.' You are joyful warriors and fierce patriots," Trump told the crowd. DeSantis called moms "the key political force for this 2024 cycle."
The convention saw the group get fired up over the usual imaginary left-wing boogeymen, including literal U.S. history and how to erase it from schools. Breakout sessions at the convention included "Protecting Kids from Gender Ideology" and "Getting Flipped School Boards To Take Action." The group dedicated large portions of the convention to predictably railing against basic rights and health care for trans youth and any references to LGBTQ identity in schools—all while a trans woman was arrested for waving a trans flag outside its doors.