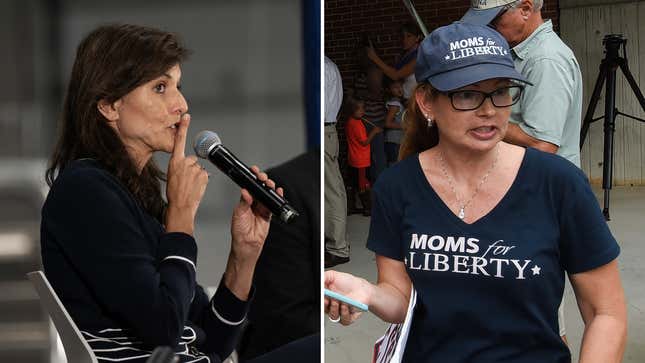 Nikki Haley is many things. A former governor and ambassador. A woman who doesn't understand birth control. Someone who graciously has allowed that she wouldn't seek the death penalty for abortion patients (for now). She's also a full-throated supporter of Moms For Liberty, the group pushing book bans and so-called parents rights initiatives aimed at harassing queer people and people of color.
Politician Cites the Constitution to Eviscerate Gun Supporters
So much so that, when the Southern Poverty Law Center reached out to ask about her upcoming attendance at Moms For Liberty's national conference, Haley sent her response...publicly, via Twitter. "We're proud to stand with [Moms For Liberty]," she tweeted last week. "It's NOT 'extremist' to save women's sport. It's NOT 'extremist' to make sure parents have a say in their children's education. It IS extremist to call a group of patriotic moms a 'hate group.'"
However, it appears that Haley and Moms For Liberty aren't on the same page when it comes to messaging because, on Wednesday, an Indiana chapter of the group published a newsletter prominently featuring a quote from Adolf Hitler, the leader of the Nazi Party. To call the Nazi Party a "hate group" would be an offensively vast understatement, and, as such, I think it's extremely fair to call the women quoting him members of a "hate group."
After their inclusion of a Hitler quote got media attention, the chapter republished the online newsletter with a new addition: a bright yellow box with "context" to explain...why they were still including the Hitler quote. On Thursday morning, the group had finally republished the newsletter for a second time without mention of Hitler or the "context."
The chapter also issued an apology. "We condemn Adolf Hitler's actions and his dark place in human history. We should not have quoted him in our newsletter and we express our deepest apology," chair Paige Miller said in a statement posted to Facebook.
And so I must return to Haley's tweet from last week: Does this woman who wants to be president still actively support the Hitler-quoting Moms For Liberty? Jezebel has reached out to her presidential campaign to find out.