When 6-year-old Alana Thompson scored her own reality show on TLC—the network's first and only spinoff of its hit Toddlers & Tiaras—it must've chapped the asses of pageant moms. After all, they've spent so much time, effort, and money turning their children into beautiful, perfectly-trained living dolls, reaching for the kind of stardom that Alana and her family achieved simply by being themselves. Alana's family is to pageants what genderfuck is to gender identity. They fart. They eat cheese puffs for breakfast. They revel in being rednecks. They compare their vulvas to Hardee's biscuits. They weigh themselves on national television. They are riveting.
The brief opening title of Here Comes Honey Boo Boo (in the video above) kind of says it all. As the camera pans over the smiling family for a nice portrait, "Mama" audibly farts and everyone fans the stink away.
The Thompsons consist of 17-year-old "Chickadee" (who is pregnant), 15-year-old "Chubs," 12-year-old "Pumpkin," 6-year-old Alana, their dad, 40-year-old "Sugar Bear," and the 32-year-old matriarch "Mama."
G/O Media may get a commission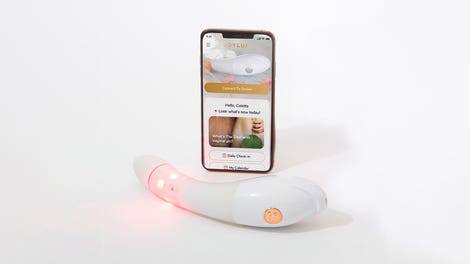 $50 Off
Joylux vFit Gold Device
Mama is the breakout star. An extreme coupon-er, pageant mom, and soon-to-be grandmother of her teen's baby, she was made for reality TV.
The entire show is basically in subtitles, due to the family's accent.
On the first episode, they bought junk food at an auction, watched Alana in a pageant, and attended "The Redneck Summer Games."
Alana lost the pageant, BTW.
They also talked a lot about farting.
Mama believes that if you fart 12 - 15 times a day, you can lose weight. All of the females in the family weighed themselves and shared the results on television, including teenager Chubs. It's another indication of their extreme comfort with themselves.
To help Alana feel better about losing the pageant, they decided to get her a pet pig. She named him "Glitzy."
Glitzy is gay, according to Alana.
Glitzy is gay because "you can't tell a pig what to do."
If you haven't been convinced about the merits of this show yet, let me leave you with this: Mama's explanation of how a vagina looks like a split open biscuit from Hardee's.