This is the eleventh week of Jezebel's first annual Fantasy Kardashian-Jenner League, a fantasy league about the Kardashians, the Jenners, and closely-related family members. The rules are here; playoffs are January 9, 2016.
The field was relatively quiet this week after last week's big upheaval, with rookie player Saint West still racking up points without moving too much around, leaving the big, attention-getting plays to his mother. Let's take this moment to think about how much Sports loves a family legacy: Venus and Serena... Eli and Peyton... Dell and Steph... Pete and Pete... the point is, Saint and Kim are out here to create something lasting and worthy of the art of the game, clearly in it for the long haul. While this notion might be met with chagrin by the rest of our teams, it's important for everyone to remember why we're really here: for the love of the sport, the character it builds, the dogged determination it takes to get out there on the field each and every day, with no concern with winning or losing, just a focus on doing your best. At its most enlightened, this game is about integrity, a manifestation of the human condition prevailing against all odds. We are all fortunate to be at its mercy. (RIP Mercy.)
Team Bible
Kim Kardashian
Blog mentions: +48
Tabloid covers: +10 (Star, In Touch)
App mentions: +8
Product shill (Charlotte Tilbury makeup): -5
Caitlyn Jenner
Blog mentions: +13
Tabloid covers:
Time Person of the Year Shortlist: +10
Leah Jenner
0
Saint West
Blog mentions: +14
Total yardage: 98
Performance summary: If you notice I have a certain glow about me this week it's because: 1) Team Bible is on a great winning streak so I know exactly how the NBA's Golden State Soldiers feel. And 2) Kim had her placenta put into pill form post-birth, which is news that would make any coach happy. Why? Because placenta is like maternal Gatorade. Gooey fuel for the spirit. I'm a little worried about Kim's headspace because rumors are flying that she and Kanye are battling about how to release the first photo of Saint West. Radar also proclaimed this week: "Kim Kardashian Has Not Had Sex With Kanye West in Months." Well, I don't care as long as Kim is having sex with WINNING. As long as she's boning these points, we're good. Saint is not even a couple weeks old and already putting in work, as all babies should. MEMO TO LEAH: Be ashamed of existing. How about you contribute something to the world and this team. Speaking of changing the world, Caitlyn made the shortlist for Time's Person of the Year. She also had a lot of explaining to do about some offensive things she's said in the press so she wrote a long blog post, "Still So Much to Learn." That's funny because everyday I learn something new about this league and find myself proud to be part of this game called life.—Clover Hope
G/O Media may get a commission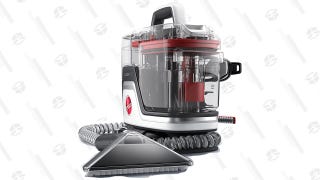 Save $10
Hoover CleanSlate Plus Carpet & Upholstery Cleaner
Team Nobody
Kylie Jenner
Blog mentions: +46
App/ lip kit mentions: +20
Product shills: -15
Vogue shoot: +5 (would be more but it's lame)
Rob Kardashian
Blog mentions: +4
Bambi, Norman and Other Dog Jenner:
Blog mentions: +2
Reign Disick
Blog mentions: +8
Birthday: +2
Total yardage: 72
Performance summary: This family is tew much:
Coach is experiencing a late-season slump. Kylie is on my shitlist because, although I appreciate everything she's done for Team Nobody these last few months, I need her to vary her strategy somewhat. She drew three penalties for product shills, two of which were fucking WAIST TRAINERS—Kylie, I thought we were past this; at least sell your own, bitch—and too many of her links mentioned Tyga. So, this week, we celebrate the rest of these dummies. Rob gets points for maybe demanding cash to appear in the Christmas card, one dog gets points for showing up for a shopping trip, and Reign Disick gets points because it's his birthday. How old is he? Couldn't fuckin say. —Jia Tolentino
Team Bush & The Tush
Kendall Jenner
Blog mentions: +28
App mention: +1
Corey Gamble
Blog mentions: +11
Red carpet event: Opening of Audemars Piguet Rodeo Drive at Audemars Piguet
+5
North West

Blog mentions: +8
Accidental tweet: +2
Brandon Jenner
Blog mentions: 0
Total Yardage: 55
Performance Summary: "It's not about a title, it's just basically about making shit happen in the music industry," Corey Gamble said of what he does for a living on this week's episode of KUWTK, a modern version of Pride & Prejudice (in this piss-poor analogy just waiting to become a Tumblr blog which is then optioned into a made-for-TV movie, Kim is Lizzie, Kourtney is Jane, Khloe is Mary, Kylie is Lydia and Kendall is Kitty). "I feel like being with your mom is better than being with any chick my age or younger. I think we do more than you younger girls do," he continued. "We have more fun than Kylie with her guy life, I promise." Okay Corey! That's the kind of sexy stuff we're looking for! Keep this up and you might actually do more than throw an interception and sit on the bench the rest of the game with a pulled groin from all that fuckin'. Elsewhere on the field, QB Kendall aka Kitty proved frivolousness can be worthwhile, gaining impressive yardage from the run-off of the Victoria's Secret Fashion Show. North West might not be long for Team Bush & the Tush, however, though she did actually tweet something for once in her goddamn life. And Brandon, well: Brandon appeared on Celebrity Baby Scoop. Idk guys.
(P.S. I attended my first—and last—NFL game this week. Can you tell?) —Kate Dries
Team the Gross Fan
Khloe Kardashian
Blog mentions: +16
Outside product shills on Instagram: -10
Book mentions: +10
App mentions: +5
Kris Jenner
Blog mentions: +17
Penelope Disick (daughter of Kourtney and Scott)
Blog mentions: +2
Casey Jenner Brody Jenner
Blog mentions: +2
Total yardage: 52
Performance summary: Cool, my shitty team got a 52! Wait, is that good? Is that bad? Is it normal? Numbers have no meaning to me anymore, and I can't wait to quit this stupid league, retire, and move to a houseboat in Key West where I'll never have to think about any of these people ever again, apart from the occasional moment where the name Key West reminds me of Khloe's brother-in-law. Speaking of Khloe, what the hell was she thinking posting TWO outside product shills this week? I lost 10 points! And for what, something called Fit Tea? Holiday themed organ shufflers? Worthless. Meanwhile, Mason and Reign got a headline on E! News, which should embarrass Penelope. I know she's the middle child now that Reign's in the picture, but that girl really needs to get her act together. So does Brody. I don't even know how he got those two points. —Bobby Finger
Team I Thought You Hate Hot Pink
Kourtney Kardashian
Blog mentions: +31
App mentions: +4
Scott Disick
Blog mentions: +7
MJ Shannon

0
Mason Disick
Blog mentions: +3
Birthday: +2
Total Yardage: 47
Performance Summary: Awww yeah, just where my team loves to be: back on the bottom, baby! It's not even a matter of the other teams doing so well this week, it's just that my team consistently underperforms, leaving most of the onus on star player Kourtney to lift up so much dead weight. Even a rumored canoodle with Justin Bieber couldn't lift this team out of the dumps; the media has all but discarded interest in Scott Disick, even in relation to his ex's potential "cougaring" of the Biebz. (RE: cougaring, a moniker the 'bloids are so enthusiastic to pin on Kourtney: he's 21, she's 36, who cares as long as they're both focused on the touchdown. Come to think of it, can I trade MJ for Bieber? Sorry, grandma.) Also, Mason had a birthday. He turned six years old, which is astonishing because I feel like he's been in my life for an eternity. —Julianne Escobedo Shepherd
COMPREHENSIVE SCORES TO DATE

Team Bible: 836
Team Nobody: 776
Team Bush & the Tush: 662
Team The Gross Fan: 604
Team I Thought You Hate Hot Pink: 566
---
Contact the author at julianne@jezebel.com.
Image via Getty. Logo by Bobby Finger.