Observing the machinations of the Kardashian-Jenners is not unlike watching a competitive ballgame. Though they are a close-knit family and prone to stick together as families do, there are also internal micro-struggles for supremacy, just as any group of siblings sustains a rivalry (in the parlance of psychoanalysis)—except in this instance, the rivalry is for that of admiration, fame, and free clothes on a global scale.
Kim Kardashian West is the most obvious starting player, having parlayed a styling career and an unfortunate entree into fame into a worldwide brand that included, last year, her debut Vogue cover. Kris Jenner, though, is always running neck-and-neck with her second-born, as momager and (some say devious) mastermind of the entire Kardashian-Jenner clan's ensured longevity or, at the very least, sustainable wealth.
Yet the younger Jenners, just coming into their own, should not be slept on; Kendall has quickly made a name for herself as an in-demand, new-generation fashion model, while Kylie, just 18, is a reigning king of Instagram and has her whole future ahead of her. With recent-ish additions North West, Mason Disick, and their younger counterparts on the rise, there's no telling how long the Kardashian-Jenners may reign as the royal family America deserves—but their dynastic hold on our imaginations now seems destined to span decades.
Still, the fight for most-recognized Kardashian-Jenner—in a family, and culture, that masterfully translates recognition into actual currency—is a constantly rotating fulcrum. It's quantifiable, in the same way a college basketball tournament or the National Football League are quantifiable—by easily calculated points, albeit within a different rubric under less predictable terms. And because it's quantifiable, there's almost an unquenchable desire to do so, to keep score, same as the magnetic pull of the Kardashian-Jenners themselves has consumed our attention and fascination. On Keeping Up With the Kardashians, their outsized, paparazzi-documented lives are often such recognizable day-to-day banalities that our enthrallment is, in part, because we really want to believe they truly are just like us.
Hence, the debut draft for Jezebel's first annual Fantasy Kardashian-Jenner League. It will be made up of five teams, with four Kardashian-Jenners to a team. They include Team Bible (Clover Hope), Team Bush & the Tush (Kate Dries), Team The Gross Fan (Bobby Finger), Team I Thought You Hate Hot Pink (Julianne Escobedo Shepherd) and finally, Team Nobody (Jia Tolentino).
G/O Media may get a commission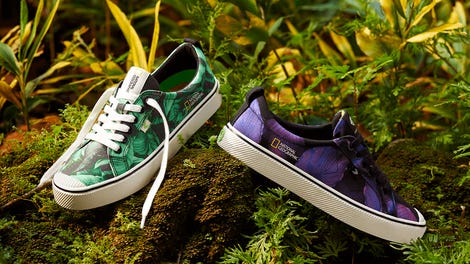 New New New
Cariuma + National Geographic
Scoring will be based entirely on mentions of team members on five major gossip websites—TMZ, E!, Daily Mail, Bossip, and Radar—and will be tallied weekly until the Fantasy Kardashian-Jenner League Playoffs, held January 9, 2016 (the same day the NFL playoffs begin; a coincidence, to be sure).
The Draft
(determined by hat draw, calculated by standard snake draft)
Team Nobody
Round 1: Kylie Jenner
Round 2: Rob Kardashian
Round 3: Bambi and Norman Jenner (Kylie's dogs)
Round 4: Reign Disick (youngest son of Kourtney and Scott)
I picked Kylie because I think she's pretty, Rob because I'm interested in his sock business, the dogs for obvious reasons and the baby because he is my peer. -Jia Tolentino
Team Bible

Round 1: Kim Kardashian West
Round 2: Caitlyn Jenner
Round 3: Brody Jenner
Round 4: Leah Jenner
I picked the two names who are everywhere, plus Brody cause he's hot. -Clover Hope
Team Bush & the Tush
Round 1: North West
Round 2: Kendall Jenner
Round 3: Corey Gamble
Round 4: Brandon Jenner
I chose based on a. who is popular now b. who I think will become popular c. who I got stuck with (Brandon Jenner). -Kate Dries
Team I Thought You Hate Hot Pink
Round 1: Scott Disick
Round 2: Kourtney Kardashian
Round 3: Mason Disick (eldest son of Kourtney and Scott)
Round 4: MJ Campbell (Kris Jenner's mom)
I chose Disick first because he is fascinating and ruthless and because Kourtney is out here getting hers and Mason is their firstborn. MJ because she is a senior who, according to her daughter's TV show, enjoys getting high. —Julianne Escobedo Shepherd
Team The Gross Fan
Round 1: Khloe Kardashian
Round 2: Kris Jenner
Round 3: Penelope Disick (daughter of Kourtney and Scott)
Round 4: Casey Jenner
Because I was unlucky enough to choose last, I was forced to pick the most famous of the leftovers. -Bobby Finger
The official point system is as follows:
Tabloid cover: 10 points
Monthly magazine cover: 20 points
Cover of non-US Vogue: 50 points
Cover of US Vogue: 100 points
Product shill on Instagram: -5 points
Rumored new romance: 5 points
New hairstyle: 5 points
Twitter fight: -10 points
Awards show red carpet appearance: 5 points
App makes $10 million: 1 point per $10 million
Arrested: -30 points
Point spread for other major developments (surprise pregnancy, surprise TV spin-off, etc) adjusted as necessary.
---
Contact the author at julianne@jezebel.com.
Illustration by Bobby Finger. Images via Getty.