Cool things about this L'Officiel Hommes spread: hey look, a black man is in an all-American-themed shoot! Terrible things about this L'Officiel Hommes spread: that's not a black model. That's a white dude in an afro wig and makeup.
After shoots with models who were made up to look as though they were of other races started off in the upper reaches of fashion culture, Vogue Paris, then showed up in Yank imitation V, then downcycled further to that hip fashion vehicle known as America's Next Top Model, we kind of hoped that this discomfiting trend would die, unmourned, the casualty of that most banal of fashionable offenses: overexposure. When some random magazine in Australia jumped on the bandwagon, we figured blackface would soon be so 2009.
G/O Media may get a commission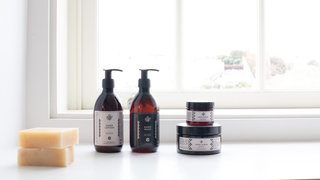 Exfoliate and Hydrate
The Handmade Soap Company
Enter Milan Vukmirovic, L'Officiel Hommes editor in chief, photographer, and co-founder of the Paris boutique Colette. Vukmirovic, who is French, shot the Brazilian model Arthur Sales for this 13-page editorial, entitled "KEEP IT GOIN' LOUDER."


You can see the whole thing here.


And once again, we find ourselves saying: in an industry where plenty of talented black models — and models of color generally — are still often passed over for work, why are these spreads becoming increasingly common? L'Officiel Hommes can't bring itself to use an actual black model, but it'll happily recolor a white one. What kind of message does that send?
L'Officiel Hommes #19: Keep It Goin' Louder Arthur Sales By Milan Vukmirovic [Fashionisto]