Today in fashionable racism, we have: An Australian magazine with a familiar-looking cover, and a Karl Lagerfeld-directed movie that features heavily made up European models in Chinese roles. How very The Mask Of Fu Manchu.
It's not terribly surprising to see, after Vogue Paris's noble flag-bearing effort to make blackface directional, the white model, black makeup look become a trend worth imitating. In this case, the online magazine Tangent chose to one-up Carine Roitfeld and Steven Klein by opting not just for a blackface fashion spread, but a blackface cover. The cover image has apparently leaked ahead of its publication date, because Tangent's website still features Issue 1's cover. But this picture was shot by the magazine and intended for use.
Does Harry Connick, Jr., need to come explain it to you again, Australia?
G/O Media may get a commission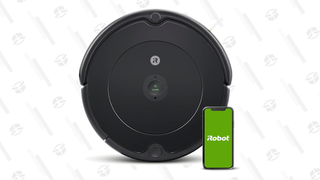 35% Off Black Friday Deal
iRobot Roomba 694 Robot Vacuum
Meanwhile, there is a near-complete absence of any actual Asian people acting the Asian roles in Karl Lagerfeld's just-released movie, Paris-Shanghai. The film relates a journey Coco Chanel takes around China: visiting workers in the 1960s, dropping in on Marlene Dietrich in the 1940s, gambling with Wallis Simpson in the 1920s, being received by the Empress Dowager and her adopted son, presumably sometime before 1898, when she put him under house arrest. And then Coco wakes up and it was all a dream. Actually, it's worse than that, because you see her falling asleep on her office couch after the conclusion of the interminable opening scene, so you know even going into it that it's going to be one of those just-a-dream endings. There, I just saved you 23 minutes.
The plotting is trite, the acting atrocious — Edita Vilkeviciute, as young Coco Chanel, seemingly makes no attempt to hide her thick Lithuanian accent, and Heidi Mount, as Dietrich, gets peevish and sulks like a bored American teenager — and between the tedious pacing and Lagerfeld's failure to indicate what exactly is going on whenever something minorly climactic does occur, it's a hard film to get through. (Turns out Lagerfeld's genius reaches its limit where the task of making beautiful and effective moving images begins.)
What unfolds is a classic orientalist narrative that treats China as the interesting backdrop to an intrigue motivated by and created for white Europeans. No mention is made of the various upheavals that were actually going on in China during the early part of the 20th Century — like, uh, the end of the monarchy, the struggle for unification, and the Civil War — or of the 1960s, the period of the Cultural Revolution. In 1923, Sun Yat-Sen proclaimed the Three Principles of the People as the basis of the modern Chinese state, and Mikhail Borodin arranged the first Soviet arms deals with China — but the year is represented in the film by a craps table back-and-forth about palm reading between Chanel and Simpson. Lagerfeld told Women's Wear Daily his film "is about the idea of China, not the reality. It has the spirit of, and is inspired by, but is unrelated to China." Far easier indeed to investigate your own "idea" of a country than to contend with the reality of it as a place in itself.
But what is most worthy of note is Lagerfeld's consistent choice of European actors to play Chinese roles. This is obviously intentional. "It is an homage to Europeans trying to look Chinese," says Lagerfeld. "Like in The Good Earth, the people in the movie liked the idea that they had to look like Chinese. Or like actors in Madame Butterfly. People around the world like to dress up as different nationalities."
WWD calls it like it is: yellow face. The Empress Dowager is played by Lagerfeld's longtime muse, the Briton Amanda Harlech. Her son is played by Lagerfeld's latest boy-toy, Baptiste Giabiconi, an Italian. Giabiconi, in an earlier scene, plays a Chinese peasant alongside the Dane Freja Beha Erichsen. Erichsen then pops up in the gambling scene, as the "Chinese Courtesan":
There are a handful of Asian actors who warrant small roles. Tao Okamoto, a model who is, incidentally, Japanese, gets about two minutes of screen time as Anna May Wong, the actress who played opposite Dietrich in Shanghai Express. Some of the men in background scenes, and the train conductor, are Asian. But what the sight of Erichsen and Giabiconi in their various Chinese roles conjures most for me is this:
Image of Mr. Yunioshi via Hokubei

Will Tangent Be Left Red-Faced By 'Blackface' Cover? [Imelda]
Karl Lagerfeld Talks Shanghai And Fashion [WWD]
Chanel Paris-Shanghai Part I [YouTube]
Chanel Paris-Shanghai Part II [YouTube]
Chanel Paris-Shanghai Part III [YouTube]